Republicans win 17 state House seats; prevail in south county races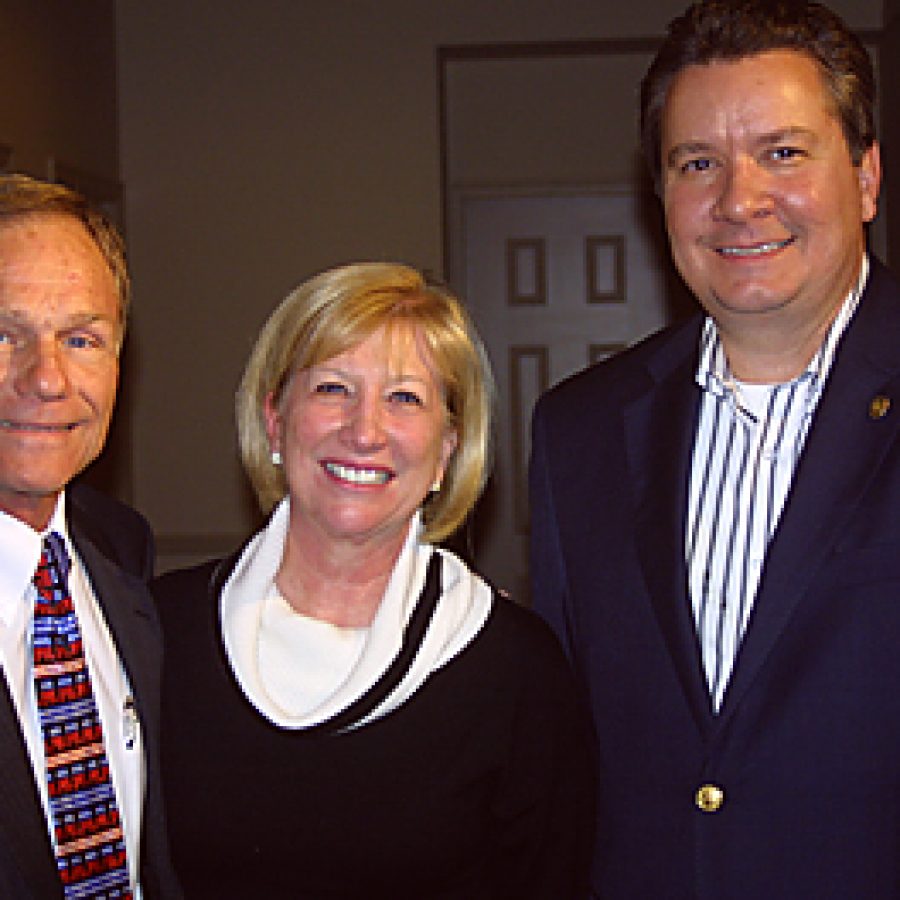 In gaining 17 state House seats in last week's election, Republicans claimed seven open seats previously held by Democrats and bumped 10 Democratic incumbents.
Both scenarios played out in two south county House races.
Republican Marsha Haefner of Oakville defeated Democrat Andrew Spavale to win the open District 100 House seat.
District 100 Rep. Sue Schoemehl, D-Oakville, could not run for re-election because of term limits.
In addition, Republican Cloria Brown of Lemay ousted District 85 Rep. Vicki Englund, D-Concord.
Haefner received 9,588 votes — 64.3 percent — and Spavale received 5,066 votes — 34 percent. Constitution Party candidate Randall "Randy" Lewis garnered 255 votes — 1.7 percent, according to unofficial state election results.
Brown received 6,478 votes — 52.7 percent — and Englund received 5,817 votes — 47.3 percent. Englund was seeking her second term in Jefferson City.
A Republican hasn't held the District 100 seat since December 1995, when Rep. Zane Yates, R-Oakville, resigned to become a commissioner with the St. Louis County Family Court.
District 100 went unrepresented in Jefferson City until Democrat Joan Barry of Oakville won the seat in a March 1996 special election. Barry won a full term that November and was re-elected in 1998 and 2000. Term limits made Barry ineligible to run again in 2002. Schoemehl defeated Republican Michael Rohrbacker that November to win the seat.
Haefner is a political newcomer but a familiar face in south county. She and her husband, Greg, own For the Garden by Haefner's Greenhouse in Oakville.
"I'm new at this," Haefner told the Call Nov. 2. "I did everything I could possibly do, fundraisers, meeting people. I had an army of supporters."
Spavale was unavailable for comment before press time Monday.
This year's District 85 contest was a re-match for Brown and Englund, who squared off for the seat in 2008. Englund that November captured 54.5 percent of the vote, while Brown received 45.5 percent.
Before redistricting in 2001, District 85 once was part of District 96. Democrat Joe Treadway of Lemay held the seat from 1983 until 2002, when he vacated it because of term limits.
Republican Jim Lembke of Lemay won the seat that November and held the office until 2008, when he ran successfully for the District 1 state Senate seat.
Englund's campaign had amassed roughly $161,000 in contributions heading into last week's election; Brown had raised about $18,000.
But Brown, who is retired from MasterCard International, said this year's contest was less about the money than it was the message: jobs and accountability.
"That's really what I saw that people wanted — that their government was accountable and that jobs were coming," Brown told the Call. She added, "It was different than '08. I felt that people were wanting the government to live within its means just like they're living within their means.
"And taxes, of course — they don't want any taxes raised, and I can go along with that."
Englund in a statement thanked her family, supporters and campaign volunteers.
She said her defeat was in line with other Democratic losses around the country last week.
"In politics, there are only so many things you can control.  In 2010, national politics proved that fact," Englund said. "The only thing I could have done differently this historic year was to run as a Republican. "
She added, "Public service is still a large part of who I am. I run for office because I want to help people, and that desire will never go away. I want to thank my constituents for giving me the opportunity to serve them the past two years. Don't worry. I'll be back."
Republicans last week also retained control in state House districts 95 and 97.
District 95 Rep. Mike Leara, R-Concord, defeated Democratic challenger Alice Geary Sgroi to win a second term.
Leara received 9,860 votes — 62.9 percent — and Sgroi received 5,380 votes — 34.3 percent. Constitution Party candidate Steven Newton received 426 votes — 2.7 percent.
"This is a big night," Leara told the Call Nov. 2, adding that he wasn't surprised he won re-election. "We worked really hard."
Republican Gary Fuhr defeated Democratic candidate Jan Polizzi to win the District 97 seat being vacated by Rep. Walt Bivins, R-Oakville, because of term limits.
Fuhr, of Concord, received 9,066 votes — 63.1 percent — and Polizzi received 4,877 votes —33.9 percent. Constitution Party candidate Daniel Fitzhenry received 427 votes — 3 percent.
Meanwhile, state House seats in districts 66 and 96 remain in Democratic control.
Democrat Genise Montecillo of Affton received 5,669 votes — 59.8 percent — to win the District 66 seat being vacated by Rep. Michael Vogt, D-Affton. Republican candidate Bill Hartzog received 3,806 votes — 40.2 percent.
"I am so grateful for the opportunities this state has already given my family and me," Montecillo stated in a news release. "I am aware of the responsibility I accepted. I will serve respectfully on behalf of our state, our future, our seniors, our veterans and our children."
In District 96, Democrat Scott Sifton defeated Republican Anthony "Tony" Leech to win the seat being vacated by Rep. Pat Yaeger, D-Lemay, because of term limits.
Sifton, of Affton, received 5,646 votes — 58.2 percent — and Leech received 4,058 votes — 41.8 percent.
In the race for state auditor, Republican Tom Schweich of St. Louis defeated Democratic incumbent Susan Montee with nearly 51 percent of the vote.
Schweich received 972,947 votes — 50.9 percent — and Montee received 869,152 votes — 45.4 percent. Libertarian Charles Baum received 70,679 votes — 3.7 percent.
Looking at federal races, Republican Roy Blunt will claim outgoing U.S. Sen. Christopher "Kit" Bond's seat.
Blunt received 1,052,547 votes — 54.3 percent — while Missouri Secretary of State Robin Carnahan, a Democrat, received 787,161 votes — 40.6 percent.
Libertarian Jonathan Dine received 58,574 votes — 3 percent — and Constitution Party candidate Jerry Beck received 41,228 votes — 2.1 percent.
In the 2nd Congressional District, Republican Todd Akin received 180,380 votes — 67.9 percent — to win re-election over Democrat Arthur Lieber, who received 77,420 votes — 29.1 percent.
Libertarian Steve Mosbacher received 7,676 votes — 2.9 percent.
In the 3rd Congressional District, incumbent Rep. Russ Carnahan, D-St. Louis, defeated Republican Ed Martin to win a fourth term.
Carnahan received 99,016 votes — 48.9 percent — and Martin received 94,594 votes — 46.7 percent.
Libertarian Steven Hedrick received 5,757 votes — 2.8 percent — and Constitution Party candidate Nicholas "Nick" Ivanovich received 3,151 votes — 1.6 percent.
Martin initially questioned the results, citing "irregularities" with the voting process, but he conceded Monday.
Call General Manager Bill Milligan contributed to this report.