Proposed apartments meet fierce opposition
Citizens question accuracy of traffic study for proposal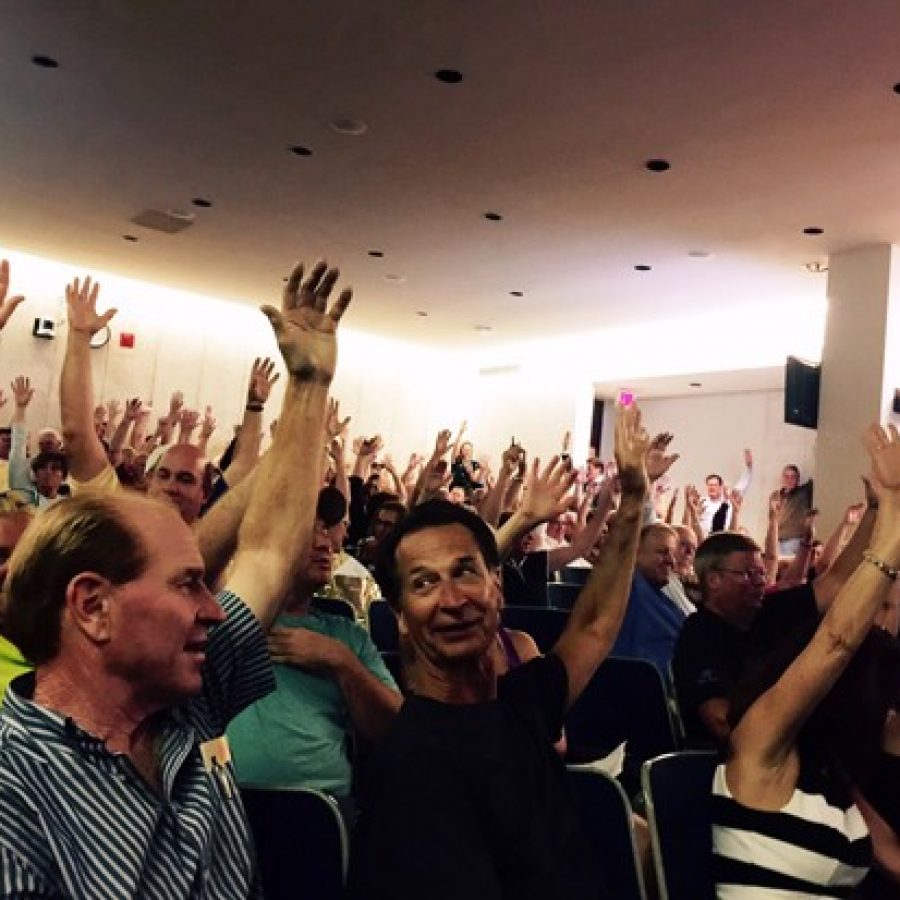 The neighbors who would surround a large apartment complex proposed along Tesson Ferry Road say the development would permanently change the character of their quiet neighborhoods, drag down property values and make traffic on already-packed roads unbearable.
Developer J.H. Berra's proposal to build a 232-unit apartment complex at Tesson Ferry and Bauer roads in Concord drew more opposition to a county Planning Commission hearing than any south county development since a federally funded apartment complex for seniors was approved in Oakville three years ago.
Representing Berra, attorney Ed Griesedieck described "21Bauer," an apartment complex with 10 buildings that range from two to four stories, with walkouts and retaining walls on steeply graded land. The taller buildings would be built closer to the center of the property, and the lower buildings closest to Tesson Ferry and the property's outer edge would be partly hidden from passersby due to the steep grading.
Apartment residents would enter the 17.2-acre property at 12921 Tesson Ferry Road through two gated entrances, at Tesson Ferry or Bauer. A traffic study conducted by traffic engineer Crawford Bunte Brammeier, or CBB, concluded that most residents would exit by turning left onto Tesson Ferry, instead of Bauer.
As the audience erupted at that idea, Planning Chairman Wayne Hilzinger gaveled down the skeptical crowd.
The developer is carving out the 2.2-acre corner of Tesson Ferry and Bauer for unspecified future development. The traffic study based its figures on a "mixed-use" development with apartments and a pharmacy on the corner. In 20 years, the intersections at Tesson Ferry, Bauer and Butler Hill will carry the same amount of traffic whether or not the apartments and pharmacy are built, CBB concluded.
As for the apartments themselves, Griesedieck described what he called "fairly expensive" one- or two-bedroom units with amenities including a community center, a pool, a 24-hour fitness center and a dog park. Each apartment would have granite countertops, plantation shutters, nine-foot ceilings and walk-in closets, ranging from 650 square feet to 1,300 square feet, with carports available.
Rent could run as high as $1,300 or $1,400 a month for a two-bedroom unit.
"This is a gated, high-end, low-density development," Griesedieck said.
The site is currently vacant and "heavily treed," Griesedieck noted, and 42 percent of those trees would stay, clustered around the edges of the development as a "dramatic buffer" and "extensive landscaping."
Residents submitted a petition with 500 signatures against the project, representing 16 neighboring subdivisions, and 17 residents spoke against the development at the nearly three-hour June 20 hearing, including many who said they represented their entire street or neighborhood.
"Apartments and single-family homes are like oil and water — they don't mix," said William Murray, who lives on Bauer Road.
Sunset Meadows Lane resident Bill Hogan spoke to represent the 600 single-family homes in the 1.6-mile corridor along Bauer, Keller and Suson Hills roads, where he said home prices averaged $450,000, with some houses worth millions of dollars.
That residential corridor is more like a rural area in both aesthetics and experience, with lots up to 10 acres and no crime, Hogan noted.
"It's totally, in our view, incompatible with the most valuable characteristic of our community — that it's a low-density, single family residential area," he said. "I cannot see how this high-density proposal with a more transient population serves any value, or how it maintains the character of our communities — it doesn't. It will nearly double the amount of housing on Bauer and Keller roads, it will decrease the stability of our community and imposes a high-density, perpetual impact on our basic values."
The project is on the line between the Mehlville and Lindbergh school districts, but the building is in Mehlville. However, many of the residents who live next to the apartments live in Lindbergh Schools.
That has led some to mistakenly believe that children in the apartments would attend Lindbergh, which has struggled to accommodate enrollment growth.
Students from the apartments would attend Mehlville's Hagemann Elementary School, which has much lower class sizes and much more available space than other Mehlville schools, an imbalance that will likely be corrected as the district redistricts in advance of the 2017-2018 school year.
At the June 20 meeting of the Green Park Board of Aldermen held the same night as the public hearing in Clayton, Ward 1 Alderman Michael Broughton suggested that the city should write a letter to county officials opposing the apartment complex, in an effort to protect Lindbergh Schools from an influx of new students.
Green Park is roughly evenly divided between the Mehlville and Lindbergh districts, but Broughton lives on the Lindbergh side.
"I suggest in order to assist in saving the Lindbergh School District that we write a letter under the city banner protesting the addition of apartments," Broughton told his fellow aldermen. "Anyone that's lived around here for more than two weeks knows that there's more apartments around here than you can shake a stick at. And to burn Lindbergh with that kind of building and that kind of development is just crazy, from the standpoint of the citizenry."
Many residents questioned the traffic study's accuracy, with Sunset Meadows resident Bob Mahacek noting that CBB was paid for the 37-page study: "They already know where that study's going to go. This 37 pages is incorrect, but unlike in grade school, we can't do a do-over."
CBB Traffic Engineer Shaun White got up to defend her methods, which included personally counting cars at peak hours and relying on decades of experience.
"I somewhat take offense if someone thinks your work is based on what someone's telling you it should be," she said. "I'm an engineer, so our studies are based on facts and national standards."
The crowd was one of the largest in years in Clayton, but that won't be reflected in the official count, a show of hands taken at every hearing of the planning panel. Commission member Molly McHugh stopped counting at 87 against when Hilzinger declared, "Opposed is the majority," leaving many in the audience feeling that their vote against the project wasn't counted.