Proposals would cost same as a pack of gum per day
Board OKs $18,250 contract with UNICOM•ARC for survey.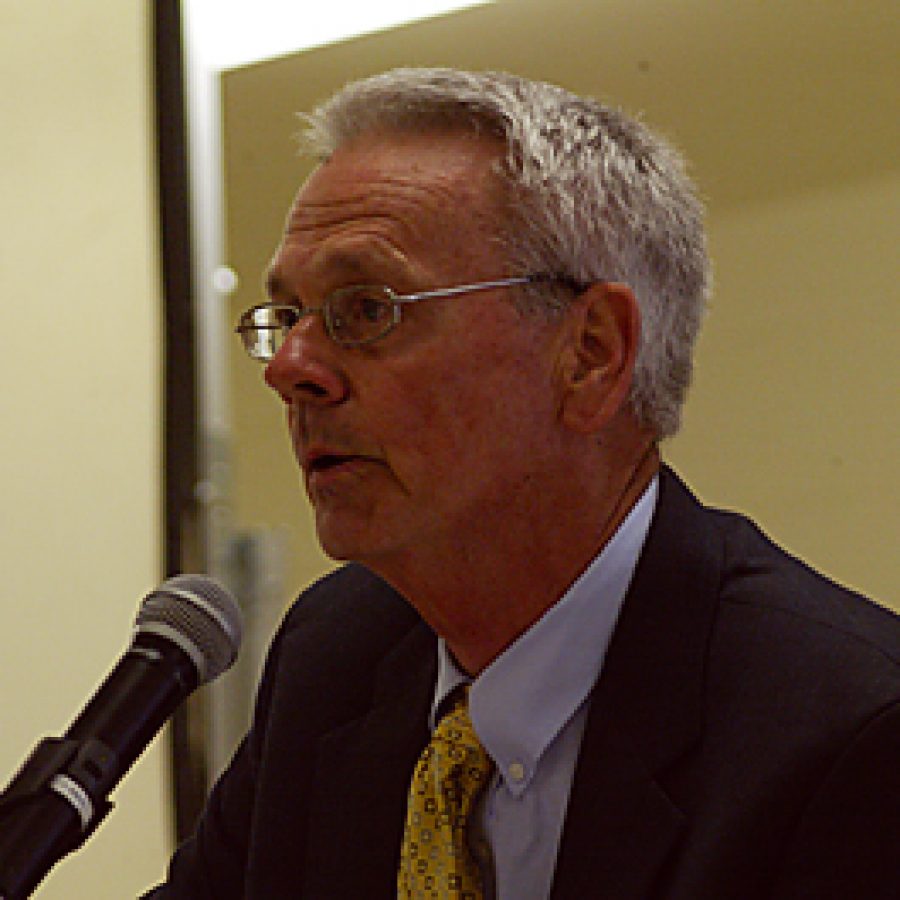 Transforming Mehlville into a high-performing school district will cost, for the average homeowner, the equivalent of a pack of gum per day, leaders of the district's long-range planning effort told the Board of Education last week.
Co-chairs of the Facilitating Team for COMPASS II — Charting the Oakville-Mehlville Path to Advance Successful Schools — presented the school board June 24 with a long-range plan that has been refined over the course of six community-engagement sessions that drew more than 1,200 participants.
During the last session, nearly 400 participants overwhelmingly recommended the Board of Education pursue a 94-cent tax-rate increase that would fund proposals totaling more than $107 million. Those proposals address such areas as technology, safety, early intervention, staffing, curriculum and facilities.
The long-range plan presented last week has been developed over the course of three years and two COMPASS chapters.
Using input from community-engagement sessions conducted in 2007 and 2008, the Facilitating Team for the first chapter of COMPASS — comprised of district residents, school-board members, employees and students — developed a four-phase long-range plan with guiding principles designed to make Mehlville a top-performing school district. Each phase contained recommendations for improving various areas of the district, such as curriculum, staffing and safety.
In June 2008, the Facilitating Team presented its plan to the Board of Education and recommended sending two proposals to voters: a transfer of 31 cents per $100 of assessed valuation from the district's debt-service fund to the operating fund and a 37-cent tax-rate increase.
The school board voted to put the transfer proposal on the ballot, and more than 62 percent of voters approved the measure — Proposition T — in November 2008. Prop T is generating roughly $5.6 million a year for the operating fund to stabilize the district's finances.
The 37-cent tax-rate increase would have restored the district's levy to the 2006 amount of $3.64 per $100 of assessed valuation, funded the first phase of COMPASS recommendations and helped fund the remaining three phases. But board members rejected the proposal after a survey found that 59 percent of 400 respondents would oppose it.
The school board launched COMPASS II nearly a year ago and gave its Facilitating Team a new charge: Determine how to implement the first COMPASS plan while keeping in mind the resources available to the district. The updated plan includes most of the recommendations from the first chapter of COMPASS but also includes suggestions gathered at the COMPASS II sessions.
Under technology, the COMPASS II proposal calls for up-to-date equipment and software; additional staff and an expanded wireless network. The plan also includes full video security districtwide to improve safety.
Under early intervention, the proposal calls for full-day kindergarten, early childhood education and funding for the Parents as Teachers program.
Under staffing, the COMPASS II plan calls for adding teachers and other staff at the elementary, middle and high school levels. It also stresses the need to keep teachers' salaries competitive to attract and retain quality staff, noting the district's starting teacher salary — $34,523 as of today, July 1 — ranks 21st of the 22 public school districts in St. Louis County.
For curriculum, the proposal calls for newer textbooks and up-to-date educational software.
In addition, the updated COMPASS plan outlines renovations at Bierbaum and Trautwein elementary schools, significant improvements at Buerkle, Oakville and Washington middle schools and the addition of arts and technology centers to Oakville and Mehlville Senior high schools.
The proposed improvements to the middle schools are designed to give them parity with Bernard Middle School, which was constructed in 2003 as part of the Proposition P districtwide building improvement program.
Each recommendation is listed as either an operating or capital expense. To fund the roughly $9.37 million in operating proposals, the district would have to increase its tax rate by an estimated 54 cents, including 20 cents to move staff salaries to the county median.
To fund all of the $98 million in capital recommendations, the district would need to increase its tax rate by 40 cents.
That breaks down to a two-cent increase for every $5 million in capital improvements. Therefore, to fund the entire proposal of $107,377,800, the district would need to ask voters to increase its four tax rates — residential, commercial, personal property and agricultural — by 94 cents per $100 of assessed valuation.
For the owner of a $200,000 home, that tax-rate increase breaks down to $357.20 a year, $6.87 a week. Or, Facilitating Team Co-Chair Dan Fowler said at last week's meeting, "about a dollar a day."
If a 94-cent tax-rate increase were to pass, Mehlville's property tax levy would be the 11th highest of the 22 public school districts in the county, up from its current rank of 21. Still, per pupil spending would remain at its current rank of 21 of 22.
At the end of their presentation, Fowler and fellow Co-Chair Jim Schibig urged the school board and those in attendance to support the COMPASS plan.
"A couple of weeks ago, there was a letter to the editor in the Call," Schibig said. "It was full of misinformation and innuendo. But at the end of it he said, and it's the only thing he got right: Be ready for the phrase, 'This is about the kids.' Well you know what? It is about the kids, and that's why I'm here. I love the Mehlville School District. I love the Mehlville community. I love the kids in the Mehlville School District. I've lived in this community since 1977, and I wouldn't want to be anyplace else."
Schibig, a former district principal, said Mehlville must be able to prepare its students to compete in a global economy.
"Mehlville graduates are not just competing for jobs with kids sitting next to them in school," he said. "They're competing with kids on the other side of the world. We need our kids to have the experience and the exposure to develop skills to be competitive in the world we live in."
Part of Schibig's current job as an adjunct professor at St. Louis University is supervising student teachers, he said.
"I go all over the metro area. I see things at other schools that frankly our kids don't have," Schibig said. "And it really ticks me off … I see first-graders taking Spanish classes. I see SMART Boards. I see Promethean Boards. If you don't know what a Promethean Board is, I've made my point …
"Our tax rate in the mid-'80s was $4.42. Now we are well below that, at $3.47. Even with a 94-cent tax increase, we won't reach $4.42. I'm not the greatest mathematician in the world … but that does not compute. Twenty-five years later, our tax rate is less? Come on.
"Now is the chance, now is the time, to turn Mehlville into a high-performing school district," Schibig said. "Mehlville has the leadership from the school board and Central Office. We have dedicated professionals, teachers. Now is the time to prepare our kids for the global economy. Now it is time to get into the 21st century. Yes, it is about the kids."
Fowler said the COMPASS II plan will make Mehlville a "destination school district."
"The package presented tonight is simple: For the cost of a pack of gum a day … for someone living in a $200,000 home, we can transform our schools to be academically high-performing and make our school district and the community it serves a highly desired destination, a place to raise and educate our kids," Fowler said. "These are not my kids. They're not your kids. They're our kids.
"When my four kids were in the Mehlville School District, someone else was helping pay for their education. My taxes alone were not enough. Others who did not have kids in school were helping to pay for my kids' education. It's now my obligation to help educate other kids in our community, even though my children are long gone. A pack of gum, even a couple packs of gum a day, is not much to meet that responsibility.
"This is our moment. The stars are aligned," Fowler said. "We have a great Board of Education. We have an outstanding superintendent. We have outstanding teachers. We must be able to recruit and mentor new ones. We must provide our kids with the best technology. We must provide our kids the best facilities that meet 21st century educational needs. We have moral and ethical duty in my opinion to provide our kids with the very best education possible.
"I ask this board and everyone in this room tonight: What is your legacy? What will you do to make sure our kids get the best education possible? How will your kids remember you? You will never be remembered, in my opinion, for your job, how much money you make, the kind of car you drive, the kind of vacations you take, the kind of clothes you wear. Instead you will be remembered for how well you raised and educated your children. And that's how it should be … This is a plan of conviction that has honor, and has common sense. And I would ask all of you to join us."
In a related matter last week, board members voted 6-0, with Erin Weber absent, to authorize an $18,250 contract with communications firm UNICOM•ARC to conduct a community telephone survey. The 10-minute telephone survey is designed to give district officials an idea of how much of a tax-rate increase, if any, voters this November would support.