Property owners to add stipulations on future uses of donated park land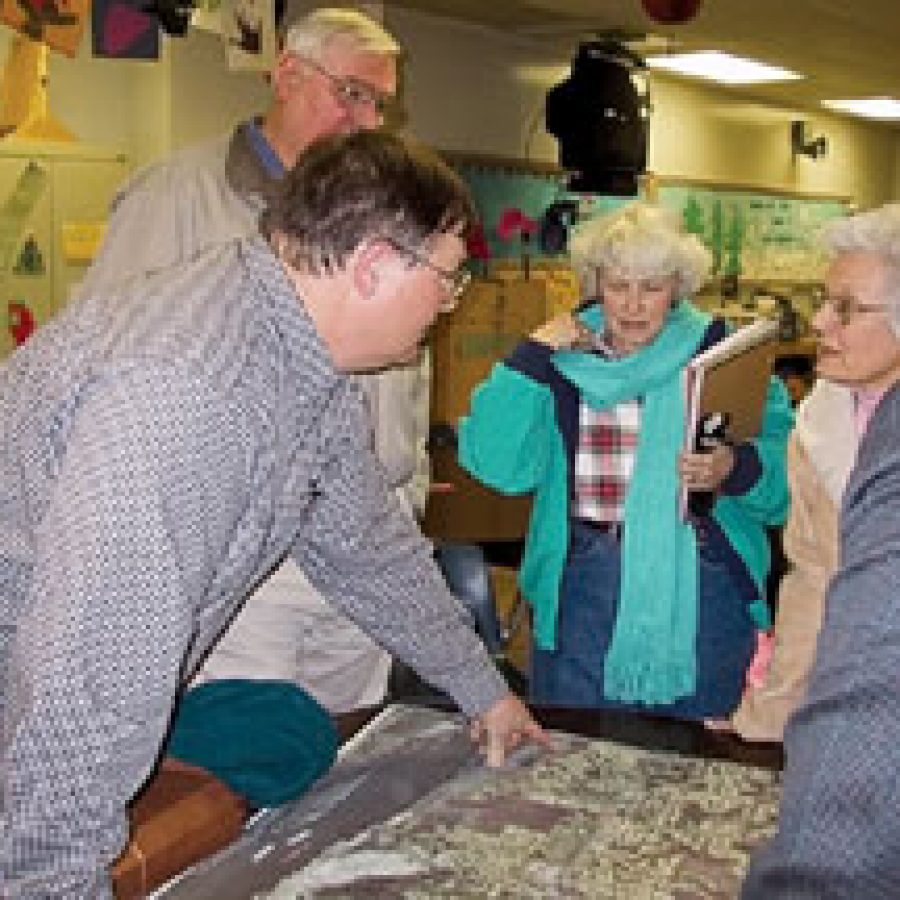 In an effort to "appease" residents who live on the Mississippi River bluffs in Oakville and seal the deal on a 292-acre donation, two south county property owners recently announced they plan to add stipulations into a potential contract with the county that would prevent them from ever using their land for certain industrial uses.
County Councilman John Campisi, R-south county, met with residents last week to discuss proposed legislation that would permit Twin Hollow Associates to donate riverfront property south of Cliff Cave Park to the county to be used as additional park land. Nearby residents who have been overlooking nearly two years of construction efforts on Cliff Cave Park and Twin Hollow Associates property have opposed the legislation, citing access and environmental concerns.
For two years, bluff residents have been watching construction workers raise the southern section of Cliff Cave Park 17 feet out of the 100-year-flood plain, filling it with overburden, or shot rock from Bussen Quarry. Residents became suspicious last winter when workers crossed the park line and began filling the adjacent private property directly south owned by George Foster and Tom Rollins of Twin Hollow Associates.
Residents began attending council meetings in December, voicing their opposition once they learned Twin Hollow Associates intended on keeping a middle section of land south of the park and north of the land proposed for donation.
Campisi requested that final consideration of the legislation be held until residents had a chance to get more information from the property owners and other officials during last week's meeting.
At this meeting Foster, who owns Jefferson Barracks Marine Service located in Bussen Quarry, announced a list of developments that would never be allowed on the property he would retain, even if someone else buys the property from Twin Hollow Associates — an attempt, he said, at addressing the residents' concerns.
He and Rollins already had spoken with Campisi, other councilmen and a group of bluff residents, Foster said, and tried to reach a compromise that would convince the residents that Twin Hollow Associates had no industrial plans for the property it would be retaining.
"We sat down, Tom (Rollins) and I said, 'All right, what can we do to appease these people?' There were questions in the paper. What were we going to do? No one knew, so I can tell you," Foster told a crowd that filled the Point Elementary School cafeteria Jan. 21. "We are willing — and we are going to do this — to put (in) a deed restriction. And it would be in our deed, so that if we sell it, it will go with the property. There will be no trash-transfer station or solid-waste landfill. There will be no casino or casino parking facility. There will be no barge fabrication facility. And these are concerns that you all raised, so that's why we're outlining them."
Noting the deed also would prohibit the development of airports, nuclear power plants and swine farms, Foster said, "That should alleviate the concerns that you all have."
Gary Feder, an attorney with Husch & Eppenberger representing Twin Hollow Associates, explained the only use currently permitted for the property in question is agricultural.
"Every use that has been talked about tonight is prohibited … It has absolutely no utilities. It has extremely poor access," Feder said. "The uses that have been talked about are physically impossible to implement and the zoning totally prohibits it."
The only way to obtain permission to pursue any other type of use on the property the owners are retaining, Feder explained, is to apply for a change in the zoning.
"Everyone has a right to ask for a rezoning," Feder said. "What Mr. Foster and Mr. Rollins have done tonight … is essentially eliminating, not only for themselves, but for anyone who buys the property, the right to even seek a rezoning for all of the uses that were mentioned tonight."
Twin Hollow Associates also is prepared to go a step further and report the deed restrictions in the contract between the company and the county, Feder added.
"Let me be the bad guy to address the other question, which is, 'Why not everything else?'" the attorney said, addressing comments from residents that evening who wanted to know why Twin Hollow Associates would not donate both sections of land to the county.
"Frankly, it is our position, that given the fact the zoning does not permit any type of use whatsoever, except agriculture, and given a restriction, a specific restriction on every single objectionable item that we have heard, we are really not prepared to go beyond that. And frankly I don't think it would be reasonable to expect any property owner to totally eliminate every possible use of their property."
He added, "We believe that this offer was made in an attempt to really accommodate everyone. It was never asked for by St. Louis County. It's essentially totally in response to the people in the area … and we did so voluntarily and we feel that that list, which is very extensive, is a very reasonable accommodation."
Norm Curran, who lives on Susan Road overlooking the Cliff Cave Park property line, helped begin a neighborhood opposition movement against the legislation.
Despite the stipulations to the contract, Curran told the Call he still had concerns over the 30-foot easement Twin Hollow Associates will receive that will run through Cliff Cave Park. The council does not know enough about the legislation to go ahead and pass, it Curran said, noting he intended on attending future council meetings to oppose the legislation.
Campisi addressed the audience stating that in his three years as a councilman he had dealt with a multitude of high-density development in south county, such as trash-transfer stations and apartment complexes, and it would be a relief to him to see the next development serve as a new park for south county.
"This is a bedroom community. I would love nothing more than see nothing but parks placed on large pieces of property, such as this one here," he said. "It is very hard to find this type of land for parks that you see right here."
The donation greatly would benefit the county, he said, noting that it would receive a 300-acre park, three-mile walking trail and a 10-acre fishing lake.
"I just see this as a great project for St. Louis County," he said. "I know all of you out there can't be opposed to this project and I know there are a lot of people out there who are for this project. But it is very hard for me to understand why we can't get a 300-acre park turned over to the county."
"I am very much in favor of this project. I brought everyone here tonight to get answers to your questions and I really feel strongly about going forward with this project. It's something that's going to be good for the community. And I think it's very good for all of us," Campisi said.
Leone McKinney of the U.S. Army Corps of Engineers answered residents' questions about the potential flooding consequences that could accompany raising more and more land out of the flood plain in Cliff Cave Park and the Twin Hollow Associates property, of which Foster emphasized would take up a small percentage of the property he would retain. The recently placed fill material would have no effect on such communities downstream as Kimmswick or Arnold, because the rise in flood levels from the addition of the fill is "so insignificant."
Campisi told the Call he believed residents' concerns had been adequately addressed and he was confident he would support the legislation, which permits the 292-acre donation, on Tuesday, Jan. 27 — after the Call went to press.