Prop R funds won't be used for Choice School of Innovation
New school will not impact Mehlville's Prop R promises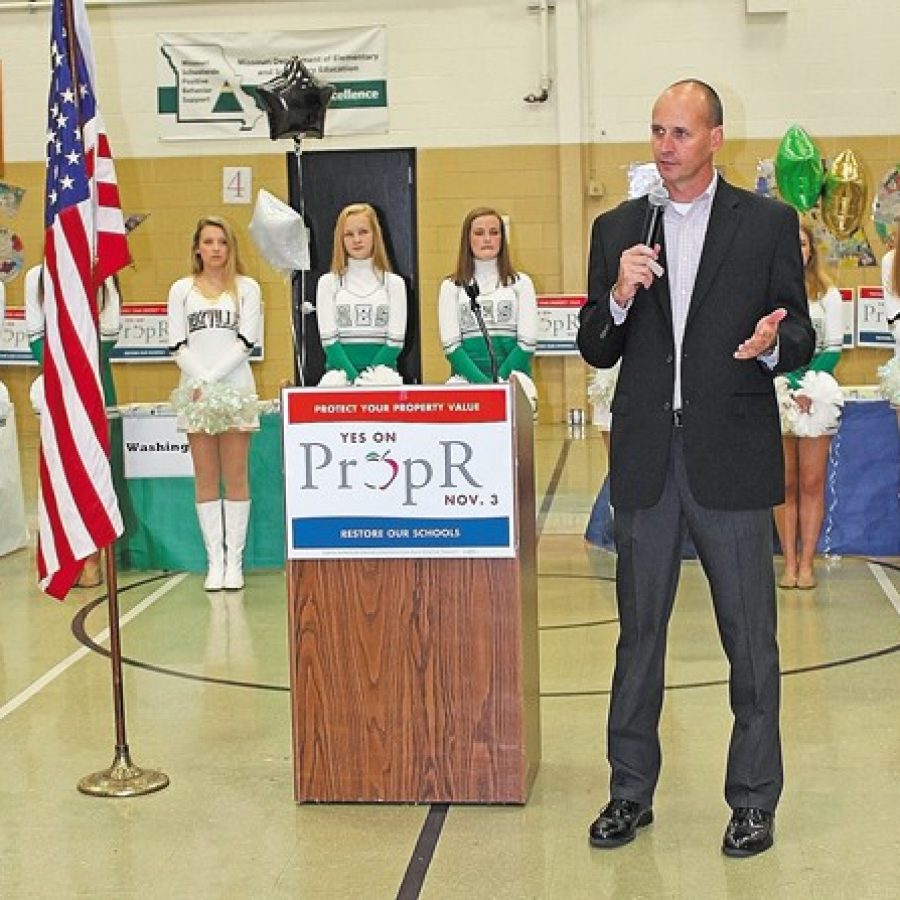 In response to residents' concerns, Mehlville School District officials emphasize that Proposition R funds will not be used to open a first-of-its-kind school of innovation.
Voters approved Prop R, a 49-cent tax-rate increase, in November. When Superintendent Chris Gaines followed that historic victory by unveiling a proposal in January to open a new school of innovation in the former St. John's Elementary School in August 2017, some residents mistakenly assumed the projects are connected and that Prop R money will fund the new school.
Prop R will fund 16 new reading and English-language coaches, textbooks, curriculum and school supplies, 1:1 computers and other classroom and facilities needs. Gaines told the Board of Education that the school could be opened for a one-time startup cost of $500,000, separate from Prop R.
The new elementary school, currently referred to as the Choice School of Innovation, could "blow up" how Mehlville students learn in a digital era by piloting non-traditional, project-based teaching methods, Gaines said when he unveiled the plan to the board Jan. 8. Students would enroll through a voluntary districtwide lottery.
If the board grants final approval next year, the Choice School would be Mehlville's 11th elementary school and the only school of its kind in St. Louis County.
The 300-student school could open as soon as the 2017-2018 school year to K-4 students and to fifth-graders in 2018.
Board members voted unanimously Jan. 28 to grant approval to continue planning the school, with a $25,000 cap on planning expenses. Board Vice President Larry Felton was absent.
"I just was curious about where the district will get the extra money," said Lemay Republican Committeeman Alan Leaderbrand. "Opening a new school requires teachers, a principal, staff, cleaning, plus whatever materials, so I'm just kind of curious as to how that all of a sudden jumped up to the top of the list in the strategic plan."
Gaines believes the district can open the school within its existing footprint by redistricting, moving teachers and reshuffling existing buildings and programs, including folding the Witzel Alternative Academy into the high schools.
Forder Elementary Principal Scott Clark will serve as the principal for the school and plan it while still running Forder. His new job will be offset by the end of Witzel Academy Director John DeWalle's post.
The sole line of funding from Prop R that will help open the new school, Gaines said, will be the professional development the district pledged to offer to teachers under the measure — 11 times the current training budget. But since teachers need the professional development and the district promised to deliver it with Prop R anyway, the district will not lose money or time on training even if the board stops the new school after the training is finished, he added.
"The School of Innovation's gotten a lot of attention, but we haven't talked a lot about Prop R," board President Venki Palamand asked Gaines at the Jan. 28 meeting. "Just to alleviate any fears, opening up a new elementary school — that won't impede our ability to follow through on Prop R promises in any way, will it?"
"Not at all," Gaines replied.
"I think that may have been the public concern," Palamand said. "Some of the feedback I've received is like, 'We haven't heard about this, but we're hearing a lot about this.'"
Since the announcement of the school, a group comprised of dozens of parents contacted Gaines and board members to question the timing and demand that all the programs Mehlville promised to restore through Prop R be immediately brought back because the district's schools are in "dire straits." However, the district does not receive any Prop R funds until the fall.
For the rest of the current school year, the district is still operating under a budget with $4 million in budget cuts, with clubs, tutoring and technology slashed.
The leader of the group later came to a meeting to tell the board her concerns were eased after she actually watched Gaines' presentation on the new school, however.
Gaines noted that while the new school is getting much of the attention because it's a "big, shiny, new thing," it's really just one aspect of an all-encompassing effort to increase academics under the strategic plan.
Although Gaines said that he would not have come up with the idea of the Choice School if voters had rejected Prop R — because he would be focused on cuts instead of expansion — he and other district officials are assuring residents that opening up a new school is not leaving its existing schools behind in any way.
"We're not leaving traditional education behind — that would be very erroneous — but instead, we're offering an opportunity for students who might learn better in another way," said board member Lisa Dorsey, who is the associate provost of undergraduate education at St. Louis University.
When board member Lori Trakas asked if the district is focused on best practices for academic excellence, Gaines said the district is pursuing higher academics on a "multitude" of fronts, as specified in the strategic plan, including professional development and hiring most of the 16 reading and English-language learner coaches funded by Prop R.
"All of those things would be considered best practices that we're looking at, whereas innovation is really the next practice," Gaines said. "We're embedding best practices in all of our existing buildings, but then we're really going to have an incubator where we can look at what's coming next in terms of education so that we can test and pilot and do some things there. And how do we scale that up across the district?"
Trakas voted to approve the pre-planning for the new school but noted that she would prefer if the district focused on academics at its existing schools before trying to open up a new school.
"If we had that mastered, I'd feel a lot more comfortable about going to an innovation idea, so I just look forward about being able to master the best and looking forward to the next," Trakas said.
"I think waiting until we've mastered whatever proficiency level somebody decides we need to be at in order to offer an innovative opportunity, where those students who can learn best in that environment can succeed, would be wrong," Dorsey said.
"I didn't say to wait," Trakas said. "I said I would feel more comfortable, like if we were a district that was already top performing, and you said, 'Hey, we've really mastered this, now we're going to go this other direction and just explore.'"
"But that is waiting, right?" Dorsey said.
"I said I would feel more comfortable," Trakas said. "I just want to make sure that we spend as much attention on traditional as we are on this. I just don't want to get sidetracked … I'm just expressing my concern."