Police officers honored with Lifesaving Award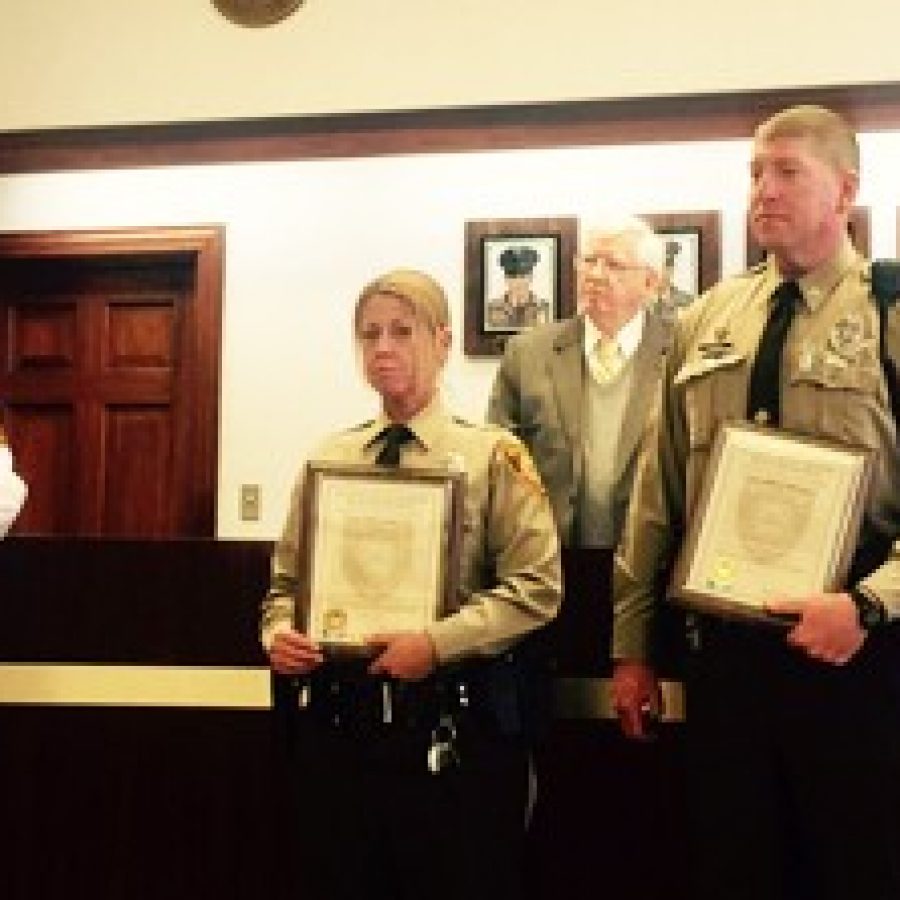 County Police Chief Jon Belmar recently honored five county police officers with the Lifesaving Award, including two south county officers who saved a woman's life last summer.
Capt. James Schneider, commander of the South County Precinct, outlined how Officers Kelly Eller and John Spicer earned the award at a meeting of the Board of Police Commissioners in Clayton.
On July 8, Eller was inside the precinct and Spicer was returning from a call when a woman pulled in, repeatedly honking her car horn in the rain.
"She said, 'I was just taking my mother to St. Anthony's, she had chest pains, and now she's unresponsive in the car,'" Schneider said.
The officers quickly got to work helping the woman's mother: Spicer performed CPR while Eller got the precinct's automatic external defibrillator, which they used along with CPR until paramedics arrived. The woman survived the episode and underwent surgery at St. Anthony's Medical Center, where she suffered a separate cardiac event and died two days later, Schneider noted. But the woman's family has been very vocal with its gratitude for the two officers' efforts, he added.
"The family has reached out several times to the precinct and brought up cards and food and things, but they've reached out to Officer Eller and Officer Spicer particularly because they wanted to express their heartfelt appreciation and gratitude for giving the family those precious two days to come together one last time," Schneider said.
Spicer has been with the department for eight years, and Eller has been with the department for seven. She is a former school resource officer for the Mehlville School District, including Bernard Middle School and Oakville, Beasley and Blades elementaries. Spicer plays the bagpipe for the St. Louis County Pipes and Drums group.