Philosophy the perfect subject for student's 'inquisitive nature'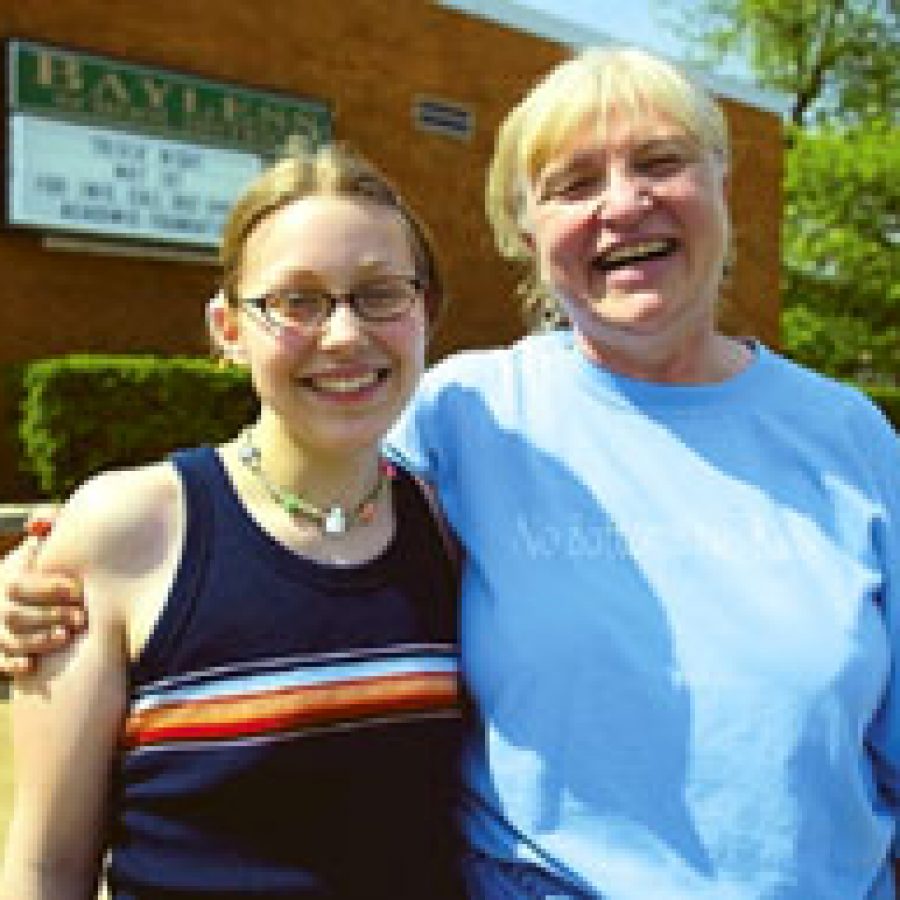 Not many high school seniors look at philosophy as a career choice, but not many have Sarah Blackey's drive to understand how other people see things and think.
"Sarah is a very unusual student," according to Annabel Blackiston Haskett, her teacher at Bayless High School. "She reads. That sets her apart from a lot of her peers. She's very serious about learning and she's eager to get into the world and learn more."
For years, Blackey has read work by Aristotle and Socrates, but never thought about what they did as a career.
But when she got back to Bayless High School last fall, "I just started taking classes that suited my inquisitive nature," Blackey said.
"Then philosophy came up and Mrs. Haskett thought it sounded like a good place for me. Everyone I've talked with about it has said that's going to be something that I'm suited for," she added.
The daughter of Cindy Ulbricht and George Blackey, Sarah baby-sits her sister and niece in her spare time. While reading is her favorite pastime, she likes to go to movies with her friends when they're not together doing homework.
Her favorite film right now? "Big Fish."
"I really don't do too much," she said. "There's not too much out here to do. Usually, if you want to do anything else, you go to the city."
She does listen to music, but not always the same tunes her friends like.
"A lot of people cringe when they hear me say I like techno music," she said. "I like all different types of sounds. If something that just stands out, I enjoy it. I like classical music, too."
To prepare for her first year at Webster University, Blackey plans on reading more philosophers this summer, maybe even some Russian novels.
"I've been reading a book right now called "The Ape That Spoke" on the development of human language," Blackey said. "Five years from now, I'll still be enrolled in college. I want to study abroad. Maybe the Netherlands, working to get my doctorate in philosophy.
"I want to try to become a college professor and try to teach philosophy," she added.
Her father accepts the notion of foreign studies, but has reservations about some countries, she said.
"There have been a few people warning me it will be a different country and a whole new way of life," Blackey said. "But that's I want. I want to be thrown into a whole new atmosphere and learn from different people, different cultures, learn different ways of life instead of just staying here and it's the same everywhere."
Having goals has helped Blackey mature.
"These last few years she's found space enough to be herself and I've been a witness to her growth and her desire to learn," Haskett said. "She's proud of herself. She doesn't always want to volunteer in class, but if you call on her, you can get amazing answers."
Blackey isn't a teacher yet, but she already has advice for those who will attend Bayless High after she graduates.
"Stick with what you know," Blackey said. "Don't try to be someone you're not. Just keep going the way you've always gone. A lot of people judge you by the way you look. Don't fall into that. I'd rather people get to know me before they judge me."
Teachers at Bayless are convinced Blackey can achieve her goals.
"There's a lot more to her than any of us realize," Haskett said.
"Still waters run very deep. I'm hoping that in years to come she'll drop by and let me know what's going on," the Bayless teacher added.