Paved trail planned for Cliff Cave
Construction of 2-mile trail could begin this September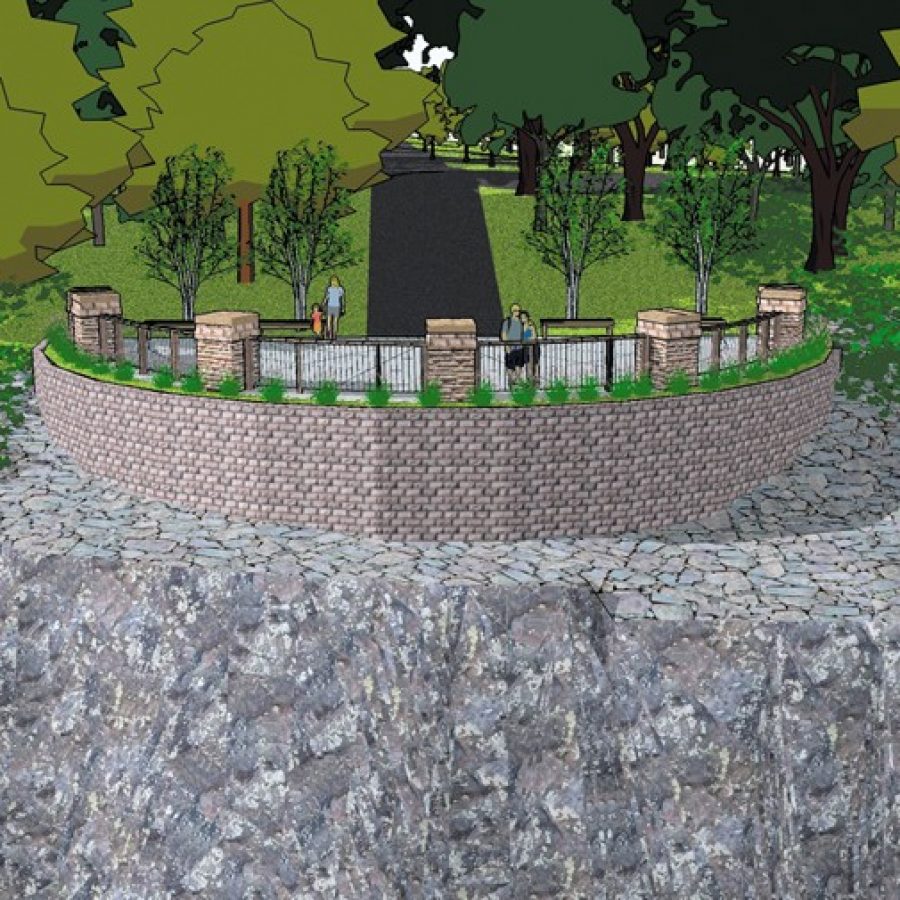 As part of a master plan to connect south county to the Arch, Great Rivers Greenway will link Cliff Cave Park to Telegraph Road with a paved trail, a pedestrian bridge across a ravine and a scenic overlook on the Mississippi River bluffs with views to Kentucky.
The regional trail district plans to kick off construction later this year on a 2-mile paved loop in Cliff Cave, similar to Grant's Trail. The path will wind up and down the bluffs from a trailhead on Cliff Cave Road and end at an elaborate pedestrian-only entrance at Telegraph and Erb roads. Construction could begin this September, with an opening targeted for Sept. 1, 2017.
Planning for the latest initiative has been in the works since 2007, just after the previous 5-mile Cliff Cave trail extension opened. The new $5 million trail is funded with money from the "Arch tax," a countywide sales tax voters approved in 2013 to renovate the Arch grounds and increase parks funding throughout the region.
Part of the Mississippi Greenway with trails running to Bee Tree Park, the new paved path will not change any of Cliff Cave's existing bike trail, the Spring Valley Trail, or its equestrian trails, said Megan Riechmann, Great Rivers Greenway project manager.
As the 10-foot asphalt trail climbs the cliff, switchbacks with grades of 5 percent or lower keep it handicapped-accessible. The trail will have two pedestrian bridges — one spanning a ravine next to England Town Road, and one over Cliff Cave Road.
A highlight will be the scenic overlook on top of the 120-foot Mississippi River bluffs. The area, which currently has no fence, will be safer when fenced, Greenway officials said.
"It will have fantastic views of the river and into Illinois," said Bob Rosenthal, architect and project designer from Loomis Associates.
On a clear day, park visitors will be able to see from Oakville to Paducah, Ky., said Gerry Biedenstein, special projects manager for the county Parks Department.
Although the trail will end at an elaborate columned entryway on Telegraph, Greenway officials envision the entrance to the trail at Cliff Cave Road, where they will construct a cul-de-sac turnaround so visitors will not use neighbors' driveways, along with two new parking lots, a 45-space paved lot and a gravel overflow, and new bathrooms.
Like sections of Grant's Trail in Crestwood, the 10-foot-wide trail to Telegraph will run down the middle of a 100-foot span of green space covered by trees and vegetation.
At a Jan. 13 open house at Oakville High School, Rosenthal emphasized that people entering from Telegraph would bike or walk to the trail since they would not have anywhere to park. Hikers and bikers will push a button to cross the busy intersection at Telegraph and Erb, he added.
Considering the heavy traffic on Telegraph, New England Town resident Joan Steska was skeptical of that idea and interjected during Rosenthal's presentation.
"I don't know how safe that's going to be — have you ever tried to cross Telegraph?" she asked.
Before the open house, Greenway officials did not realize that people would want to drive to Telegraph to take the trail, Reichmann said.
The owner of the business closest to the Telegraph trail entrance, dentist Jeffrey Sindelar, said he is an avid Cliff Cave trail user and had hoped to work with Eagle Scouts to expand the trail. His major concern is that people driving to the trail and parking in his lot could leave his customers with nowhere to park.
"I'm glad that we're doing this stuff — I'm excited," he said. "Part of it's literally right outside my window, so I'm anxious to see how it plays out."
Although some of the more than 100 residents who attended the open house are backing the project, the people who live closest to the trail have major concerns.
"I can't wait for my children to be able to use it, but I also have some serious questions about privacy and safety," said Boardwalk Place resident Sara Meyer.
Like other residents of Boardwalk Place, Meyer's backyard backs to the proposed trail entrance off Telegraph. She has a fence, but some of her neighbors do not.
After hearing from Boardwalk residents, the trail district will attend an upcoming subdivision meeting, Communications Director Emma Klues said.
The Monastery of St. Clare also borders the Telegraph trail, and like other neighbors, the monastery's cloistered nuns have made suggestions on ways to maintain their privacy that Great Rivers Greenway hopes to incorporate into the plans, Klues said.
The Telegraph entrance will be patrolled by park rangers and gated and closed at night, Riechmann said. Like all county parks, it will be open from dawn to dusk.
Since 1986, Cliff Cave Park has been designated a Natural Heritage Park, and some residents chose to live next to it because of that, Steska said.
But the new project seems to fly in the face of that designation, she added.
"They say if it's for recreational use, it's not development," she said. "But bathrooms and parking lots — how is that not development?"