Parents call for Trakas to resign or face censure
Conder says Trakas' critics are in need of civics lesson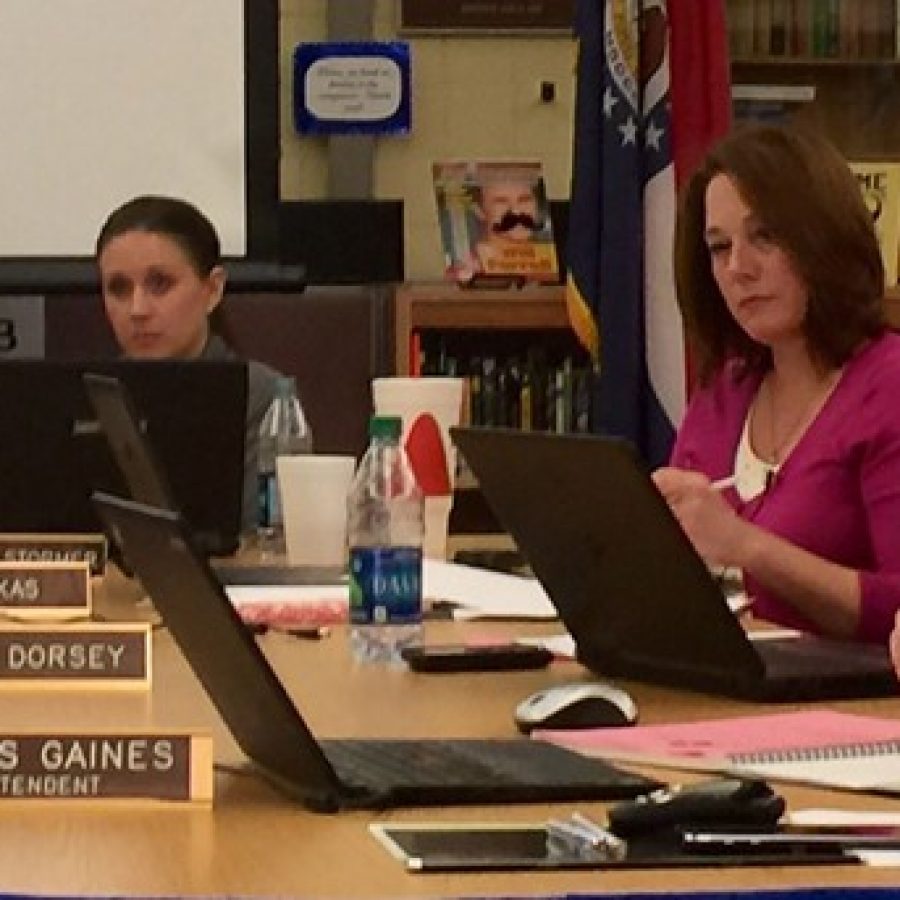 Fresh from the Mehlville School District's Proposition R victory, a number of district parents last week alleged Board of Education member Lori Trakas has violated board ethics and asked her to "immediately" resign or face censure.
Four Mehlville High School student leaders also criticized Trakas' active campaign against Prop R, which they said contradicts her earlier promise to them that she would work on their behalf.
On Nov. 3, 72.5 percent of district voters approved the 49-cent tax-rate increase to prevent millions more in budget cuts.
MHS Student Council President Devonn Thomas told the board Nov. 9 that she respects Trakas, but had to speak up because the board member said during the campaign that Mehlville's "kids deserve better" than Prop R.
"Being one of the kids, I would like to say that a vote 'no' is a vote against us, not for us," she said. "It's hard for me to say that now, because I like to be very kind to people's opinions … But I also know that a fact is a fact, and I think that's incorrect to say that a vote 'no' is a vote (for) the children."
MHS Drama Parents President Kristy Creighton said that Trakas has repeatedly placed her own interests above her duties to the district and the public.
"You have openly denigrated the district, the employees who serve under you, the students and the citizens of this community, and your quotes and actions are a matter of very public record, ma'am," Creighton told Trakas. "In my opinion, you've lost all credibility as a board member who has the best interests of this district at heart. Our Board of Education is not a springboard for your political ideology and your special-interest backers' political aspirations. The culture of our community has changed, and these dirty tricks are finished here.
"The people spoke loud and clear Tuesday, and as a parent, volunteer and community member, I'm openly calling for your resignation effective immediately."
Oakville Elementary parent Mike Shaw said he upheld his military oath, and he believes board members should also uphold their oaths.
The school board operates under 17 policies, but typically there is no punishment for violating them. MHS parent Richelle Bitter alleged that Trakas has violated five of them: No. 1, keep students' "educational welfare" as a first priority; No. 7, make independent judgments based on facts instead of "succumbing to the influence of individuals or special interest groups"; No. 9, stay informed on district issues; No. 10, study educational issues; and No. 15, express personal opinions but accept the will of the majority once a decision has been made.
Oakville Elementary parent Henry Eirich asked Trakas to immediately step down from the school board for an Oct. 29 open letter on the anti-Prop R website Secure Mehlville Oakville Future, which he alleged was an ethics violation. Trakas was the sole vote against placing Prop R on the ballot Aug. 17.
In the letter, Trakas criticized the leadership of every superintendent who has served under her since she took office in April 2013, including Superintendent Chris Gaines and former superintendents Eric Knost and Norm Ridder.
"First and foremost, I am a principled person," Trakas wrote in a list of reasons she opposed Prop R. "Though imperfect, I seek truth and pursue it. I cannot under any circumstances support an entity or business that does not operate in full veracity. Secondly, I have repeatedly said strong-arming a community into a tax initiative does nothing for long-term vision … Our children and community deserve better … (Third), each superintendent's rhetoric and priorities unfortunately highlight the lack of leadership that plagues MSD and prevents it from moving forward. Fourth, a strategic plan that I do not find to be thorough or sincere … buyer beware."
Trakas concluded the letter with a Bible verse, Ecclesiastes 3:11, and wrote that the "true treasure" of Oakville and Mehlville is not measured in money but by the "authentic faith that is alive in this community; a faith that serves family and friends, especially in time of need, even in perceived imperfect timing. Sincerely, Lori."
Eirich noted that Trakas has often mentioned in the past that the community doesn't trust the school board.
"What kind of trust does it build if we have a board member who is clearly violating board policy by engaging in this type of behavior?" Eirich said. "Therefore, in an effort to build further trust and transparency within this community, there should be consequences for violating this policy. I urge Ms. Trakas to resign from her board seat immediately. If she declines to do so, then I would ask that the board consider censuring her. If there's no enforcement by the board after this blatant violation, then the ethics policy has no merit and should cease to exist."
Eirich's suggestion got loud applause from the crowd of roughly 75. Trakas, whose term expires in April, did not respond to a request for comment before the Call's press time.
MHS senior Andy Dummerth told Trakas that he can't reconcile her saying she serves for students with her campaign against Prop R.
"I don't understand why you would do that and lie to the students who you are supposed to be serving," Dummerth said.
Some of the speakers thanked every board member except Trakas and Jamey Murphy — who was absent from the Prop R vote due to a work commitment, but did not say anything against it during the campaign. His father, Jim Murphy, was one of the most vocal opponents.
"Jamey, when your father speaks on behalf of the opposition and there are crickets from you, don't think that goes unnoticed," Bitter said.
Jamey Murphy told the Call that no one speaks for him, including his father.
Three residents defended Trakas, including Secure MO Future Treasurer Jane Conder, who suggested the critics need a civics lesson.
"You are the ones who should be censured for even suggesting that a board member does not have the right to speak out for how they feel about an issue, whether they agree with you or not," Conder said.
Edward Harlow compared the parents and students to an "angry mob," which Trakas later echoed.
"This community means a lot to me, regardless of what, maybe, the angry mob perceives," Trakas said, noting she has a right to free speech.
MHS senior Lexie Clemmons said, "Whether our comments are seen as an 'angry mob' doesn't really matter. We have every right to be upset, and I see the actions of two board members to be disrespectful to the majority of the community and even embarrassing to those on their side, as they acted unethically and without character.
"Also, I know my rights as well, and I know free speech is most certainly one of them. But please read the board's policy — that way you'll know that nothing (Conder) said was relevant or even made sense."