Officials looking to breathe life into former Chrysler plants
City losing $700,000 annually as a result of plants' closing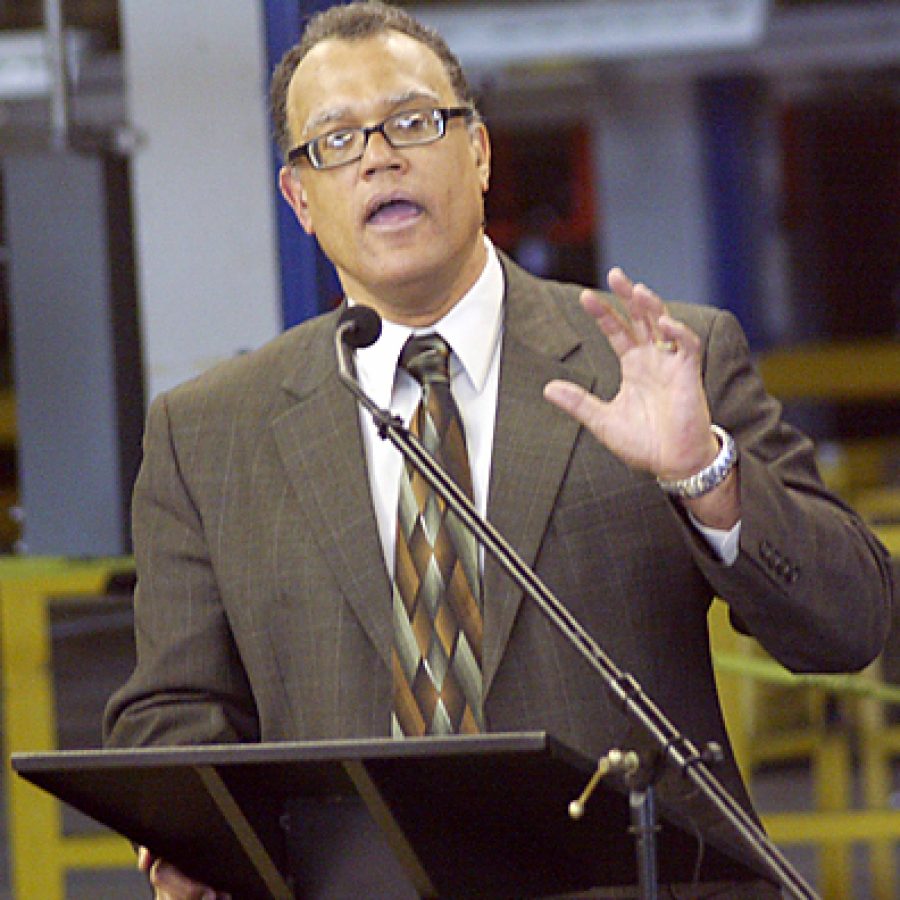 When Fenton Mayor Dennis Hancock first toured the Chrysler assembly plants in the city several years ago, it was impossible to hold a face-to-face conversation on the factory floor, he said.
"There were people working, things clanking together. The noise was deafening," Hancock said of his visit in 2001.
Then, in October 2008 and July 2009, the automobile manufacturer shuttered both the south and north Fenton plants, respectively. Thousands of workers lost their jobs, and the task of rolling out new Chrysler minivans and Dodge Ram pickup trucks went to factories in Canada and Mexico.
"And now," Hancock said, "the silence is deafening."
But local and federal officials want to breathe new life into the combined 5 million-square-foot facilities.
They gathered last week at the south assembly plant to announce a new, $2.1 million effort to ready the site — currently for sale by a bankruptcy court at an undisclosed price — for potential buyers.
A nearly $1.6 million grant from the U.S. Department of Commerce — along with an additional $575,000 from Fenton, St. Louis County and the state of Missouri — will fund an environmental study of the site and will help market the location to prospective tenants.
"It's a nice next step to take this asset that was this Chrysler plant and put it back into productive use and a source of job creation going into the future," said Ed Montgomery, President Barack Obama's director of recovery for auto communities and workers.
Montgomery, often called Obama's "car czar," said several vendors — including car companies — have expressed interest in the site, but no sale is pending. And while it could reopen as a vehicle assembly plant, the site also could become home to several businesses, or be torn down completely, he added.
"It's a big facility," Montogmery said. "Can one vendor use it all? … I don't know if there'll be cars here again."
The south Chrysler plant opened in 1959, the northern facility in 1966. The facilities are situated on 295 acres along Interstate 44, just west of Interstate 270.
Together, the plants represented the second-largest tax-generating entity in St. Louis County, which made the impact of their closing both local and regional, Hancock said. Fenton officials estimate the city will lose $700,000 in annual revenue from the unoccupied site and the associated businesses that closed with it, according to the 2010 budget.
That will reduce Fenton's general-fund reserves this year by a projected $1.3 million, or 20 percent, according to the city's 2010 budget, which was balanced by eliminating four positions, freezing employee wages and making other service cuts.
"If anybody else brought a check with them, let me know," Hancock quipped to the audience at last week's announcement. "We want to acknowledge you as well."
The former Chrysler site is zoned Planned Industrial Development, and commercial real estate broker Nai Desco is marketing the area as "ideal" for retail, manufacturing, office space, a business park, corporate headquarters and medical, educational or religious facilities.
John Fernandez, U.S. assistant secretary of commerce for economic development, said the shuttered plants were "certainly a strong reminder of the kinds of changes we've experienced for decades, but came to a head in the past couple of years as our economy transformed."
"The grant we're announcing today is part of that effort to help communities step back and think strategically about how you take all the strengths of the community, all the assets you have — not just the physical but most importantly, the work force and other human capital — and think forward in terms of what the new St. Louis County employment base should be," he said.
Calling the nearly $1.6 million federal award a "strategic planning grant," Fernandez added, "It's important in that often — particularly today, where local and state governments are strapped — these kinds of planning dollars are essential, and they're hard dollars to take out of your local resources when you have so many other pressing needs. So this is a very appropriate role for the federal government to play, to help you build that strategy."