Officials explain 'Mehlville Miracle' achievement
Prop R opponents blessing in disguise, Schartner says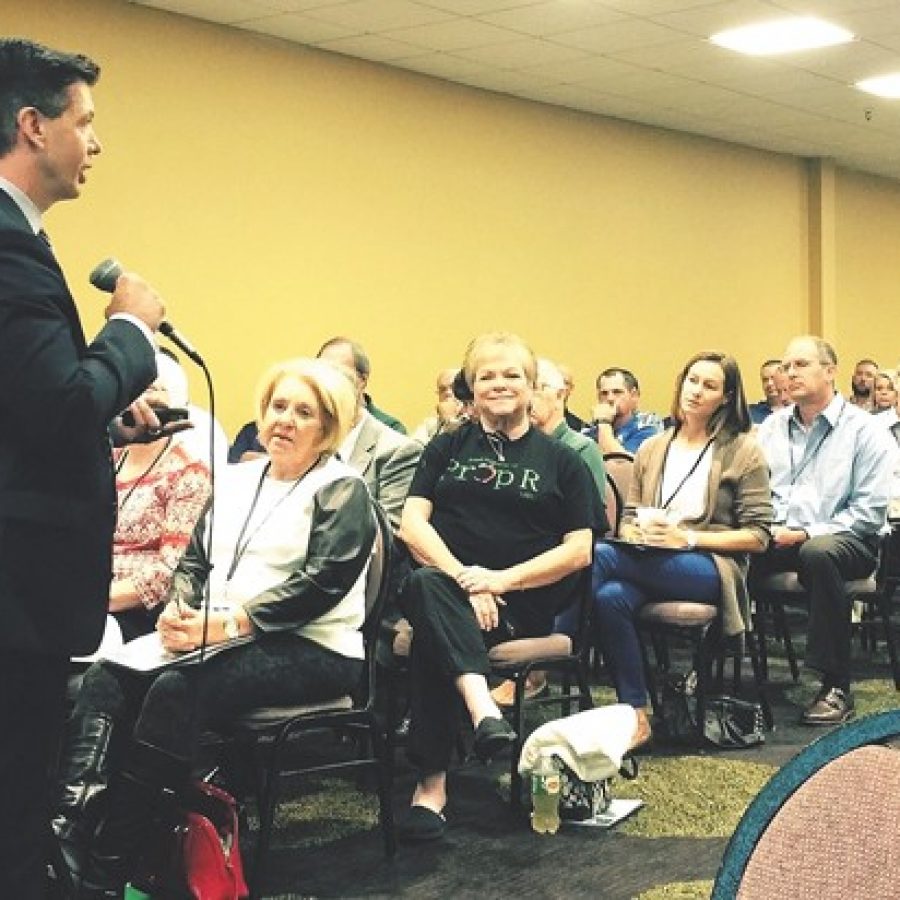 The day after the Mehlville School District shocked many observers by receiving voter approval of Proposition R at historic levels last year, calls started pouring in to Board of Education member Larry Felton from school board members across the state asking: How did you do it?
Nearly a year after 73 percent of voters approved Prop R, a 49-cent tax-rate increase, district officials officially showed the rest of the state last week how they pulled off the "Mehlville Miracle" — an overwhelming victory without campaign consultants, who predicted it could never happen.
In a presentation Friday that kicked off the annual Missouri School Boards' Association, or MSBA, conference in Lake of the Ozarks, Deputy Superintendent Brian Lane and board member Kevin Schartner outlined five major steps that led to voters in a fiscally conservative community overwhelmingly agreeing to raise their taxes — summarized from 53 separate steps that Schartner joked he might market for $49.99.
After serving as treasurer for Prop R campaign committee Mehlville-Oakville United, Schartner was elected to the school board in April, defeating Prop R opponent Lori Trakas. Mehlville board members in the audience for his talk were Felton, who is now MSBA president, and Jean Pretto, who sat with three Lindbergh Board of Education members: Vice President Don Bee, Gary Ujka and Jennifer Miller.
Prop R, which stood for Restore, reversed many of the $4 million in budget cuts slashed through 23 teaching positions, books, tutoring and student clubs as the district faced an $8 million projected deficit.
Since 1970, Mehlville voters had rejected 17 ballot measures, while only approving three —and those by narrow margins, Lane said. A commonly cited reason is that 82 percent of district residents have no children in the schools, with many families sending their children to private or parochial schools.
Much of the credit for Prop R goes to Joplin Superintendent Norm Ridder, who led Mehlville for a year before Superintendent Chris Gaines took over, Lane and Schartner said. Before Ridder, Mehlville never used scientific surveys or focus groups to gauge community sentiment, said Lane, who came to the district as Oakville High assistant principal 15 years ago.
"I saw too many times where we just assumed this is what the community wants — surely they want this, this is good stuff," he said. "We're going to build this new building — they want that, don't they? We do. Or they want technology, or they want full-day kindergarten. And then maybe we'd find out later, whether anecdotally or by actually surveying people, that it didn't resonate with them."
When the surveys spearheaded by Ridder came back, the results were surprising, Lane said. Contrary to what some may have believed, residents said they love their schools, but needed more information about the district's financial difficulties.
The solution to that gap came through the district comparison data that Ridder presented to any group he could that year, which helped residents better understand the ways the district struggled, "warts and all." That helped voters see that Prop R was not a want, but a need, Lane said.
Although some families who sent their children to private schools ostensibly had no connection to Mehlville, everyone in the district ultimately does, Lane pointed out, because their home values depend on it.
When the St. Louis Association of Realtors started sounding the alarm that home values in Oakville and Mehlville were falling compared to those in neighboring Lindbergh Schools, that hit home with residents who may never have previously thought about supporting the school district, Schartner said.
Although some prominent Republicans came out against the initiative, a key turning point came when Oakville attorney Mark Haefner, son of Rep. Marsha Haefner, R-Oakville, became a prominent GOP voice in favor of the measure.
"When he said … this is really about our community, and if you want to have pawn shops up and down our main thoroughfares, then fine, vote against this, that was big for a lot of people," Schartner said.
That leads to another reason why the campaign was successful, Schartner said: It didn't write any voter off, whether they were a Republican, a senior citizen or a private school parent. The ballot measure was approved by all demographics, which some critics had sworn could never be done.
Recruiting key people also matters, as does support from a local newspaper, Schartner noted. The diverse leadership team for Prop R included a teacher, Kim Hanan-West, a paralegal/office manager, Peggy Hassler, an insurance agent, Dan Fowler, and an engineer, Schartner, which gave them access to data, communications and organizational expertise.
Former board President Fowler knew the history of the district and what resonated with voters, but the campaign also thrived with new volunteers like "the Mikes," Mike Shaw and Mike Sita, both Oakville Elementary School parents who, respectively, contributed information technology prowess and a talent for creating dozens of memes, or funny pictures for social media that play off aspects of pop culture.
When the campaign hit a lull midway through, Sita's memes rejuvenated it and spurred everyone to keep going despite any setbacks or ongoing "Facebook craziness," Schartner said, as did the weekly doughnut-centered rallies at OES every Saturday, a brainchild of Shaw's.
Those rallies culminated on Halloween with Principal Chad Dickemper and board members standing in the cold on the corner of Yaeger and Milburn holding up Prop R signs in their Halloween costumes — including Dickemper in a kilt and face paint as William Wallace.
That particular kind of passion could never have been planned, but was able to spontaneously blossom due to the buy-in from the community and the underlying hard work behind the scenes, Schartner said.
Although some campaigns are happy not to see opposition, Schartner said that a vocal opposition group like anti-Prop R group Secure Mehlville Oakville Future is a blessing in disguise.
The tactics of Secure MO organizers like Linda Bowen, now Lemay Township GOP Committeewoman, included laughing at students who addressed the board, accusing Prop R supporters of a sign-theft ring and leaking a false story to a television station, Schartner said.
That galvanized Prop R supporters and got them to the polls for a record turnout.
"If you're lucky enough to have opposition — and I say it that way on purpose — use it," Schartner said. "You don't want to just go sailing through and then potentially find out the community doesn't really support it. Get the arguments out there, have those discussions, engage with people — but answer every false charge. And if you have opposition like ours, it will be false charges."