The Oakville High School volleyball team earned the district title Wednesday night at Northwest by defeating Lindbergh and Seckman in back-to-back matches.
The team now has a record of 29-2-1 and will face Lafayette from the Rockwood School District at 1 p.m. Saturday at Oakville High School, 5557 Milburn Road. The winner of that match will compete in the sectional title match at 4 p.m.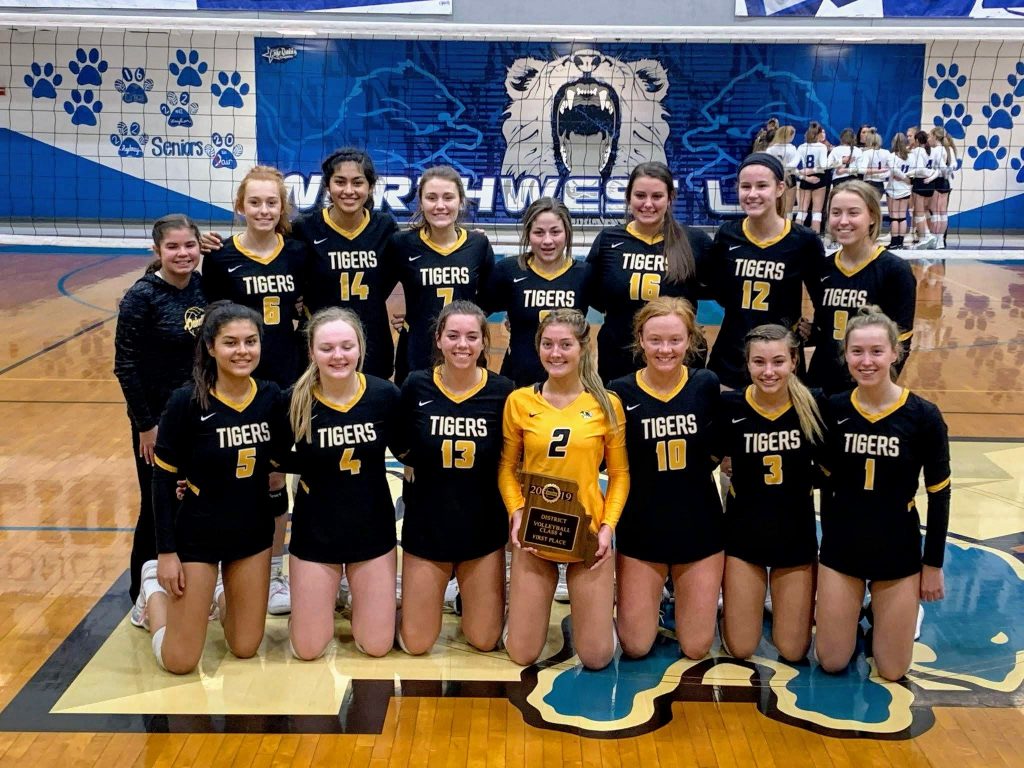 Below you can find The Call's preview of Tigers volleyball in the playoffs this year, written by The Call's Stephen Glover. Stay tuned for more coverage throughout the playoffs. 
Oakville High head volleyball coach Lucas Allen is living the dream of just about any first year head coach. With an impressive record of 27-2-1, the Tigers are the No. 1 seed in the Missouri Class 4, District 2 tournament and considered one of the top teams in the state.
"The season has been amazing so far," Allen said. "We've got a lot of leadership and experience along with a lot of depth this year."
The Tigers will take on the winner of the Lindbergh (24-6) vs. Mehlville (8-17-6) first-round game Monday — after The Call went to press. Lindbergh is one of only two teams to defeat Oakville this season after beating the Tigers 25-22, 28-26 Oct. 21.
"Lindbergh has a very solid defense, and they match up perfectly with us," Allen said. "If we play them in districts, it's going to be a very, very long game."
Oakville has also seen Mehlville this season. They defeated the Panthers 25-8, 25-13 Oct. 16.
"Mehlville struggled with their serve and receive game against us," Allen said. "I think we pretty much controlled the pace of the entire game against them."
Oakville is led by a strong group of seniors this season as setter Julia Klump, middle blocker Angela Elguezabal, outside hitter Emily Schellhase and libero Alexis Williams try to get Oakville to its first state Final Four in school history.
Klump racked up a team-leading 545 assists this season while also recording 17 blocks and 166 digs.
"Julia does a great job of leading our team," Allen said. "She's been playing for 10 years and knows how to spread the ball around. She knows what will work for us."
Elguezabal leads the Tigers with 174 kills and 30 blocks while also tallying up 63 digs.
"Angela does a great job at controlling the front line," Allen said. "She's just an outstanding athlete that leads with her actions."
Schellhase has 447 attacks and 171 kills for the Tigers this season and set the school record for the most attacks in a career.
"Emily always gives us a chance for a kill," Allen said. "She just set a record within the last week with the most attacks in a career, which is pretty impressive."
Williams leads Oakville with 339 digs for the 2019 campaign.
"Alexis does a great job reading the hitters and keeps the ball in play for us," Allen said. "She does a great job setting up our defense and puts us in a position to be successful."
The Tigers get a bye in the first round of districts as the No. 1 seed. They will play Lindbergh or Mehlville in the district semifinal at 5 p.m. Oct. 30 at Northwest High School in House Springs, followed by the championship at 7:30 p.m.