New year at Oakville High off to roaring start
CEAM says it won't file suit against district 'at this time'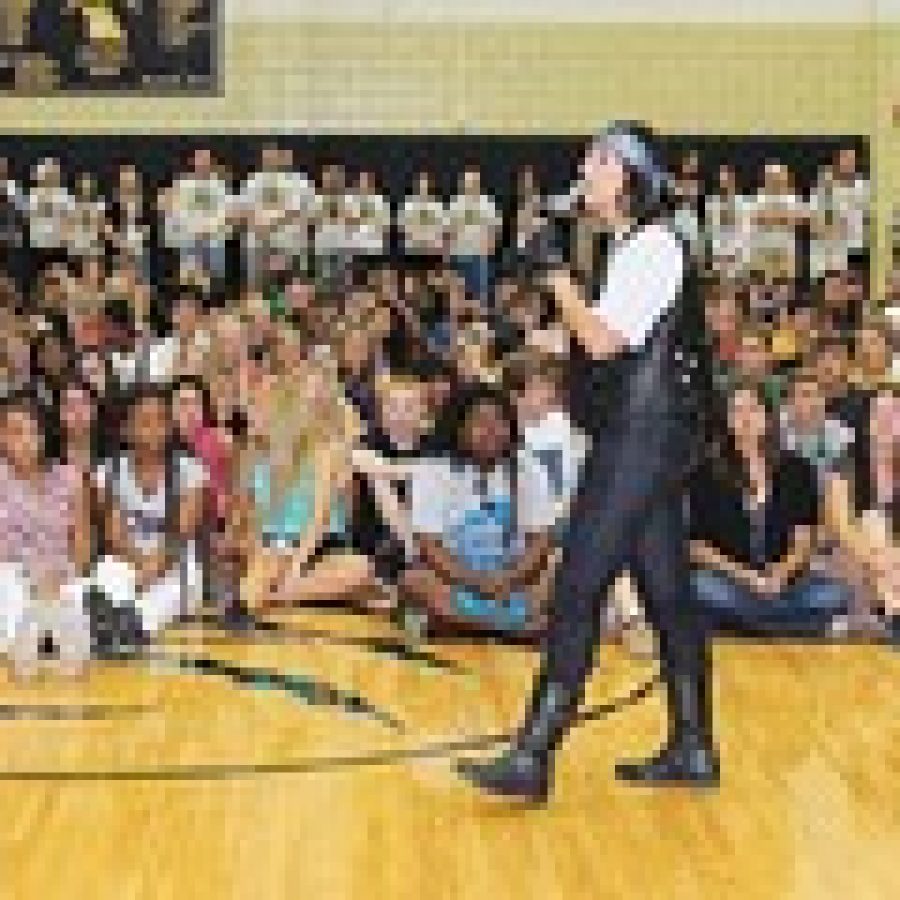 The 2013-2014 school year got off to a roaring start last week at Oakville Senior High School.
High school students from Riverview Gardens, incoming freshmen and other new students met Principal Jan Kellerman as she rode into the school's gymnasium on a motorcycle driven by Assistant Principal Ross Bullington.
The all-school assembly on the first day of school welcomed nearly 60 transfer students from the unaccredited Riverview Gardens School District, incoming freshmen and returning students.
"… Why did I come in on a motorcycle?" Kellerman asked students. "First of all, I love them. My husband and I travel all the time. We go on many highways, and this year our theme in the house is 'Life Is a Highway.' And all of you are on a journey this year."
Noting that seniors are on the "last leg of their journey," she said, "They're going to have a fabulous year. Now, there are some special people. We have a lot of people — students — new to the house this year.
"They have come from different districts, parochial schools … They are coming from our sister school. We've got some school-choice folks. And we also have quite a few new staff in the building … and, of course, anybody who is a freshman is new to the house, too."
Kellerman later said, "… When you travel and you go on a journey, you're usually not by yourself. Some people do, but usually what you're doing is you're with people. Right? And you help each other as you journey. As you travel on your highway, you have people that help you …
"It's our mission to tell you and to show you all the things that we do here in the house, all the things and the people that are going to help you travel on your life's journey. We have a lot of things this year.
"We are going to become a fabulous school of character. We are going to show what it's like to have fabulous academics in this building, and we are going to show the entire dang country just what goes on in Oakville High School and Mehlville School District because we rock …"
Lawsuit threats
At least three organizations — the Children's Education Alliance of Missouri, or CEAM, the American Civil Liberties Union and the National Association for the Advancement of Colored People — have threatened separately to sue the Mehlville School District over its decision to limit the number of transfer students from Riverview Gardens.
More than 500 students applied to attend Mehlville after Riverview Gardens unexpectedly chose Mehlville as its transportation district July 9, after a June Missouri Supreme Court ruling that upheld state law that mandates unaccredited districts must pay for students who want to leave to attend accredited districts.
Mehlville officials are standing firm that the district has room for roughly 216 students.
On the first day of school, Mehlville had 204 transfer students in attendance.
In a statement released Aug. 15, CEAM announced it will not pursue legal action against Mehlville "at this time" because all five families named in a potential lawsuit have been placed in a school district in which they are satisfied.
But the words "at this time" trouble Mehlville Superintendent Eric Knost.
"… My guess is they'll keep coming back …," he said. "I'd love to avoid a lawsuit and that's been my effort from the beginning. I'm not in the business of that, I mean I want to run the school district."
But the prospect of some type of legal action "seems inevitable," Knost said.
"The bottom line is we said, 'We feel it's appropriate, as a lot of other districts said, to apply reasonable parameters,' and we think the law backs us in applying reasonable parameters … I just have a feeling that we're just going to keep getting new lists of students and pretty soon our ceiling is really going to be where we said it was. I mean, we've had this give-and-take thing because we get students and then not all of them pan out."
District officials carefully examined the issue of how many transfer students Mehlville could accommodate, Knost said.
"… It's not about transfer students, it's about the numbers in our elementary schools," he said, noting the district last week began offering tuition-free, full-day kindergarten to more than 760 students.