New Sunset Hills city administrator enjoying challenge of post
Board votes to hire Sterman over 51 other job applicants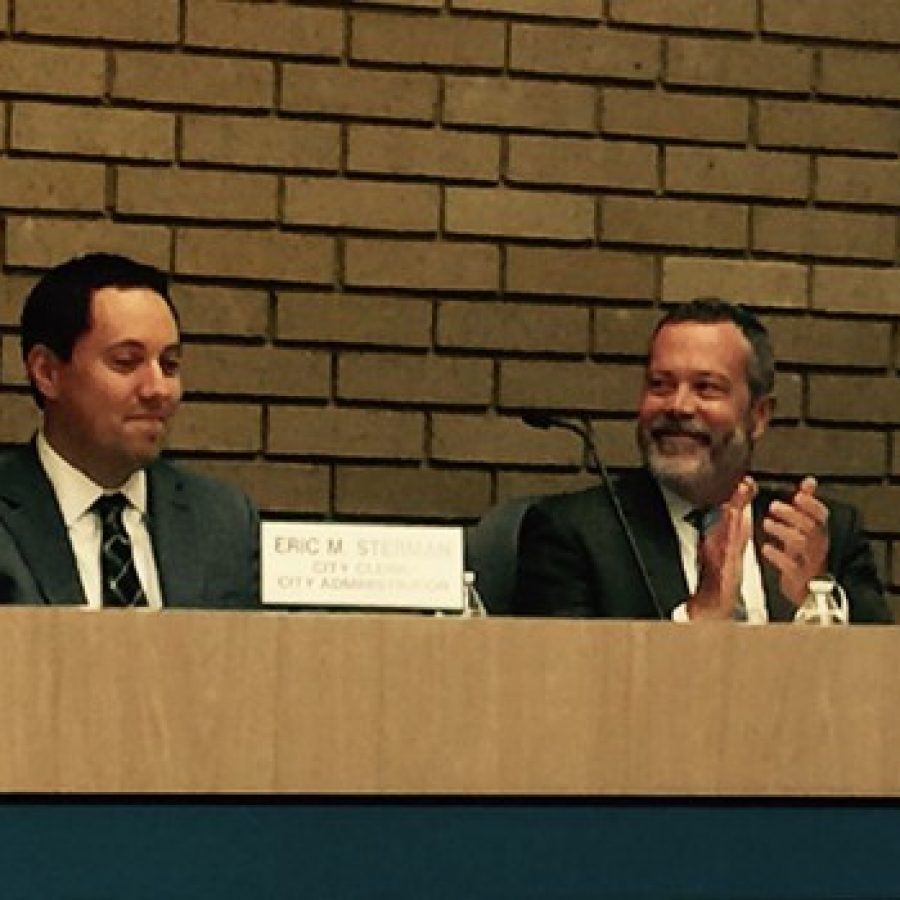 One month into the job, the first-ever Sunset Hills city administrator is enjoying the city, the community and the challenge of restructuring City Hall around his new position.
Eric Sterman, 37, started overseeing Sunset Hills City Hall July 25 after a decade working in various city governments in St. Louis and St. Charles counties, most recently as assistant city administrator for Lake St. Louis.
"I'm excited to be here, I'm excited to be in the community," Sterman told the Call last week. "It's all been a little overwhelming. Coming in, you're a new role and mapping out new territory both with the staff and with the Board (of Aldermen) — it's a lot to figure out as we go."
From what Sterman can tell so far, Sunset Hills is in "fantastic shape," with a strong financial and economic development position that he hopes to build on and improve.
City Hall has been in rebuilding mode since former City Clerk Laura Rider left last year for Ladue. Interim City Hall consultants Charles Montoya and Robert Heacock identified significant challenges in the structure of various city departments, which Montoya blamed on a lack of central management.
After unanimously deciding to create the position of city administrator/city clerk last December, aldermen voted unanimously June 14 to hire Sterman over 51 other applicants.
Aldermen unanimously approved a $90,000 contract June 28 for Sterman, slightly above Rider's ending salary.
Earlier this year, the board also unanimously hired Oakville resident Bill Lehmann for the newly created role of accounting manager for $65,000.
Aldermen also elected not to replace the vacant position of assistant finance manager. Lehmann previously taught finance at Cor Jesu Academy.
The staff in Sunset Hills has shown how flexible and dependable they are during the shake-up over the last year, Sterman noted.
"The finances are strong, we've got a really good staff, a really good board, it's just that when you don't have that sort of professional management oversight over the years, things can always be done more professionally … So I kind of view that as my role," Sterman said. "The city has had to spend a lot of resources on this internal stuff. Hopefully the internal shop's in order so we can spend more time on economic development and making it a better place to live."
A native of Olivette, Sterman is the son of longtime East West Gateway Council of Governments Executive Director Les Sterman, who retired in 2009. The new city administrator lives in Creve Coeur with his wife, Kelly, a project manager at BJC Healthcare, and their son, 4, and daughter, 2.
"That is what keeps me busy when I'm not at work — it's basically work or children at this point," Sterman said.
Sterman has not met former Mayor Mark Furrer and is neutral on the turmoil that marked Furrer's tenure at City Hall during the last few years, including an effort to impeach him, but the new administrator hopes the city is leaving all that behind.
"We hope to get a lot of positive — emphasis on positive — new developments in the next few years," Sterman said.
The city is already off to a good start on that front under new Mayor Pat Fribis, who is "perfect for the job in a lot of ways," Sterman said.
Although the stability of elected officials is ultimately up to the city's voters, Sterman hopes to serve for "many years to come" and give the city a steady voice at City Hall no matter what decisions voters make each year.
Before he was hired, Sterman researched the backstories of the city, from the Sunset Manor eminent domain debacle to the 2010 tornado that leveled houses on Court Drive and led to the current debate about a proposed commercial redevelopment of that neighborhood.
Some of the key debates from when Sterman applied for the position are still hot topics at city meetings, including Court Drive, building a new Jimmy John's with a drive-thru bordering residents of Maret Drive and videoconferencing.
The debate over commercial development of Court Drive is an indicator of not just the passion of Sunset Hills residents for their neighborhoods but also the strength of the city's business sectors along South Lindbergh Boulevard and Watson Road, Sterman said.
"A lot of this is a reflection of the fact that this area is in demand for development, in Sunset Hills, between the highways and Lindbergh, and because of the school district," Sterman said. "It's a good problem to have in that sense. You want to be a place that people want to come to and want to live."
Although Sunset Hills residents often wish they had a grocery store again, Sterman said the city is strong in one sector that Lake St. Louis residents would envy: Lake St. Louis has strong retail and housing markets, but its residents always contact their City Hall to ask for more sit-down restaurants.
Meanwhile, since Sterman has been hired, new restaurants Mellow Mushroom and Twisted Tree have opened in Sunset Hills, replacing the former sites of Growlers Pub and Mile 277, respectively.
Sterman is serving as the president of the St. Louis Area City Management Association, or SLACMA, for 2016-2017.
Sterman also looks forward to partnering on Watson Road developments with neighboring Crestwood City Administrator Kris Simpson, whom he knows through SLACMA.
Simpson said he is excited to work with Sterman to improve both their cities, which share the Crestwood-Sunset Hills Chamber of Commerce.
"We both have an interest in Watson Road being successful economically, and I'm also looking forward to any other services and projects we can collaborate on," Simpson said.
Sterman will start with 10 days of vacation and, for the purposes of accruing benefits, will be recognized as having five years of service. The city will pay him $300 a month for a vehicle allowance, along with a fuel card, a tablet computer and a $50 monthly phone allowance. The contract includes a severance payment of six months' salary and insurance.
Under the terms of the contract, the city would not have to pay severance if a termination came from "unethical or immoral behavior or of his conviction of any illegal act involving personal gain to him."
If Sterman wants to resign, his contract stipulates that he would have to provide a month's notice. Aldermen had said they realized they needed more than two weeks' notice from key employees after Rider left with the standard notice.