'New and exciting directions' are ahead for Myers as he leaves Crestwood post
City administrator says he leaves position with sense of accomplishment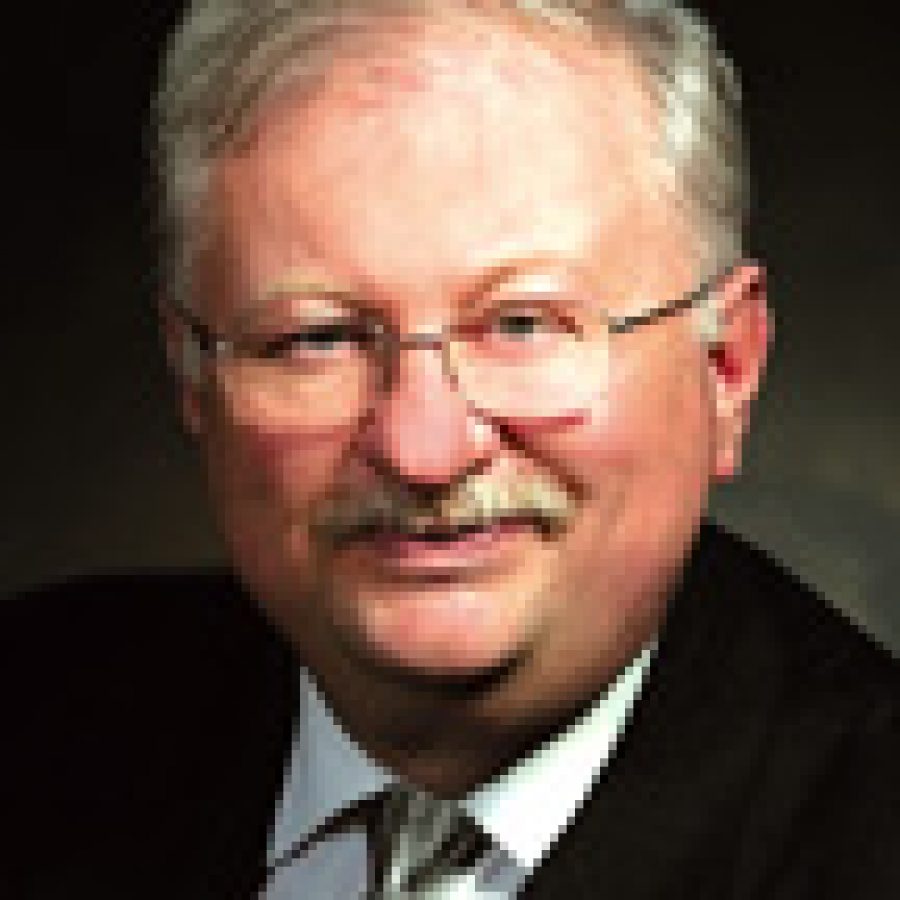 After two years serving as Crestwood city administrator, Frank Myers is moving on to "new and exciting directions" by taking over March 31 as the city administrator of Glendale.
Myers has resigned effective March 28 as Crestwood city administrator and also indicated that he would be utilizing unused vacation time before that date.
He will be taking over for retiring Glendale City Administrator Mike Pounds.
Mayor Roy Robinson said he was likely to suggest an interim city administrator Tuesday night — after the Call went to press — to the Board of Aldermen.
Officials now are advertising for a new city administrator with an annual salary range of $75,000 to $95,000.
While the deadline to apply for the position is April 25, Robinson indicated that city officials might hire a suitable candidate before that deadline.
"If we found somebody that's acceptable that we felt was a good fit and a good person, we would just cancel the announcement and move on," Robinson said.
Along with new opportunities in Glendale, Myers will be paid the same $91,800 annual salary that he made in Crestwood and will receive a more comprehensive benefits package.
Though Myers is looking forward to his future in Glendale, he admitted that he will miss many of the working relationships he developed serving as Crestwood's city administrator since February 2006.
"I'm remaining a resident of this community," he said. "I am very excited about the progress this community's made. I'm confident it's going to continue to make progress. And I've made a lot of dear friends here in the community. And the decision to accept this other position was not an easy decision to make.
"But after weighing all the pros and cons, I believe Glendale will allow me to use my personal strengths in some new and exciting directions. And I'm very excited about that opportunity."
Myers said he looks at his time in Crestwood with "a sense of accomplishment" and is proud to see to that the city has regained financial stability, improved employee morale and begun to rebuild trust in city government.
"One of the things I'm the most proud of is how our financial position has improved over the last two years," Myers said. "When I came here, if you look at the city's December 31, 2005, audit report, the three funds had a cumulative negative cash balance. And our cash balance has now grown significantly since I've been city administrator. And although that has been a team effort, it's certainly something that I'm very proud of.
"The other thing I'd say I'm especially proud of is the work we've done with performance-team management and the strategic-planning initiatives we've taken here in the city to kind of focus us to where we're heading in 15 years, five years and then tasks of one year to move us towards those five-year goals and the 15-year vision. And I think that process has engaged a lot of our employees that otherwise would not have been engaged in working towards a solution of the challenges here. It's elevated the energy level. And I believe it's improved morale and connected everybody towards some common goals. So I think our organization's overall performance has improved through strategic planning and performance-team management. The city's financial position has improved.
"And I think there has been a rebuilding of trust. We still have a long ways to go towards rebuilding that trust in government here. But I think we've made some progress in that area."
Robinson said he wishes Myers well in Glendale and believes that he helped guide the city through some difficult conditions since February 2006.
"He was up front with me and I was up front with him," Robinson said. "Frank's done a good job in the last two years. He's done an excellent job for me. I appreciate the fact that he came in at a bad time and we've been able to move the city forward. I wish him well. There were no hard feelings between Frank and I. Frank and I had a working relationship that was good as far as I know. He may tell you a different story. But that's up to him. But as far as I know, as all people do, you have disagreements. But we always worked those out by talking it out. And in the end, Frank did what I asked him to do. And I can't ask for any more."
As for Myers' successor, Robinson emphasized last week that he would prefer an administrator with strong experience in finance.
"I'm looking for one that has a good financial background," Robinson said. "That's very important. They must have a bachelor's degree in public administration or the related fields. And we prefer a master's degree. I'll be looking at a person that has the experience and that I feel will work well with me.
"Everybody will have an opportunity to present themselves. And I will recommend to the board what I think. The board has final approval. And if they're unhappy with who I pick, then I'll be looking for somebody else. But we are a city administrator's city by the charter and we will be filling that position."
The mayor has known about Myers' pursuit of the Glendale position for some time and added that Myers also had expressed interest in another position elsewhere.
"He had informed me that he had inquired at one other place," Robinson said. "He had looked at one other place, and then this came up. And I knew the city administrator over at Glendale and I knew he was leaving. So when I found out he was leaving, I knew that there was a possibility — without Frank telling me — that he might be looking at that. And then he told me well in advance that he was looking at that position. So I said to him, 'I wish you well if it works out.'"
Robinson said while he is sorry to see Myers leave Crestwood, he can respect that decision.
"I told him, 'I wouldn't be talking to anybody about this until after because some people would want you to go just because you're looking.'" Robinson said. "And I'm not that way. I feel that people ought to do what's best for their families and ensure that that's what they want to do. And I don't know what his reasons are. But perhaps long term, he felt that was a better situation."
To sum up his time in Crestwood, Myers said he feels that the city has moved in a more positive direction than it had prior to 2006 and is looking forward as a Crestwood resident himself to see the city improve over time.
"Over the past two years, I've seen the city of Crestwood move forward in a number of positive directions and feel a great sense of accomplishment," Myers said. "However, the opportunity in Glendale allows me to use my personal strengths in some new and exciting directions. And I've decided to pursue the opportunity."