New $16 million Grant's View Branch County Library opens its doors this week
Cliff Cave Branch will close for improvements on Jan. 30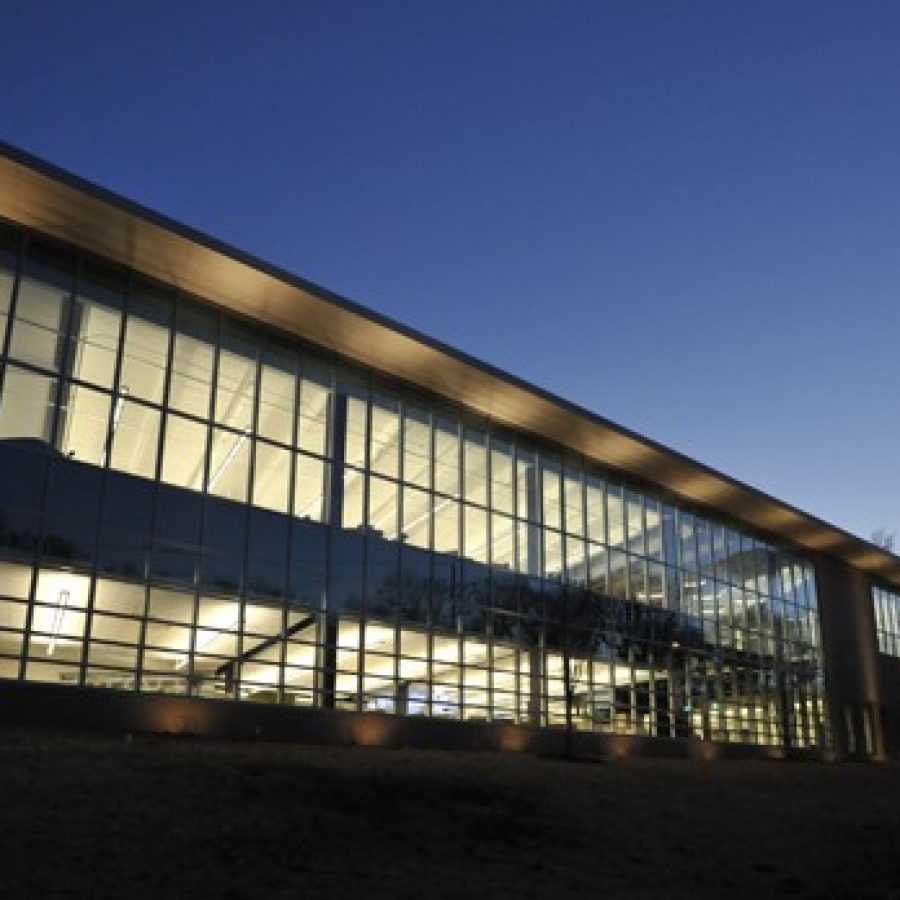 As the St. Louis County Library advances its ongoing systemwide library renovations, the new Grant's View Branch County Library opened to the public Tuesday — after the Call went to press.
In January, the Cliff Cave Branch Library will also close for much of 2016 so it can be modernized.
The $16 million Grant's View is directly across from Grant's Farm at 9700 Musick Road, and patrons will have frequent views of deer, elk and other animals through the building's two-story atrium windows lining Gravois Road.
The Cliff Cave Branch, 5430 Telegraph Road, will close for six to nine months beginning Jan. 30. Oakville library patrons are being directed to go to Grant's View to get their books while their library is closed.
The Oak Bend Branch at 842 S. Holmes Ave. will close Jan. 9 for the same renovations.
The new library at Gravois and Musick replaces the Tesson Ferry Branch County Library, which closed in November after operating for 57 years at 9977 Lin Ferry Drive.
The Green Park Board of Aldermen has twice rejected a Fresh Thyme Farmers Market store proposed at the former library site.
Besides its sweeping views of Grant's Farm, Gravois Road and nearby houses, the highlights of the new library — which at roughly 38,000 feet is nearly twice the size of the 21,000-square-foot Tesson Ferry — are a large children's area and teen space, private study rooms, a new cafe and a dedicated storytime area that few other libraries will have.
"I am most excited about the children's space," St. Louis County Library Executive Director Kristen Sorth said Monday during a tour of Grant's View. "I think it'll be fun to watch the kids come in tomorrow and run in and get to see their new space that is triple the size of the old branch. At the old branch, you couldn't tell it was a children's space, it just blended in … It'll be a great space.
"And the study rooms — definitely the study rooms. That'll be a great feature for the patrons."
After nine months of renovations, the updated Weber Road Branch Library at 4444 Weber Road reopened Dec. 18 to rave reviews from residents and teenagers who love the more open layout and the expanded teen space, said Library Communications Manager Jennifer McBride.
Like Grant's View and Weber Road, Cliff Cave and Oak Bend will reopen sometime in 2016 with new family restrooms, a larger children's area and teen space, a quiet reading room, new computers and new shelving and seating.
As part of the library's $120 million facilities plan, the library paid McBride Berra — the collaboration between developers McBride & Son and J.H. Berra that is developing two adjoining subdivisions — $2.9 million for the 4.2-acre library site, after McBride Berra paid $6.25 million for 67 acres that included the site in 2012.
Until county improvements to the Gravois-Musick intersection are slated to be completed years from now in late 2017, the county is not allowing the library to construct a direct entrance onto Musick Road.
Until then, Grant's View visitors have to enter the new library through the McBride subdivision entrance and drive through the subdivision's ongoing construction to park at the library.
The Grant's View Branch is also the South County Regional Library, the centerpiece of the library's south county locations just as Tesson Ferry was, Sorth said this week.
Last year, hundreds of residents upset at the proposed closure of Tesson Ferry, one of the oldest and most beloved libraries in the system, emailed then-County Executive Charlie Dooley begging him to reverse the decision.
Some Tesson Ferry patrons have said they can't wait for Grant's View to open, and others have said they will not use the new library because they opposed its new location and believe it's too difficult to get to the new site.
Outside Tesson Ferry just before it closed Nov. 14, Concord resident Jerry Welk said he had only been checking out books at the branch for more than 30 years, but his wife had been going to Tesson Ferry since it opened.
They will not be going to Grant's View, he added.
"It's a shame south county doesn't have a library anymore," he said. "They really dismissed the people of south county. The only people that wanted the new library were library administrators, and J.H. Berra and McBride — nobody that lives south of (Interstate) 270, that's for sure."