Myers says Crestwood strategic planning a success despite past criticism
City officials to present mall strategy to Westfield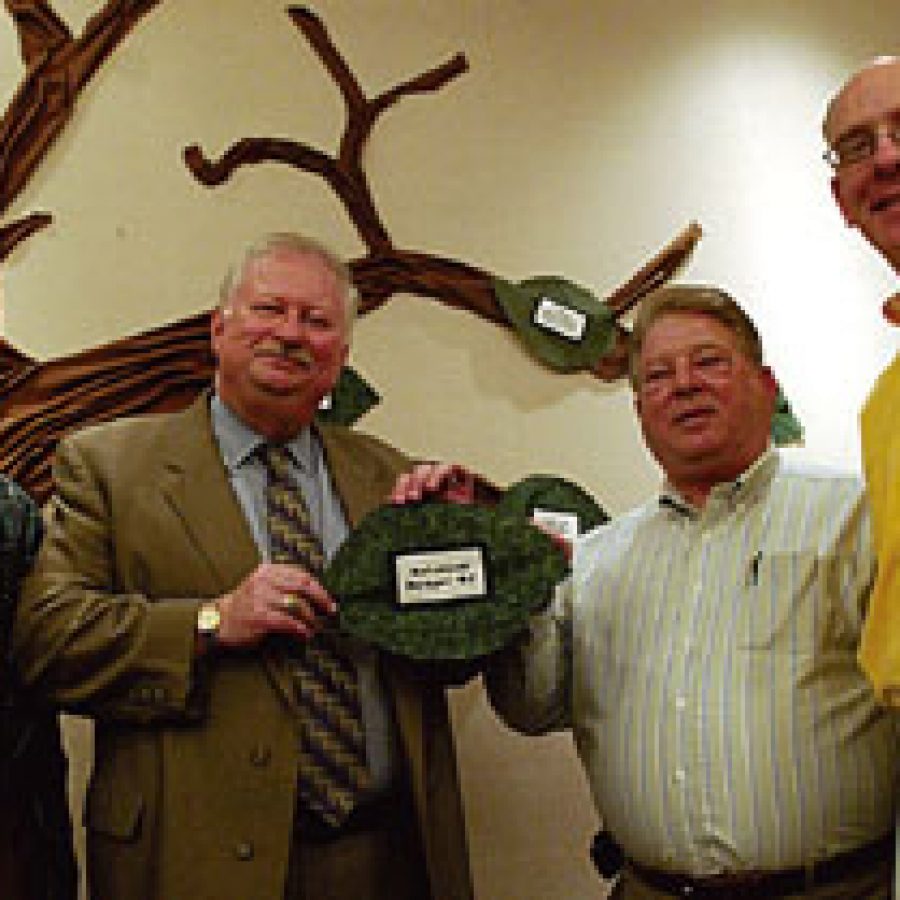 While some Crestwood residents have criticized the city's decision to fund strategic planning, City Administrator Frank Myers last week showed progress the city has made from that decision.
At a March 1 "strategic-planning rally" at the Government Center, Myers said that despite criticisms from residents as well as "the media and (KTVI reporter) Elliott Davis," the city has directly benefited from his decision to pay more than $8,000 for a three-day strategic-planning session last September.
That three-day session resulted in the development of 25 strategic-planning teams comprised of employees focused on specific goals.
Some of the benefits accomplished through strategic planning that Myers detailed last week include a 2007 balanced budget, the elimination of a line of credit, the implementation of quarterly financial reports, the scheduling of the city's 60th anniversary celebration on June 23 and recent decisions to lease/purchase 10 new police cars and offer Wi-Fi Internet access at the city's Community Center and pool.
Myers said these goals that already have been accomplished through strategic planning are signs that the city is moving toward its Crestwood Vision 2021, which is "a community for a lifetime."
"The city turned from looking in the past and said the only way we're going to move forward is if we start looking into the future," Myers said. "And the mayor and Board of Aldermen dedicated three full days of their life to come up with a vision for this community, five-year goals to move us to that vision and a detailed action agenda, which I prefer to call a business plan because it really is. It's our annual business plan. And half of our work force has been mobilized to implement that plan."
In December, the Board of Aldermen decided to budget a $9,000 expense to possibly bring strategic-planning consultant Lyle Sumek back to Crestwood next year for more sessions.
Myers last year approved paying Sumek between $8,000 and $9,000 for a strategic-planning session conducted from Sept. 17 to Sept. 19. Those sessions resulted in 25 one-year priorities — which the Board of Aldermen approved in October as a resolution — five-year goals and a 15-year vision for Crestwood. The city also formed multi-departmental teams for each of the 25 one-year goals, and those task forces continue to meet.
A handful of residents were concerned that the cost for the September workshop was neither budgeted nor approved by the Board of Aldermen. That cost was approved by Myers as an administrative decision. The city administrator also previously employed Sumek's planning services when Myers was the city manager of Trotwood, Ohio.
Some residents have contended the sessions were unnecessary and believe that they produced little more than the Crest-wood 2000 Commission, which was established in 1997. Mayor Roy Robinson and board President Jerry Miguel of Ward 3 also recommended as members of the city's Ways and Means Committee in October to not include the anticipated $9,000 cost for more planning sessions in 2007.
But Robinson and Miguel both were present at last week's rally and since have supported the work that sprung from the strategic-planning sessions in September 2006.
Robinson also has said that other Missouri cities have inquired to Crestwood officials about the benefits of strategic planning.
While the city already had reached some goals of strategic planning, numerous employees at last week's rally detailed future benefits that they still are trying to achieve.
Among the strategic-planning goals the city set last year is a plan to revitalize the Westfield Shoppingtown Crestwood.
Myers said city officials are scheduled to meet soon with Westfield representatives to present their plan for improving the mall, which Westfield has tried in the past year to sell.
"This community is very concerned about the status of Crestwood mall and what we're going to do with it," Myers said. "It's not an easy task since we don't own the property. And city officials have been grappling with this. We consulted with several individuals in the St. Louis area that had expertise in assisting cities with the development of such strategies.
"After that consultation, the city has decided upon moving forward with one of those strategies. And city officials will be meeting with Westfield officials in the next several weeks to present that to them, get their reaction. Based upon their reaction, that strategy will either be modified or publicly announced."
As another way to possibly boost revenue, the city's strategic-planning outline also includes an alternative-revenue team that is looking at new ways for the city to make money.
That team tentatively is scheduled to present its suggestions March 27 to the Board of Aldermen.
Assistant City Administrator Justina Tate said the team has suggested "five revenue items that we felt could help the city to increase our revenues" — a fine for tinted windows of vehicles; cameras at intersections; selling surplus items that the city no longer uses; a city store that would allow the city to sell T-shirts, sweatshirts, coffee mugs, pens and various items that would be designed with the city logo; and also a city catalog that would identify what items the city would like to purchase over the next five to 10 years.
The assistant city administrator said the catalog would be available to residents, who then could donate money to the purchase of their preferred items.
City officials also are developing an application for developers to apply for economic-development taxing tools like tax-increment financing, or TIF, community-improvement districts, or CIDs, and transportation-development districts, or TDDs.
"The team has reviewed all economic-development tools available in the state of Missouri, completed a best-practice scan of economic-development policies developed by several cities both in Missouri and outside the state of Missouri and have prepared a draft application for applying for economic-development tools as well as a draft policy in ordinance form to be presented to the mayor and Board of Aldermen in March," Myers said. "It's just approving a process by which rather than a developer coming forward and saying, 'I want this economic-development tool,' there's going to be more of a formal application process and evaluation process."
Other strategic-planning goals that are planned to be presented to aldermen this year include a code-enforcement program in March, a Watson Road access-management plan in April, a Grant's Trail improvement plan in May and a five-year projection plan in June.
Strategic-planning teams are also continuing to study a five-year street program, a cash-flow reporting policy, the best use of the Sappington House, a five-year maintenance plan for parks and centers, reconstruction of the Pardee Road bridge, fleet management, an employee-retention program and a city-marketing program.
Myers said strategic-planning goals for 2011 include Crestwood becoming a financially sustainable and responsible city government, upgrading city infrastructure and facilities, promoting livable neighborhoods and quality homes, develop "Historic Route 66" along Watson Road as the "heart of Crestwood" and making Crest-wood "a great place to live and the community of choice."