Myers recommends 2008 budget cuts in wake of Crestwood Dillard's closing
Crestwood officials planned to reveal mall strategy Aug. 21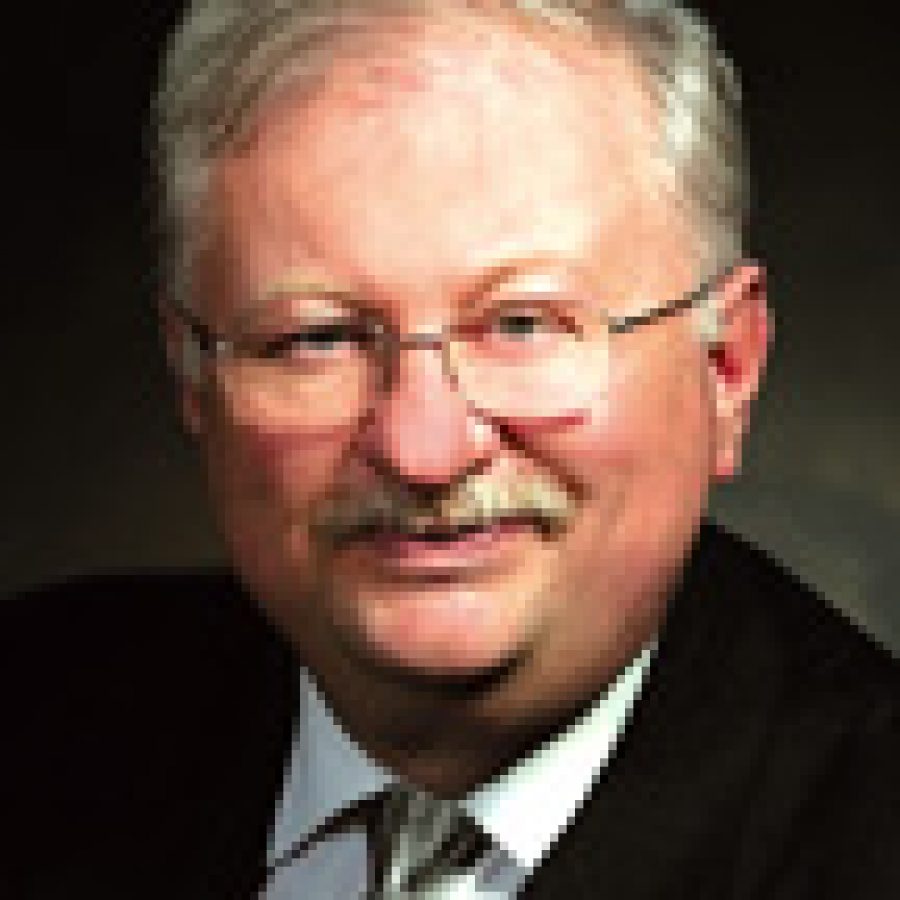 Despite the pending closure of Dillard's and the uncertain future of the Westfield Shoppingtown Crestwood, City Administrator Frank Myers is confident he can develop a stable 2008 budget by cutting planned expenditures.
Myers said to combat the loss of mall anchor Dillard's, scheduled to close Oct. 20, he recommends for next year eliminating additional employee positions, cutting planned street projects and canceling a planned stormwater project.
The city administrator indicated to the Ways and Means Committee — Mayor Roy Robinson, Ward 3 Alderman Jerry Miguel and Ward 4 Alderman John Foote — that he would be meeting with department heads next week to evaluate all requested expenditures and find additional cuts.
The administration also planned to reveal Tuesday night — after the Call went to press — a strategy to redevelop the Crestwood mall, which currently is up for sale and has suffered from annual revenue declines of 13 percent per year across the past few years.
Crestwood Economic and Community Development Manager Tryla Brown has said city officials are open to various developments, including an open-air shopping center, as long as such a proposal would provide sustainable growth.
As recently as July, an estimated one-third of the Crestwood mall's total retail space was vacant.
With Dillard's — one of the mall's three anchor stores along with Macy's and Sears — closing in October, Myers said the loss of revenue will affect the city's finances, but not traumatically.
"Clearly, the closure of Dillard's is going to have a financial impact upon our 2008 budget," Myers said. "Because we have positioned ourselves so well over 2006 and 2007 with growing, improving our cash position and our methods of being conservative with revenues and controlling costs, I think as we move into 2008, this does not have to be a traumatic budget year for us. And we're already seeing from the numbers that it does not appear to be — even with those adjustments — something rattling to our finances. So we're going to be very diligent in reviewing the numbers.
"We're obviously concerned when any major business leaves our community and its impact. We're going to watch that very closely and watch the numbers very closely. But at this point, it looks like we should be able to put forth a stable budget," he added.
Although he has yet to subtract any lost revenue from Dillard's, Myers last week presented preliminary 2008 financial projections to the Ways and Means Committee.
For 2008, Myers projects $9,094,154 in general-fund revenue. Expenditures submitted by city departments so far total $8,758,078, which leaves a projected 2008 surplus of $336,076 in the general fund.
That figure of more than $8.7 million in general-fund expenditures factors in the addition of no new employee positions in 2008.
"We have removed any new positions that have been proposed in the budget," the city administrator said. "I've already told department directors, in light of Dillard's, all of their positions they're proposing are going to come out of the budget."
In the city's capital-improvement fund, Myers projects $1,526,502 in revenue, which is primarily from sales tax.
Expenditures requested total $2,001,514 for a deficit of $475,012.
"Obviously, there's going to need to be some cutting in the capital-improvement budget," Myers said. "This is everybody's requests. This also does not take into account the revenue adjustment to the capital-improvement fund per the loss of Dillard's, which we're going to have to factor in. We're going to have to reduce that revenue. So there are going to be some cuts that need to be made in the capital-improvement fund …
"The overwhelming majority of these capital-improvement requests have to do with street work. Mr. (Public Works Director Jim) Eckrich has submitted a pretty aggressive street schedule for 2008. I think we're going to have to review that and make some adjustments."
The park and stormwater fund has projected revenue of $2,177,000 for 2008. Expenditures have been projected at $2,673,191 for a deficit of $496,191.
"This gap does not include any transfer from the general fund to the park-stormwater fund, which is my intention to submit to you a budget that does not provide a transfer from the general fund this year," Myers said. "Which means we're going to have to find ways to cut this budget down or use a portion of its growing reserve to help offset this number."
Park and stormwater fund revenue includes monies from the fund's sales tax and revenues from the city's community center and aquatic center.
Myers said a stormwater project with an estimated cost of "a couple hundred thousand dollars" will be cut.
To allow aldermen more time to review next year's budget, Myers is recommending an acceleration of the city's budget schedule.
A draft of the 2008 budget will be presented during the week of Sept. 24 to the Ways and Means Committee instead of in October. Myers anticipates the committee will meet during the first week of October to study the budget.
As for the Board of Aldermen, Myers said he would like to publicly present the 2008 budget at the board's Oct. 23 meeting, "which will give us three meetings instead of two to do the budget."
Myers is targeting a first reading of the 2008 budget at the board's Nov. 13 meeting "or if they're not ready and need more time, we could have a first reading by Nov. 27 and have a final reading on the budget at the Dec. 11 meeting, which is traditionally when we have the final reading."
Additionally, Myers stressed last week to the Ways and Means Committee that because of the recent resignation of Assistant City Administrator Justina Tate on top of his recommended accelerated budget schedule, he and administrative staff would be "struggling" to assemble anything more than usually included in annual budgets and asked the board to respect that.
"The assistant city administrator, who had a major role in putting together this budget last year, is gone …," Myers said. "We internally, because the person who left did so much of the budget last year, we are struggling as a staff.
"I just want to be very candid with this body. We are struggling with our numbers and plugging them in, double-checking them. (Administrative intern) Christal (Laswell) is doing a phenomenal job. (Assistant Finance Officer) Frank Fritz has stepped up. But neither of them has put together this budget before. So people are taking on new roles.
"And I just ask … we will do everything humanly possible to replicate the budget you got in 2007. Additional things above and beyond that, I'm just going to say, is going to be a challenge for us. And I just want to be up front with this body."
Myers and Robinson also reminded the committee that the projections for 2008 still are being adjusted and that any budget matters ultimately will be decided by the Board of Aldermen.
"These numbers are subject to change," Myers said. "We are still reviewing our numbers and tweaking our numbers. There have been virtually no cuts to these numbers at this point. There will be cuts to these numbers. We also intend to review very carefully all of our revenue numbers.
"We know that our revenue numbers are going to have to be adjusted because of the Dillard's closing. But I believe there are other revenue numbers that we need to watch closely that maybe they could be potentially slightly elevated. We'll look at that closely and we will see."
"There's a lot of things that can happen," Robinson said. "And I'm sure those numbers do not include the full, which should be full operation next year, in the new Sappington Square. That greatly exceeds any businesses that were occupying that space before."
"There should be some type of growth going on," Myers said. "Absolutely."
"If nothing else, property taxes will pick up some of that money that we've lost," Robinson said. " … I'm not happy to see any major business, especially such as Dillard's, leaving our community at this time. However, as far as I can see, down the road that would have been a possibility anyway because whether Westfield keeps or sells — I understand they have said they're trying to sell the plaza — we hope that anybody that would come into the community would be trying to maintain and keep the stores they have there.
"I'm sure that by the (Aug.) 21st (meeting), people will know that the city intends to make every effort to work with someone to redevelop that area, the plaza area.
"So maybe that quick departure may be regretted in time to come and probably benefits Macy's. Because now the people who used to go to Dillard's will probably utilize Macy's more. And Macy's may have a bigger revenue than they originally would have. So somebody has to benefit from that. And I hope the other stores in that community, in that plaza, don't get discouraged because they see one major store leave because probably, if that had been redeveloped, it would have had to have left anyway. That is what we always thought might happen."