Most Sunset Hills aldermen renew their call for city's mayor to resign
Furrer won't resign position; asks Haggerty to step down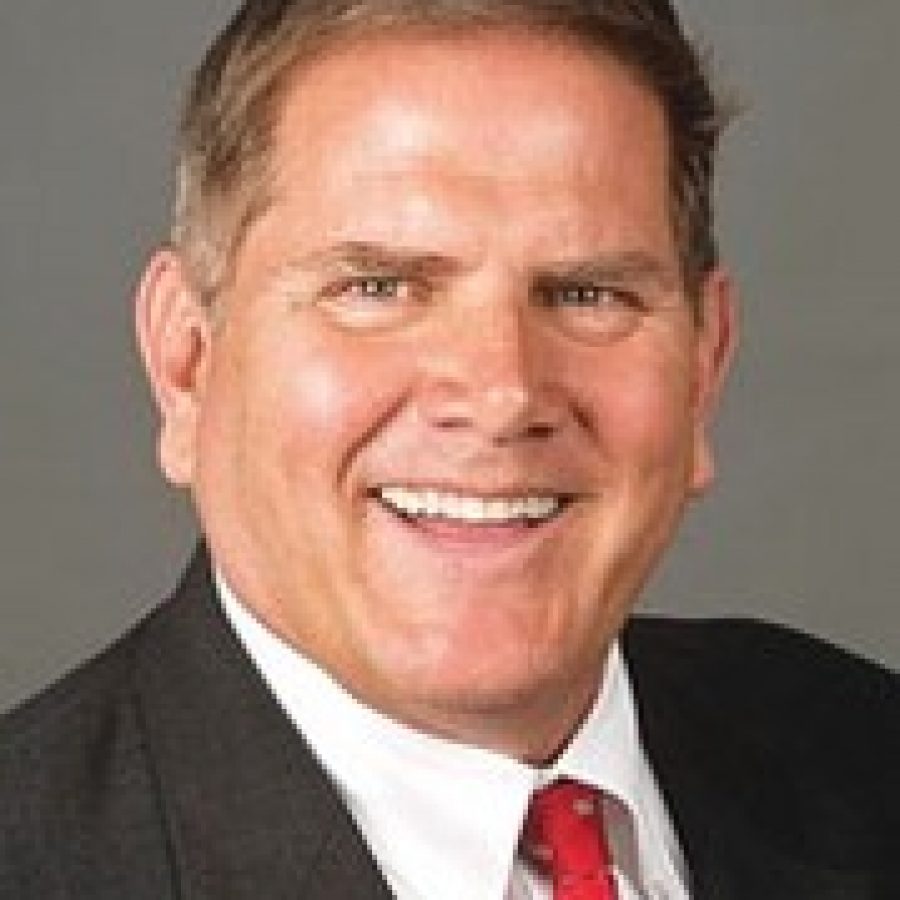 Efforts to impeach Sunset Hills Mayor Mark Furrer stalled earlier this month when the Board of Aldermen deadlocked on hiring outside legal counsel, but now that he is under felony indictment, most aldermen are again asking him to resign.
A St. Louis County grand jury indicted Furrer on felony charges of assault and property damage Dec. 10, the day after the mayor broke a board tie against an ordinance to hire outside legal counsel to determine if Furrer meets state criteria for impeachment of a public official.
The mayor is scheduled to be arraigned by county Circuit Court Judge Maura McShane Jan. 7, when he will enter a plea on the felony charges. Prosecutors allege he intentionally hit a bicyclist with his car, but he has vowed to plead "not guilty" and fight the charges at trial. If convicted of a felony, he would have to forfeit elected office and could face up to 11 years in prison.
In light of the grand jury's decision, acting board President Scott Haggerty said most aldermen agreed to send the mayor another official request for him to resign or take a leave of absence, similar to the board's letter after Furrer was first charged in October.
Like Furrer did then, he reiterated that he will not resign after last week's appeal from aldermen and asked Haggerty to resign instead, the alderman said.
"I can't imagine that he would stick around when he was charged with two felonies, but we thought with the grand jury indictment, that would probably be a little more serious in most people's eyes," Haggerty said.
Six of the eight aldermen attached their names to the letter: Haggerty of Ward 2, Ward 1 Aldermen Dee Baebler and Rich Gau, Ward 3 Aldermen Jan Hoffmann and Kurt Krueger and Ward 4 Alderman Pat Fribis. Most of them signed the letter at a breakfast Lindbergh Schools held for local elected officials.
"Before I could call the other ones, I get a text (from the mayor) saying that he will not step down, go away, hide or anything like that," Haggerty said. "'Don't even waste my time, do the things you're supposed to be doing and quit chasing after this false stuff,' and he asked me to resign instead."
If Furrer resigned or took a leave of absence, Haggerty would take over as acting mayor.
"I will just respect him in the position of mayor, which I feel like that's my responsibility as an alderman, but I just don't want any more bad press for our city," Fribis said. "Our city's a wonderful, beautiful place to live."
Ward 4 Alderman Donna Ernst and Ward 2 Alderman Tom Musich did not sign the letter, saying they have not seen the text of it and do not support again asking Furrer to resign. Their names and email addresses were included on an email Haggerty wrote to Furrer that included the letter.
Ernst signed the first, nearly identical letter the board sent to Furrer in October and said she has asked him to resign several times since then. But he has declined each time and said he will not resign even if all eight aldermen were to ask him, she said.
Furrer did not respond to a request for comment from the Call. Although Furrer did not officially respond to the aldermen by the time the Call went to press, he replied to their first letter by forcefully defending his position and alluding to the public pressure he was under from the bicyclist incident that led to his felony charges.
"It would be very easy for me to resign," he wrote. "My family and I have been the target of hundreds of death threats, harassing phone calls, and obscene emails that no one should have to receive. I believe that if I were to resign, then those individuals who have harassed me and targeted me without giving me my day in court win. I do not believe I should give up something I do and enjoy because of these individuals.
"My court case will not interfere with my duties as mayor, and I will continue to serve as mayor …," Furrer continued.
After Furrer initially declined to resign, aldermen approved a vote of no confidence against Furrer 6-1 Oct. 14, at their first meeting after the charges were filed. Musich dissented but Ernst agreed to that symbolic censure measure, which generally signifies that a board does not deem an elected official fit to hold his or her position.
"I just feel like we cannot keep asking the mayor to resign when we know that he's not going to," Ernst said. "It's really a waste of time and energy to do this because we know he's not going to resign, even if the president of the United States comes and signs the petition … He's not going to resign no matter what. That's what he said: 'No matter what, I'm not resigning.'"
Musich has been the primary opponent of pursuing impeachment from the beginning and did not sign the original request from aldermen that Furrer resign. He said he had not seen any causes outlined for either resignation or impeachment and noted that despite all that's happened at City Hall the past few months, the city is running along just like it usually does.
"No. 1, my stance on all of this is not to reflect support for Mark Furrer — that's not why I'm doing what I'm doing," Musich said. "My outlook is: What damage up to this point has been done by the mayor? I drove through Sunset Hills last night, and the restaurants were full, the retail parking lots were full, I saw police cars, and it seems like the police are doing their job … The parks are doing well. I haven't seen a lot of damage, if any, done by Mark Furrer. Now if we're going to spend money on impeachment proceedings, I want to know where the value is in those tax dollars that we're spending."
Both Ernst and Musich said they would prefer to focus on the process leading up to the city's new Comprehensive Plan, which Chicago-based planner Houseal Lavigne just began developing.
"This is going to be what's set in gold on Sunset Hills for the next 20 years, and we're wasting our time on signing a petition when we know for sure he's not stepping down no matter what," Ernst said.