Miguel, Talbott look to unseat Boston in Crestwood Ward 3 aldermanic race
Miguel, Talbott challenging Boston for Crestwood seat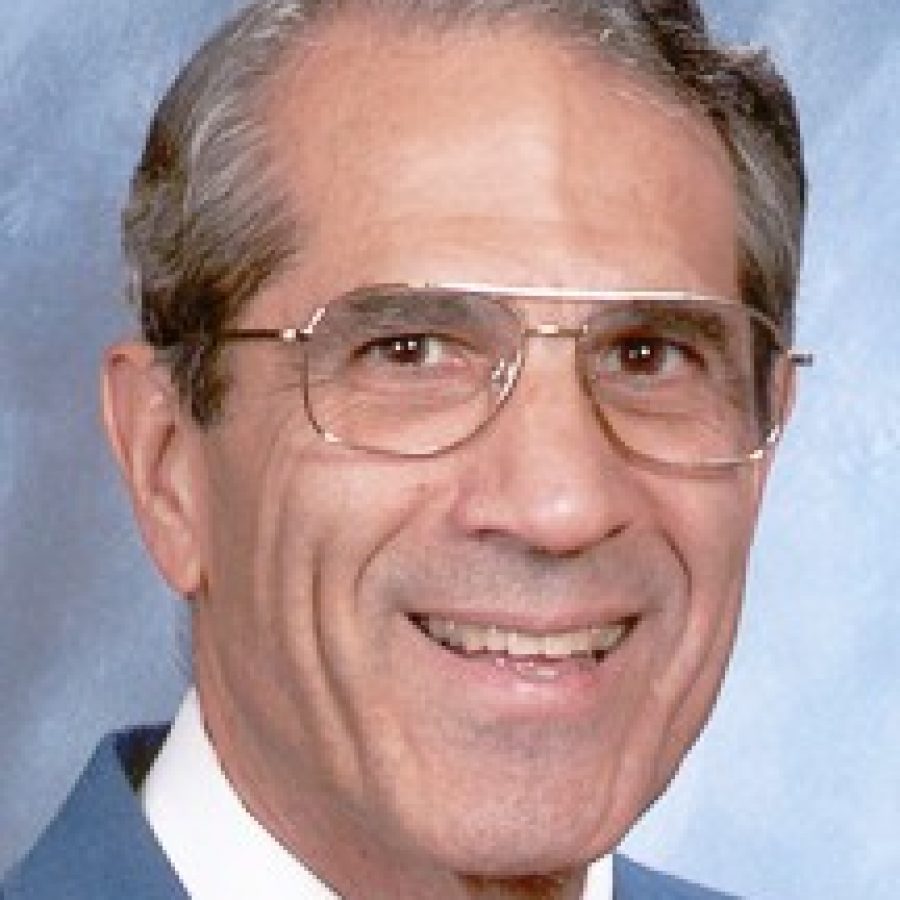 Two candidates are challenging incumbent Bill Boston for the Crestwood Ward 3 aldermanic seat in the April 5 election.
Former Alderman Jerry Miguel and newcomer Spencer Talbott are looking to unseat Boston, who was elected in 2013.
Boston told the Call that he did not want to respond to a questionnaire.
• "Redevelop Crestwood mall such that the tenancy is appropriate and the numbers work for the city as well as for UrbanStreet. Getting the redevelopment plan right is the key to improving the quality of life in Crestwood. If we do it right, meaning the numbers, and the tenants, work for the city as well as for UrbanStreet, it's a win-win situation," Miguel said. "If we screw it up, then the Watson Road corridor will continue to decline, more businesses will leave and taxpayers will wind up paying for the decline with higher taxes. Keep in mind we get only one shot to get it right. We can't afford another failed shopping center like Sappington Square — Starbucks area. We have to get it right the first time. There are no second chances."
• "The approval of TIF (tax-increment financing) for the former mall site is essential for the health, well-being and the rebuilding of Crestwood. The sign of good faith backing by our local government and the community will spur renewed interest for business in our area and continued residential growth," Talbott said. "The more commerce that can be brought back to Crestwood equals a greater chance for keeping our residents' taxes at a minimum. Keeping
Crestwood as an affordable and more desirable place to live, work and retire as opposed to our neighboring communities. This goes hand in hand with streamlining our budget and creating new and sustainable revenue streams."
Miguel, 79, 7942 Camelot Lane, is retired from Anheuser-Busch. He and his wife, Judy, have
four adult children.
Miguel was a Ward 3 alderman from 2004 to 2013 until he was ineligible to seek re-election because of term limits. He is seeking election "because I feel that with my knowledge and experience of nine years on the Board of Aldermen I can contribute to a redevelopment plan for the Crestwood mall that works for the city as well as for UrbanStreet."
Talbott, 34, 7709 Cloverlea Drive, is a commercial and residential real-estate agent. He and his wife, Sandy, have a young daughter.
Talbott, who has not held elective office, said he is seeking election because "Crestwood is in a very pivotal and delicate position. I believe that one can only talk so much before we need to be willing to invest our own time, effort and experience to truly make a difference. I work here, my family and I live here, and we want to see our daughter raised in a safe and thriving environment that Crestwood has proven itself to be before, and can be again.
"I believe my professional and personal hands-on experience, both locally and in similar metro and suburban cities, bring a proven, realistic and fresh approach to tackle the complex issues that plague our community at its defining crossroads."
Miguel said, "I am sure the mayor has the best interest of the city in mind. He has made good progress in moving forward with mall redevelopment. However, he has the propensity to rule with an iron fist and does not take kindly to opposing points of view. He also limits releasing public information as much as possible. For example, the mayor attempted to deny me a financial report until I told him I had been receiving the report since 2004.
"I am disappointed with the mayor's refusal to release public documents in a timely manner. For example, the mayor would not release UrbanStreet's proposal for over a month. It appears the mayor wants to keep the public in the dark for as long as possible so as to limit the voice of dissent. I am also disappointed with the 2016 General Fund budget deficit of roughly $500,000."
Talbott said, "I believe the mayor is doing the best of his ability with the cards he was dealt upon taking office. His general vision for our revitalization I do agree with. I also believe we can go much further, as many other American suburbs have in our very position. I believe it is extremely important to look beyond the scope of St. Louis to see what can be applied or not applied to our community."
Miguel said, "In my opinion, Ms. Stump views her job as running interference for whatever the mayor wants to do, whether it's firing an employee or withholding information from the public. Stump sites precedent when it suits her and ignores it when it does not. For example, she stood by the mayor when I was denied a financial report which I had been receiving without question since 2004."
Talbott said, "I see no reason not to."
Miguel said, "With conditions, I support UrbanStreet's proposal. But before I sign off, I need to know who the anchor tenants are going to be. And I need to be satisfied that the numbers work for the city as well as for the developer. I am against a TIF for a grocery store, as that will cannibalize Schnucks, Shop 'n Save, and Aldi's. Sales tax revenue that is going to the city will instead go to the developer to pay the TIF. The cost of losing any one of our three supermarkets to a supermarket with a TIF would be in the hundreds of thousands."
Talbott said, "I support elements of UrbanStreet's plan. Let's keep in mind they are the sole offer with a plan at all. I do know they've courted additional developers to work within the site. I'd like to see that play out in efforts to create a more dense lifestyle plan that could create even greater draw to the area."
Miguel said, "According to Stump, the city attorney, Ayouaz certified that he was an eligible candidate and the city clerk was required by law to submit his petition to the election board, which she did. This puzzles me. Last May, Mr. Ayouaz appealed to the Charter Commission, of which I was a member, to change the Charter so he could run for alderman in 2016.
"… So Ayouaz knows he is not an eligible candidate according to the Charter. Yet on Jan. 19, Ayouaz signed a Notice of Candidacy in front of the city clerk which sates: 'I certify that I am a registered voter and that I meet all the qualifications prescribed by law for the office mentioned above.' This doesn't pass the smell test."
Talbott said, "As I am not an attorney, I don't feel it is of my place to make that judgment call. The city seems to take the stance that such decisions are left up to the Board of Elections. If the Board of Elections or statute supports his candidacy, then our Charter should be amended to support the law.
"If that turns out to not be the case, then Mr. Ayouaz would simply be ineligible to take office this term, should he win. I see a citizen who is already currently serving his community and wishing to pursue greater service. The question stated Mr. Ayouaz filed at the advice of his attorney. Assuming there is law to support his candidacy, we should allow him a fair campaign."
Miguel said, "It goes without saying. Of course the city Charter and code should be followed."
Talbott said, "Yes. Assuming our charter does not violate greater state or U.S. statute."
Miguel said, "The cost to the city in the mayor's attempt to remove Mr. Nieder from the Planning and Zoning Commission was $7,000. There was also a cost to Nieder, as he had to hire a lawyer to defend himself. What a waste. Only the lawyers won.
"This is the sad story of two people with strong personalities and different political opinions. The mayor attempted to bully Nieder, telling Nieder he was dismissed from the Planning and Zoning Commission. However, nothing in the Charter or the code book authorizes the mayor to remove a member from the P&Z board. So Nieder, at personal expense, hired a lawyer to retain his position on P&Z. Faced with legal action, the Board of Aldermen voted to retain Nieder on the Commission. It's a sad day when the mayor is vindictive toward a resident with different political views."
Talbott said, "While I personally do not know Mr. Nieder, I've heard many versions of this scenario, both many sides. This particular question in and of itself seems to be bias(ed) in nature. Therefore, I prefer to not make a comment regarding this matter."
Miguel said, "Absolutely. As closed-session minutes are on the skimpy side and do not reflect everything that goes on in a closed meeting, it is the only way the public can ever know what really happened behind closed doors."
Talbott said, "I do support such recording, lending true transparency to our taxpaying citizens."
Miguel said, "If TIF is going to be used to bring in something new, like an AMC Theatre, then I am all for it. If TIF is going to be used to bring in a grocery store, like a Wal-Mart Neighborhood grocery store, then I am against it. The reason is simple; sales-tax revenue that is going to the city will instead go to the developer to pay the TIF.
"TDDs (Transportation Development Districts) and CIDs (Community Improvement Districts) are more palatable tax breaks as they are paid by sales-tax surcharges that customers pay when they shop in the redevelopment area. I am willing to go along with these tax breaks.
"As far as Chapter 353 is concerned, it depends on the terms. Generally, I would prefer a Chapter 353 over a TIF as the 353 is paid mainly from abatement of property taxes: 100 percent for the first 10 years and 50 percent for the next 15 years. However, Chapter 353 also allows the city to pledge sales-tax revenue in lieu of property taxes. I would probably be opposed to pledging our sales-tax revenues."
Talbott said, "I believe my position for the use of TIF is quite clear, as I am in favor of such use, when it is appropriate. The situation with our former mall site is precisely what TIF was designed and intended for. Furthermore, there are many successful examples and multi-year studies supporting such use throughout the country."
Miguel said, "I do not see a need for a tax increase at this time. However, the increased General Fund expenses in the 2016 budget, especially for additional employees, planning services and legal fees, cannot be sustained for more than another year or two."
Talbott said, "Let me first say that I am not a fan, nor in favor of a tax increase. However, without a push or boost to our local retail and business, along with major budget cuts/re-organization, it will be inevitable. Hence the passion and strong positions taken regarding the mall site and its effect on the surrounding areas."
Miguel said, "The only way I know to reduce or eliminate Affton Fire Protection District costs is through state legislation."
Talbott said, "To what knowledge I have regarding this subject: At this point, without additional revenue streams, I'm not sure there is anything we can do for the time being. Any other alternatives would be too costly for the city, with money we simply do not have. That is something I would take a much harder look into, once I'm elected into office."
Miguel said, "As I have not yet met, spoken or had any business dealings with Mr. Simpson, I have not formed an opinion of him. His two short emails to me were courteous."
Talbott said, "The simple answer is yes. Mr. Simpson has been with the city such a short time and seems to be diligently diving into our issues. Having a revolving door for that position takes its toll on whomever steps up to the plate and, as well, our city's budget."
Miguel said, "Mr. Sime is another matter. Initially, I supported Mr. Sime. However, I began to lose confidence in him when he fired the finance officer in May 2013, a month after I left office. It reached its peak when he attempted to outsource the finance department. Even the Civil Service Commission overturned his firing of the finance officer, but the damage was done. The finance officer felt he could not return to the city under the circumstances. From there, Sime proceeded to clean house. Several people, including three department heads, left. Some were fired, others left under the threat. There was a complete turnover of senior management, leaving a complete void of institutional knowledge from which the City is still recovering."
Talbott did not respond to the question.
Miguel said, "I consider redevelopment of the mall an extremely important project for the city and would therefore consider use of eminent domain under certain conditions, namely all reasonable attempts to acquire the property in question had failed and the property was vital to the success of the project. However, I would not give the power of eminent domain to the developer. The power of eminent domain must remain in the hands of the Board of Aldermen and used as a negotiating tool if the situation arises. I would expect the developer to justify his need for the property and defend his best offer to acquire it. I might then want to bring binding arbitration into the picture."
Talbott said, "That is strictly a case by case basis that cannot be answered with a blanket yes or no answer. Like TIF, eminent domain can sometimes be a necessary evil. When used for the true betterment and health of our city, it can be necessary. I have also seen eminent domain abused. As long as property owners are treated and compensated fairly, it can be a positive thing."
Miguel said, "There have been instances where the Sunshine Law has been clearly violated. For example, when UrbanStreet's proposal was withheld from the public for over a month under the pretext that it was being negotiated, and when the independent auditor's financial statements for 2015 were withheld from the public for over a week. Even the city attorney stated the auditor's financial statements are public documents upon receipt."
Talbott said, "In my experience and to what I've personally witnessed, yes."
Miguel said, "Not only did I vote against it, I was the only Board of Aldermen member to vote against putting the issue on the ballot. The million-dollar tax increase just was not needed. Prop S, a special seven-year tax passed in 2006, which I championed, and which was retired one year early, got the city back on its feet very nicely."
Talbott said, "I believe it is sheer speculation to form an opinion regarding a subject I wasn't here to experience. As a rule, I feel Crestwood's taxes need to remain low as a lure for residents to relocate here. However, as I mentioned in a former question, without new revenue streams for our city, it is inevitable. At some point we have to acknowledge the need for an increase, or be willing to give up services."
Miguel said, "Roughly $500,000 of the $700,000 deficit is in the General Fund. It is really too late to make budget cuts to the General Fund. It would be better to manage the fund to reduce costs. I am OK with the $200,000 deficit in the Capital Improvements Fund as that fund has had surpluses in the last few years and cash is available in this fund."
Talbott said, "Absolutely. As a former corporate executive and business owner, I could never project a loss for any given budget/year. At least not without consequences. However, just as Rome wasn't built in a day….neither is restructuring an already flawed budget. This will take time to correct either difficult decisions for massive cuts, through the creation of new revenue or both."
Miguel said, "I have had no direct contact with most of the new employees. My limited contact with two new employees has been satisfactory."
Talbott said, "I believe the city has fine representation. Personally speaking, I've only had positive experiences."
Miguel said, "I am very satisfied with the service of the Police Department. Crestwood is a very safe community. Serious crime has dropped by over 60 percent since 2003.
"Court fine revenue has also dropped by roughly half over the past 10 years, which indicates to me that our court system is being run fairly and is not being used as an ATM machine.
"My past concerns about the Police Department were mostly with the number of police vehicles in the department. That now appears to be under control as the number of vehicles has dropped from over 20 in 2004 to 10 at present."
Talbott said, "Coming from a family of law enforcement, I know the value of and how vital it is to keep local services in place to maintain a strong community."
Miguel said, "If TIF is going to be used to bring in something new, like an AMC Theatre, then I am all for it. If TIF is going to be used to bring in a grocery store, like a Wal-Mart Neighborhood grocery store, then I am against it. The reason is simple; sales-tax revenue that is going to the city will instead go to the developer to pay the TIF.
"TDDs and CIDs are more palatable tax breaks as they are paid by sales-tax surcharges that customers pay when they shop in the redevelopment area. I am willing to go along with these tax breaks.
"I see no reason to extend the redevelopment district beyond the currently proposed borders. Redevelopment beyond the currently proposed borders should be separate redevelopment projects. We do not need to complicate the mall redevelopment project any more than it already is."
Talbott said, "Yes and yes. I believe 'redevelopment' actually goes far beyond the mall site, even as far as the I-44 gateway to our city. If we plan to survive as a community, smart and sustainable redevelopment efforts have to be made throughout Crestwood overall."
Miguel said, "We need to be good neighbors with Lindbergh. The Lindbergh School District is the main reason Crestwood is the hottest real-estate market in the state right now. Our property values are high because of this exceptional school district. We need to come up with solutions that work for both of us.
"Still, the city and the school district are separate and independent political entities. Each is a separate taxing district with its own constituencies, priorities, needs and responsibilities. One would hope we could have a cooperative relationship with each other rather than an adversarial one."
Talbott said, "Absolutely. However, the additional great thing about Crestwood is that there are many fine alternative/private schools in our area. Our housing affordability keeps options open to our residents. We can't forget that much of our population reside in another district — they share our taxes and services as well.
"That being said, it's no secret that Lindbergh is a major draw to the area. The healthy school system gave my household the confidence to plant our feet here. However, there needs to be a two-way street of compromise between Lindbergh School District and our city. Crestwood has always had Lindbergh's best interest in mind, I'm not sure the same can be said otherwise. Being such a large district, there are many other communities Lindbergh can depend on without the renewed success of Crestwood. We need them. They know that, we know it. It's essential we always keep Lindbergh's protection in mind through our community's development and tax efforts."
Miguel said, "The current Government Center is perfectly adequate. Where did this idea come from? It is reminiscent of the aborted attempt to build a new police building back in the 2002-2006 era; a project that wound up costing the city over $3 million cash, around 2,000 man-hours of staff time, and nearly bankrupted the city before the project was stopped and the bonds were defeased."
Talbott did not respond to the question.
Miguel said, "Without question, business should be conducted in open session whenever possible."
Talbott said, "In efforts to maintain and encourage transparency, we should conduct meetings openly, when possible. There are occasions and subjects where matters need to be handled behind closed doors."
Miguel said, "Crestwood is one of the hottest ZIP codes in the country for several reasons, including: 1. The Lindbergh School District has been the top school district in the state for several years in a row, 2. Quality police, fire and EMS services, 3. The cost of housing is reasonable; neighborhoods are friendly, 4. Relatively crime-free municipality; a safe place to live, 5.) Low property taxes."
Talbott said, "This is the very basis and platform that encouraged me to run. I see our city at a major crossroads. Making a wrong turn could detour us from that coveted announcement. The reason we made that list was fairly straightforward. Affordability, safety and solid school education. While that is very exciting, we need to ask why we weren't No. 1 on that list? As an alderman and a realtor — that's the very issue I plan to protect and improve. Should or when the TIF passes, that will be great and free publicity for our city, positive publicity that will show we are ready to move forward as a city and will encourage more development and businesses to take a second look at Crestwood versus neighboring communities. I plan to use that as a tool toward 'rebranding' efforts to bring business and more residents back to Crestwood to ensure our sustainable future."
Miguel said, "I support minimum standards for municipalities to maintain their own police department, and I believe Crestwood should participate in setting those standards.
"Crestwood's crime record has dropped by more than half over the past 10 years, as has its revenue from traffic fines. So I believe Crestwood's police department would meet any reasonable minimum standard. The problem is with municipalities that cannot maintain a quality police force and use their police department as ATM machines. These departments should be merged into a police force that meets minimum standards or taken over by the county."
Talbott said, "Yes. Other metropolitan areas all over the country offer fine examples of how unified cities can operate, still with the independence of their own governments."
Miguel said, "Legal costs rose from $96,000 in 2011 to $163,000 in 2013 and are budgeted at $135,000 for 2016. Legal bills usually ran under $100,000 until 2012, when they reached $124,000. So yes, legal bills have skyrocketed since the city hired Stump as city attorney and are therefore a matter of concern. On the other hand, I expect the city is incurring some costs associated with redevelopment of the mall. As always, the devil is in the detail, and I have not reviewed the legal bills for some time."
Talbott said, "I'm concerned over any area of the city's budget than can or should be reduced and better managed."
Miguel said, "Absolutely. With today's technology it should be a simple task to send out a group message."
Talbott said, "Absolutely."
Miguel said, "My vision for the future is to keep Crestwood as a great place to live. Some of the reasons Crestwood is a great place to live include: 1. The Lindbergh School District, 2. Quality police, fire and EMS services, 3. The reasonable cost of housing, 4. The friendly neighborhoods, 5. A low crime rate, 6. A safe place to live, 7. Convenient shopping district, 8. Low property taxes."
Talbott did not respond to the question.
Miguel said, "First, I am against a city-county merger. Merging with the city winds up taking on their problems, which in my view are better handled with federal programs. However, a merger with Sunset Hills or Grantwood might make sense for Crestwood.
"I am in favor of disincorporation of municipalities that cannot provide quality police and fire services. The region needs to stop municipalities from fighting each other with TIFs and other tax breaks to land the next Wal-Mart or Menards.
"I am against Crestwood merging services such as police and fire unless it is in the context of a merger with another municipality, such as the aforementioned Sunset Hills or Grantwood. One must be careful here, as having our own fire protection service is one of the outstanding benefits of living in Crestwood. Going to a regional fire protection district would result in a several-hundred-dollar property-tax increase for the average Crestwood residence."
Talbott said, "I do not support either of these methods. I do support the idea of merging. Aside from Baltimore, Maryland, St. Louis is the only "divided" city of its size. This directly affects and skews national reports for crime data, average housing costs, population, job growth, grant monies, the list goes on and on. Many competing cities are proving healthy combinations of their local municipalities through the attraction of new corporations and skyrocketing growth (i.e. Indianapolis, Nashville). Not having an attractive/combined metropolitan area only actually hurts the city itself and individual suburban areas, including Crestwood."
Miguel responded, "1. Get spending back under control. The independent auditor's 2014 financial statement reported a surplus of over $800,000. The 2016 budget has a $700,000 deficit. That is a $1.5 million swing in two years and is unsustainable without a tax increase.
"2. Restore budgeting and financial analysis and reporting to the quality it was when I left office in 2013; challenge questionable spending.
"3. Restore transparency and accountability and be more open with the public. As you may know from my previous term as alderman, I do not hesitate to ask the tough questions."
Talbott responded, "Top 3 key issues: 1. Smart, sustainable redevelopment. Not only of the former mall property, but for the city of Crestwood as well.
"2. Drawing upon my business acumen and commercial real estate background, I plan to focus on the promotion and branding of Crestwood in order to lure more businesses back to Crestwood. Doing so will create additional revenue streams, resulting in the ability to keep residents' taxes low.
"3. Continued transparency and efforts to streamline the city budget to support anticipated growth."