MFPD officials review potential safety impact of apartment proposal
Fire board chairman to seek meeting with O'Leary on apartment proposal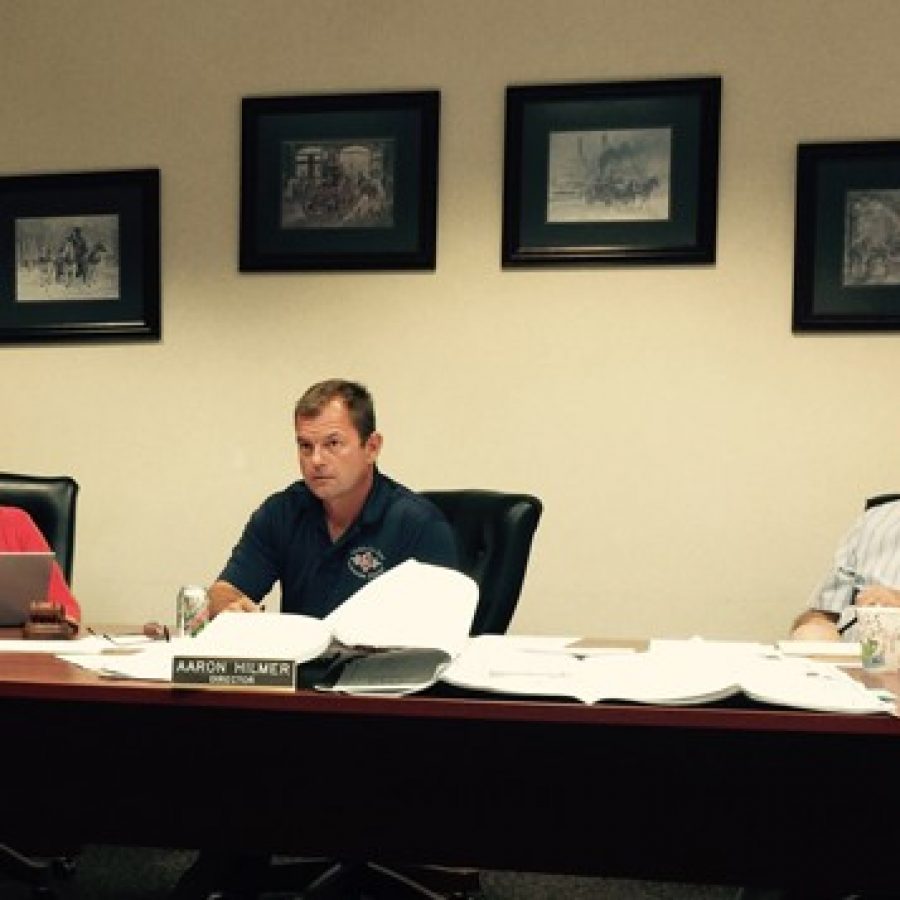 As a contentious apartment complex heads back to the county Planning Commission, Mehlville Fire Protection District officials are looking into the development's potential impact on public safety and the response times of ambulances and fire trucks.
In response to concerns from a resident, the Board of Directors last week took up the issue of "21Bauer," the 232-unit apartment complex proposed by Oakville-based developer J.H. Berra at the corner of Tesson Ferry and Bauer roads.
"We're going to try to talk about what is possible for Mehlville to do to assist you guys, and what you wish we could do and we can't," board Chairman Aaron Hilmer said at the Sept. 21 meeting.
Opposed by thousands of neighbors who have submitted a petition against the project, the apartments were unanimously approved by the Planning Commission this summer. The project divided the County Council 4-3 until the neighbors' attorney, Stan Wallach, contended that the county had violated its own ordinances with the zoning by not reverting the land from R-6 multi-family residential zoning back to its original R-2 single-family zoning when a nursing home fell through in 2010.
Now, the project is back to the Planning Commission for a special hearing set for 7 p.m. Monday, Oct. 10, at the county Administration Building, 41 S. Central Ave.
The site's legislator, 6th District County Councilman Kevin O'Leary, D-Oakville, did not respond to multiple requests for comment from the Call, and neighbor Bill Hogan, who represents more than 600 residents in 16 subdivisions in Concord, said he has been just as unresponsive to them.
"You haven't even met with O'Leary?" board Secretary Ed Ryan asked.
"No, he denied us," Hogan said. "We have not been able to meet with our county councilman."
For their part, MFPD officials are on a "fact-finding mission" in advance of the hearing to find out how fire operations might be impacted, Hilmer told the Call.
"The guy (Hogan) showed up, told us about his plight," Hilmer said. "It was, quite frankly, pretty moving. We had never heard anything from the county on this. So based on what he told us, there's some reason for concern."
As fire officials review the plans, Hilmer is going to request to meet with O'Leary before the hearing to go over the public-safety aspects of the development, he said.
Neighbors' primary concern about the apartments, they have repeatedly told the council, is extra traffic on Bauer Road, the only way in and out of their homes.
Bauer is "just one grade above a full dirt road winding down into that valley," Ryan noted. The county did not recommend changes to Bauer beyond an extra turn lane.
Originally, Hogan approached the fire board because he said county officials had told him that the plan had already been reviewed by the fire district. But the district typically does not see or sign off on developments until after zoning is approved, Fire Marshal Ed Berkel said.
Even then, fire districts typically only have jurisdiction over safety concerns inside a development, not on county- or state-owned roads such as, respectively, Bauer and Highway 21/Tesson Ferry, Berkel added.
Residents did not object as strenuously to the nursing home because it wouldn't bring heavy traffic, Hogan said.
One of their chief concerns, however, is public safety, including the ability of the MFPD's ambulances and fire trucks to get through to serve not just the apartment complex but the many residents along Bauer and Keller roads whose only access to a hospital is through Bauer Road.
At the initial June 20 public hearing, Bauer Road resident Robert Mense noted that a neighbor with COPD frequently has to call 911.
"I'm worried about the impact the traffic would have on her life," he said. "I would like for everybody to hold their breath right now and wait for an ambulance, because that's the way she feels."
"Any proposal would have to be signed off by Mehlville fire district," Chairman Wayne Hilzinger assured Mense.
But that review never extends to the safety of the roads or access for fire equipment, Berkel said last week.
That reveals that the county's safety review process is broken, Hogan said, adding, "Public safety should be the first thing, not the last thing."
A CBB traffic study commissioned by Berra predicts that most of the traffic in and out of the gated apartment complex — comprised of 10 two-, three-, and four-story buildings — will exit by turning left onto Tesson Ferry Road, across two lanes of traffic and through the "suicide lane." That was enough for both the county Department of Transportation and the Missouri Department of Transportation, or MoDOT, to give the development the green light.
The apartments will also exit onto Bauer, but fire trucks need at least two safe entrances and exits into any development, MFPD Chief Brian Hendricks noted.
"Making that left-hand run would be my biggest concern," Hendricks said. "My concern is that is a high-traffic area. During times when you have low traffic, people will do 50, 60 mph down Tesson Ferry. You make that left turn out of (the apartments), and you will potentially have a real problem right there. It does in essence become a bit of a state issue because that might be an avenue to look into. That's a tough intersection there."
Ryan suggested the fire district pass an ordinance that no building higher than two stories can be built unless fire trucks have adequate access.
"I think we have a right to say this is going to put our crews at risk, in danger of an accident, in trying to traverse a country road to access a two-alarm fire," Ryan said.
Hendricks suggested that the MFPD look at the traffic study and site plan, "then our board can take a really good look at what this is going to look like."
Without having looked at the plans, some aspects of the development are concerning, he noted.
"I can see a legitimate cause of concern in whether our crews are going to be able to make that left-hand turn in a high-traffic period of time, whether or not we're going to be able to get in there," Hendricks said.
Hilmer texted Rep. Mike Leara, R-Concord, who represents the area, during the fire board meeting to ask for his help. Leara told the Call he is reviewing the traffic study and has opened an inquiry with MoDOT through his office.
He is opposed to the apartments "because no one in the neighborhood wants that traffic there," he noted, and finds it "odd" that the developer can submit its own traffic study.
"They wouldn't release one if it wasn't going to be favorable to the project," he said.