Metro board considers long-range plan
Light-rail lines, additional bus routes are options for south county.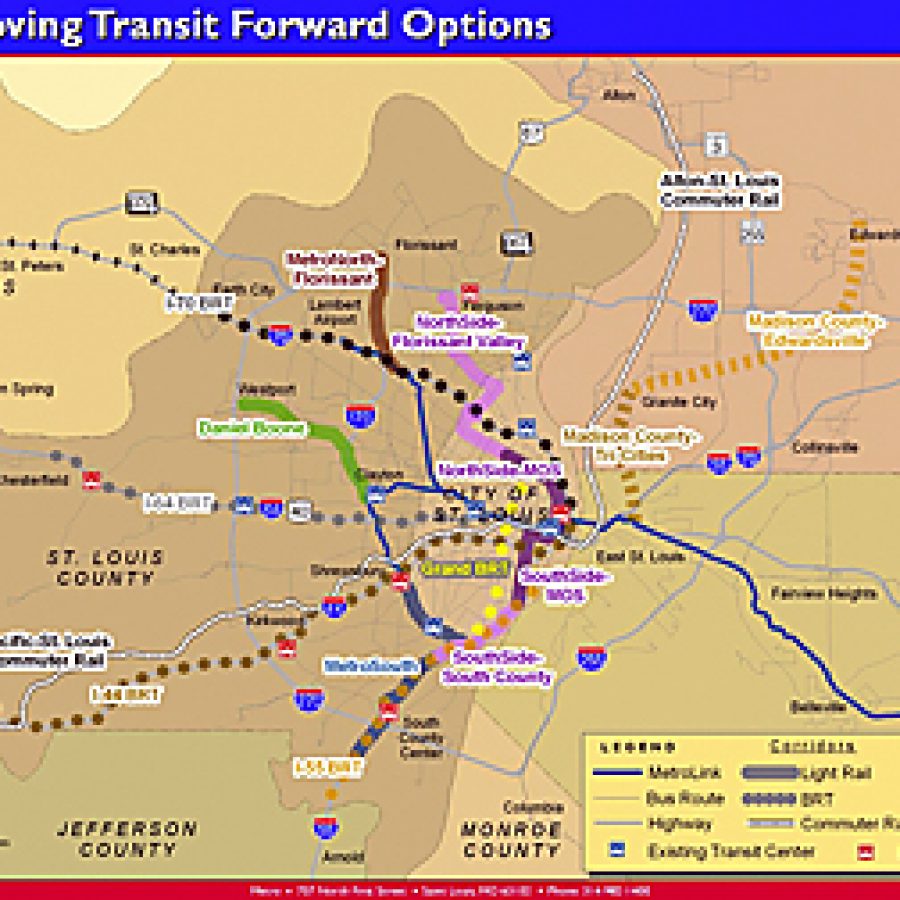 A long-range plan for St. Louis-area public transit, with light-rail and rapid bus line options for south county, will go before the Metro transit agency's Board of Commissioners this week.
The board is scheduled to consider adoption of the plan — "Moving Transit Forward" — when it meets at 9 a.m. Friday at Metro's headquarters, 707 N. First St. in St. Louis.
If commissioners sign off on the plan, it next would be submitted to the East-West Gateway Council of Governments Board of Directors, which would have the final say on where and when any Metro service expansion, as recommended in the plan, would occur.
The plan sets five-, 10- and 30-year service expansion and enhancement goals for the transit agency, which recently completed its third round of public workshops on the plan.
Officials say their first priority is to further restore MetroBus, MetroLink light-rail and Call-A-Ride paratransit van service that was cut last March.
From there, Metro would pursue expansion projects at the direction of East-West Gateway. In the first five years, the agency could instate two new Bus Rapid Transit routes, begin planning for one new light-rail line and implement new passenger amenities, such as swipe-able smart card ticketing systems at bus and MetroLink stations.
By the 10-year mark, the agency could have one MetroLink extension up and running, as well as additional rapid bus routes. In 30 years, Metro envisions opening two additional light-rail extensions and a commuter rail line from Alton, Ill., to Pacific — the latter contingent upon the construction and support of a high-speed rail line from Chicago to Kansas City.
As for south county, the plan recommends MetroSouth, a light-rail line that extends from the existing Shrewsbury MetroLink station to Butler Hill Road, possibly connecting halfway with SouthSide, an extension into downtown St. Louis.
The plan also provides for a possible rapid bus route that would extend from downtown St. Louis along Interstate 55 to Meramec Bottom Road.
Each MetroLink extension would cost roughly $60 million per mile to construct, while each rapid bus route would cost roughly $35 million, according to the draft plan.
The plan assumes strong local, state and federal financial support.
County voters will consider a local component April 6 when they decide on a half-cent sales-tax increase to support public transportation.
Voters rejected a similar proposal, Proposition M, in November 2008.
The tax voters will consider in April contains no sunset provision and would generate an estimated $75 million annually for Metro. It also would trigger a quarter-cent sales tax in St. Louis city.
Without a bump in local revenue, Metro officials have said further service cuts are likely, as millions of dollars in one-time federal stimulus and grant funds that helped temporarily restore service eliminated last March will run out this May.
If voters approve April's ballot measure, Metro will be bound to a contract recently approved by the County Council. Under that agreement, the agency would not pursue expansion projects unless those efforts receive federal funding. Metro also would submit to and pay for performance audits of its management every three years.
The full "Moving Transit Forward" plan can be viewed at
.