Mehlville's top job 'opportunity of a lifetime,' according to Knost
Knost welcomes challenge of superintendent's position.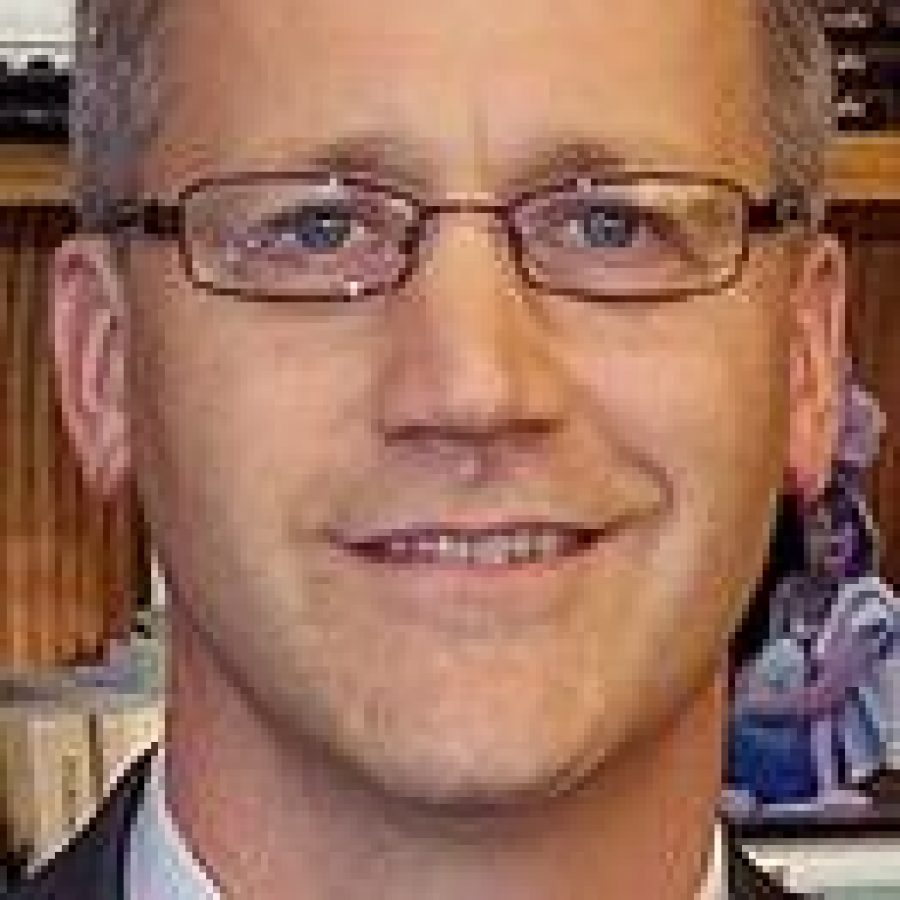 Mehlville Deputy Superintendent Eric Knost will assume the school district's top position next year, seizing what he believes is the "opportunity of a lifetime."
The Board of Education voted 6-0 in closed session Dec. 1 to approve a three-year superintendent contract for Knost, who will begin his new job July 1. The motion to approve the contract was made and seconded by board members Micheal Ocello and Erin Weber, respectively.
"I've felt poised and ready to take the reins for a long time," Knost said in an interview Friday. "I've wanted to be a superintendent and have aspired to do that for a long time."
Knost's contract stipulates he will be paid $185,000 a year for the next three years. His 2010-2011 salary as deputy superintendent is $139,444.
As superintendent, Knost will receive the same benefits afforded other district employees, including health, dental and vision insurance.
Board President Tom Diehl believes the board saved the district money by choosing to hire internally over conducting a superintendent search. Plus, he added, board members believe Knost is the right person for the job.
"A lot of us felt Eric has grown over the years and is capable of running this school district," Diehl told the Call. "He is dedicated to our kids."
The board president elaborated in a statement last week, noting "Dr. Knost has led or assisted our district" in such areas as achieving Distinction in Performance from the state, character education and implementing Mehlville's alternative education program.
"Eric has also supervised district capital-improvement projects for the past five years," Diehl stated, "finishing all of them on time and under budget."
Knost, 45, has more than two decades' experience in education.
He has been Mehlville's deputy superintendent since November 2006, when he was promoted from the position of north area superintendent.
Before he was named north area superintendent, Knost had served as principal of Oakville High School since July 1, 2002.
Knost also served as assistant principal of Parkway North High School in the Parkway School District from 1997 to 2002, assistant principal at Woerther Elementary School in Rockwood from 1996 to 1997, director of bands at Marquette High School in Rockwood from 1993 to 1996 and assistant band director at Lafayette High School in Rockwood from 1989 to 1993.
He also was a band teacher at Windsor High School in the Windsor School District from 1988 to 1989.
Knost earned a doctorate degree at St. Louis University, a master's degree in educational administration from Lindenwood University and a bachelor's degree in music education from Webster University.
He also holds a lifetime certification in music/instrumental kindergarten through 12th grade. He also has a renewable certificate in administration for kindergarten through 12th grade.
Knost was born and raised in south county. He and his wife, Julie, have two daughters who attend Lindbergh Schools.
He told the Call he "only recently" began thinking about becoming Mehlville's superintendent because of "other positions that were open in the area." Knost acknowledged he was a finalist in 2008 for the superintendent's position in the Webster Groves School District, noting Webster made that information public at the time.
He declined to further discuss his pursuit of jobs in other districts but said, "I would get excited at the opportunity with other districts, but it would never rise to the excitement that I had thinking about eventually accepting the position of superintendent of this district. At this point in time in my career, it's about one thing: I want to lead a school district. And I have fallen in love with the Mehlville School District in my years here."
Now that he is slated to lead Mehlville, Knost said his primary focus will be community engagement.
"I contend that the Mehlville community does and will support our schools," Knost told the board, district staff and community members last week after being announced as the new superintendent. "I personally accept the responsibility of uniting all our efforts through the common ground that we have, and I have a sincere belief in the attainment of this unity."
One could argue Knost will have his work cut out for him. The district is trying to determine why a majority of voters last month rejected its proposed 88-cent tax-rate increase, Proposition C. And budget projections indicate administrators and the school board likely will have to make some difficult decisions before long to keep Mehlville solvent.
But Knost welcomes the challenge.
"I've always had my work cut out for me," he told the Call. "Administration in education is no easy job, and at any level in the school district it's a difficult job. But it's one I love. I have a lot of passion for it, and I'm always asking for more."
Less than a year after he was named deputy superintendent, Knost delivered Mehlville's first ever state-of-the-district address during the first session of the district's community engagement effort, COMPASS — Charting the Oakville-Mehlville Path to Advance Successful Schools.
The theme of the speech: "The House that Mehlville Built."
"There is absolutely nothing — and I say nothing — more noble than being dedicated to the cause of education," Knost told COMPASS participants in April 2007. "Society, folks, cannot survive without public education. Our community is no different, and we need our house to be standing on solid ground. Whether you are here tonight as a parent, community member or you serve to some extent in the field of education, we have no choice. We must continue to come together to build this house we call Mehlville."
Three-and-a-half-years later, Knost believes that house is "in very good shape."
"I think what Mehlville has always done best overall — of course considering the bumps in the road, but putting it all together — and what I value to continue to do is the absolute best we can with what we have …," he told the Call.
"We have wonderful teachers. We give a wonderful education," Knost said, contending that it's a little-known fact a "vast" number of Mehlville graduates become educators and want to come back to work for the district.
"I don't know that people realize how often that happens, how often people come back," he said. "I think as far as the quality of education we give, that house is in very good shape."