Mehlville's finances most important issue in board race, three candidates say
Nine candidates are seeking three seats on school board.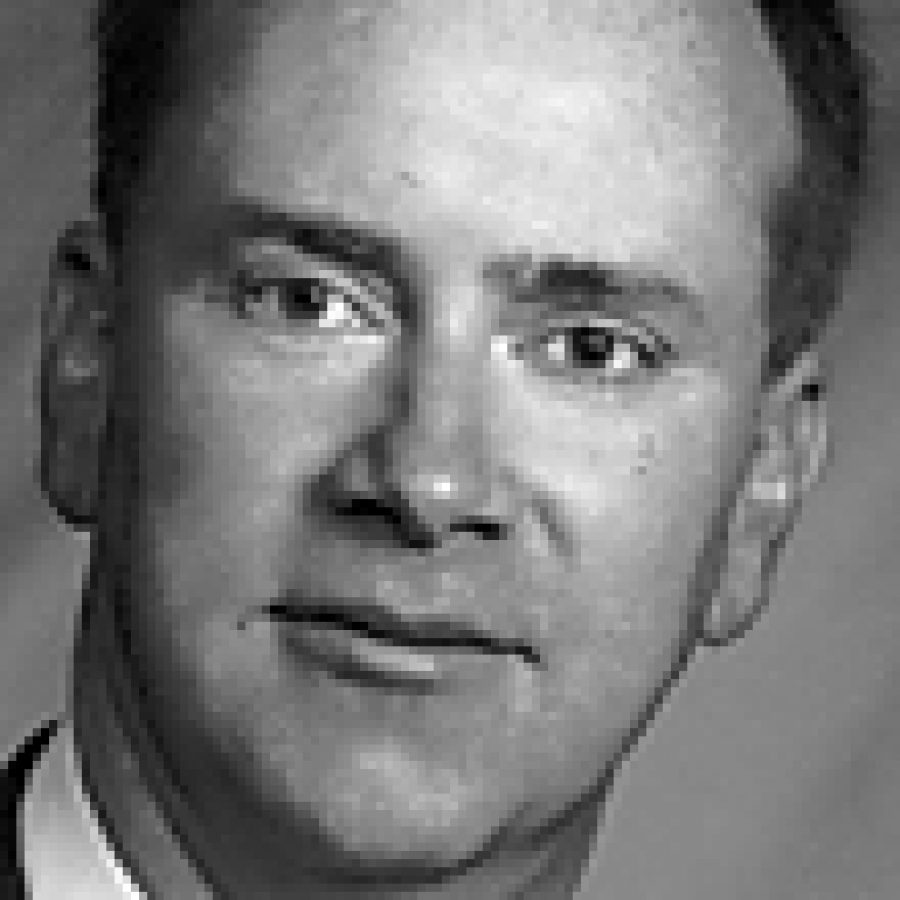 Three candidates seeking election to the Mehlville Board of Education in the Tuesday, April 5, election believe the district's finances are the most important issue in the race.
Nine candidates are vying for three seats on the school board. Marea Kluth-Hoppe, John Roland Jr., Deb Langland, Elaine Powers, Rich Franz, Michael Doyel, Mark Stoner, Franchesca Gindler and David Wessel are seeking election to the three seats, which carry three-year terms.
Incumbents Drew Frauenhoffer and Erin Weber, elected in 2008, did not file for re-election. The third seat formerly was held by Karl Frank Jr., who resigned in November.
This article will focus on Stoner, Gindler and Wessel. The other six candidates were featured in previous issues.
Asked to identify the most important issue in the race, the three candidates responded:
• "The most pressing issue is to balance the budget. Current leadership has the district running a deficit, which would make Mehlville a distressed school district," Stoner said.
• "Finding the best way for a district, that already is very lean and efficient, to operate in light of pending budget cuts and the possibility of future cuts is the most important issue to me. The cuts we face now and the changes we make could impact our district for decades," Gindler said.
• "Fiscal responsibility and prioritization of resources. There are going to be at least a few more years of hard economic times in the area, and we need to be aware and responsible with what the taxpayers provide while seeking to maintain a quality education for the children in our community," Wessel said.
Stoner, 50, 5452 Butler Hill Estates Drive, 63128, is the director of operations at Document Imaging Systems Corp. He and his wife, Terri, have a daughter who attends St. Louis University, a son who attends Mehlville Senior High School and a son who attends private school.
Stoner, who has not held elective office, said he is seeking election "to create leadership focused on the taxpayers and students."
Gindler, 35, 2729 Ashrock Drive, 63129, is self-employed and runs a small home-based day care. She and her husband, Mike, have two daughters who attend Mehlville schools.
Gindler, who has not held elective office, said she is seeking election because "I believe my perspective as a parent, volunteer, educator and taxpayer would be a valuable asset to our Board of Education."
Wessel, 32, 3053 Armona Drive, 63129, is employed as senior information technology manager-engineering at Enterprise Holdings Inc. He and his wife, Tracy, have a son who attends the John Cary Early Childhood Center and a daughter who eventually will attend the center.
Wessel, who has not held elective office, said he is seeking election "to build on the quality of education for my children, our community and instill fiscal responsibility in the district."
The candidates gave the following responses to a Call questionnaire:
How did you vote in the November election on the school district's tax-rate increase measure Proposition C?
Stoner said, "I voted against Prop C. Statistics at the national, state and local level bear witness to the fact spending has no direct correlation to academic success. We need to look no further than the many private schools within the district to realize the validity of this claim."
Gindler said, "I was an active supporter of Proposition C. I was our school's Prop C chairperson, I canvassed every weekend, worked the phone bank, passed out literature at the polls and voted yes on the ballot.
"To me, Proposition C represented a wish list: a combination of needs and wants of our district. During my time canvassing, I came to realize that it was simply too much to ask at the wrong time. I do believe, however, had the measure passed, our district and our community would have ultimately been better for it."
Wessel said, "I voted for Proposition C because of my children knowing that this was the wrong time, and amount, to ask from the voters. The district's finances, along with everyone else's, have been squeezed tight recently. I would have favored some cuts along with a much more modest proposal that would have kept some services intact."
Are you satisfied with the leadership being offered by the district's administration?
Stoner did not respond to this question.
Gindler said, "Yes I am. I believe that the leadership and dedication of our administration is remarkable. I believe that most issues perceived as leadership problems are consistently issues of communication break-down."
Wessel said, "The administration has done a good job providing a quality education at a reduced cost compared to the county's other districts; however, I feel the administration did a disservice to the community, teachers and students proposing Proposition C, and I feel that the superintendent was quite hypocritical demanding a salary increase or threatening retirement while the teachers are behind the market rate, and the future superintendent accepting such a large increase as well while knowing budget cuts need to happen."
Do you believe that teachers' pay should be based on merit?
Stoner said, "Yes. Merit ties performance to pay. I have managed operations for 27 years and can state a simple fact: When everyone gets the same increase regardless of performance, employee attitude and effectiveness stagnate. If parents and taxpayers want to keep and attract the best teachers, we must move away from 'stepped pay' where everyone gets the same rate increase regardless of performance."
Gindler said, "Merit pay is a complicated issue. I'm not sure there is any one version of it that I can back completely. I do agree that effective teachers should be compensated accordingly; however, I think that it is incredibly difficult to determine what constitutes an effective teacher. You can't judge a teacher solely on the test scores of his or her students. Larger class sizes, non-English speaking populations, special education populations and students who qualify for free and reduced lunch all contribute to the challenges that teachers face.
"I have yet to see a system that addresses all of these issues in a manner I am comfortable with supporting. I am more than willing to discuss merit pay and I am open to future consideration of a merit pay system. At this time, however, I do not support any program of merit pay that I have found."
Wessel said, "Yes. Coming from a background where most pay is based on merit, I believe it promotes hard work if rewarded appropriately. The challenge will be to decide what criteria do you use to gauge merit? Something that can be done, but not without hard work and thought."
Did you participate in the district's community-engagement program — COMPASS?
Stoner said, "I did not share the same vision of those in the engagement process. There seemed to be a presupposition: more tax dollars and staff are the only means to improved schools; whereas I believe the leadership needs to do a better job engaging students and parents."
Gindler said, "My family was represented during both years. My husband was involved consistently. The second year he was the Finance Committee representative. He and I attended several meetings together the second year of COMPASS."
Wessel, "No, my children and I were recently reintroduced to the school district this past year."
If budget cuts are needed, what do you propose cutting? Would you support reducing busing and/or charging for it?
Stoner said, "Looking at current financials the budget needs to be reduced about 4.7 percent and reducing bus service is not going to get us where we need to go. As painful as it is for administrators to face we likely need to look at a 4.7-percent across-the-board reduction until property valuations rebound."
Gindler said, "I agree with the current cuts being considered. I believe that the incentives to retire have made a large difference in our budget constraints for the upcoming year.
"I do agree with the change in tier system for busing, and although I would support a cut to busing if we would someday need to cut more, I think there is a give and take in this scenario. I worry about what cuts to busing will do to student attendance, truancy issues and possibly to graduation rates."
Wessel said, "I would have enacted many of the same options the teachers and staff proposed in the contingency plan including facilities efficiencies and reduction of staff through attrition or incentives. I would support reducing busing where appropriate where no other options are available. I do not think charging for busing will help the community."
How would you work to keep politics out of the board's decision-making process?
Stoner said, "Stay focused on the students and the tools used to teach them. It begins during the campaign and continues throughout one's tenure."
Gindler said, "I agree with the idea that any time you spend taxpayers' money, that there will be a political discussion. I think it's unavoidable to a great degree.
"I believe that simply staying focused on things that are within our control as a school board and staying on task at providing education that is in line with state guidelines and representative of our community's values, that we can keep our discussions specific and pertinent to our community and its population."
Wessel said, "There are at least two questions I would ask myself, each and every vote: How does this benefit the education of the students? Would I use my own money and that of my neighbors to fund this decision? If we are all working toward answering those questions responsibly, we can reduce the politics in board decisions."