Mehlville's existing nepotism policy needs to be reviewed, Heins says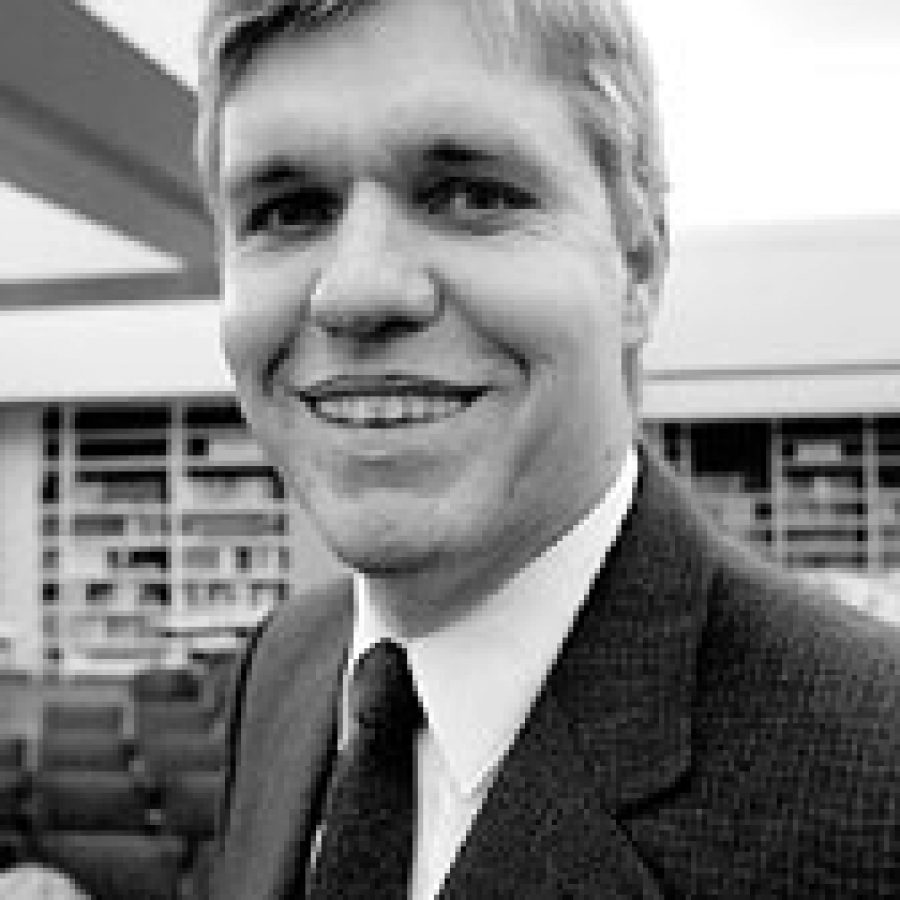 At least one Mehlville Board of Education member agrees with President Cindy Christopher's assertion that the district's hiring policies, including the existing nepotism policy, need to be reviewed.
During a Board of Education meeting in August, Christopher requested that the review of the district's hiring policies be placed on a future board agenda.
"In particular, I'd like to potentially take a look at the nepotism policy," she said at the Aug. 11 meeting, noting the existing nepotism policy is "extremely stringent … I'm not sure it needs to be at the level that it's at."
District administrators are examining the existing policies and expect to have a recommendation ready for the board before Christmas. Though no date has been scheduled for the board to discuss the hiring and nepotism policies, board member Mike Heins, elected to the board in April, has embarked on his own research of the issue.
"Like all hiring policies, they should be reviewed more frequently than they are," Heins told the Call. "I think Cindy (Chris-topher) said it best, we need to make sure we're not being too restrictive. Mehlville is a fairly large employer in south county. We need to make sure we are making available the best people for our positions … When you look at the educational community, it's not unusual for people to be related. In a small town it's almost assumed …. I'm not saying that that's the best or ideal situation.
"If you look at the past superintendent (John Cary), his spouse was a teacher. It happens very often … When you're talking about an employer as large as Mehlville, it's not in our best interest to automatically not look at someone just because they are related to people."
The district's existing nepotism policy was adopted in 1993 based upon the recommendation of a citizens' committee comprised of professionals from personnel departments at some of the area's leading businesses.
The nepotism policy, which was adopted by the school board with a unanimous vote, stipulates that the Board of Education cannot contract with nor employ any board member, immediate relative of a board member or immediate relative of an ad-ministrative official of the district.
Under the policy, an immediate relative is: husband or wife; father or father-in-law; mother or mother-in-law; brother or brother-in-law; sister or sister-in-law; son or son-in-law; daughter or daughter-in-law; niece or nephew; grandchild; and "anyone listed above of a step or half relationship."
Superintendent Tim Ricker told the Call administrators are examining all hiring policies and reviewing employee recruitment, job fairs and transfer policies. He described the nepotism policy as a "minor issue."
However, a former board member, Dan Fowler, disagrees that the nepotism policy is a minor issue.
Fowler, who served nine years on the Board of Education including two terms as president, writes an occasional column for the Call, "Your Call."
On Sept. 11, Fowler wrote a column contending the existing nepotism policy should remain unchanged. Fowler was a member of the board that approved the 1993 policy revision — a policy he stated was responsible for "ending decades of nepotism."
He wrote: "It was a difficult vote for the board in 1993. In fact, it was one of the most difficult votes I ever cast as a board member. But as the years passed, so did nepotism in the district, and all the negative overtones that went with it."
In a Sept. 18 e-mail to Fowler, Heins stated, "I know your (sic) busy, but I'd like to confirm some research as we are working on the district's nepotism policy. Your term of service as a board member ended in April of '98 and your spouse was hired a year and 5 months later August '99. That exceeded the minimum requirement by 5 months right?"
Any board member or immediate relative will not be eligible for a position within the district for a period of one year after the member has completed his or her term of office, according to the district policy.
Sandy Fowler, Fowler's wife, did not violate the policy. She actually was employed in the district before the nepotism policy was enacted, but terminated her own employment because of personal reasons long before the policy was enacted.
In response to a Call e-mail, Heins later sent an e-mail to the Call explaining: "'We are working on a policy' means studying. I study many things independent of the other members of the board. It is a future agenda item …"
His e-mail also stated: "Mr. Fowler's article motivated me to seek this info, It gave a strong opinion that the policy that he 'struggled with' not be changed because the perception was that people were getting preferential treatment. I thought it was very odd, to say the least, that he didn't mention his spouse's hiring, I frankly thought an editor's note should have been at the bottom showing a personal connection to the author's material.
"Certainly there is a perception problem here. I have found nothing illegal or un-ethical, but I have food for thought. We should review the policy. We may wish to extend the minimum waiting period … a board member must wait prior to hiring a spouse, maybe not," the board member stated in his e-mail.
Heins told the Call people have brought to his attention employees who have related names in the school district with current and past school board members. He said he has been looking into if the district has been acting legally and ethically.
He said he didn't mean to single out Fowler's wife, but he wouldn't comment, even if he could, on how many other people he was "researching."
Fowler told the Call that he has has received other e-mails from Heins that he considers "bizarre," and views the e-mails as harassment and an attempt to intimidate him from writing future columns for the Call.
In an Aug. 14 column, Fowler was critical of the manner in which the administration and the board have handled the Proposition P districtwide building improvement program.
In an Aug. 14 e-mail to Fowler, an insurance agent, Heins wrote: "Hey Dan, There's a rumor going around that American Family is going to stop writing auto and home policies. Is this true?"
Fowler told the Call he did not respond to that e-mail and three others from Heins, including the Sept. 18 e-mail, because of their "bizarre" nature.
"I think that the e-mails were uncalled for," Fowler said. "It's a very dirty form of politics. From our point of view, we viewed it as harassment and intimidation."
Sandy Fowler, who works as a part-time counselor's clerical assistant at Oakville Middle School, said the fact that a Board of Education member was looking into her hire date made her feel uncomfortable.
"I did feel intimidated," she said. "I didn't take it as an out-and-out threat, but it was very intimidating. It was a very uncomfortable feeling for someone to look into a job that is only 15 hours a week."
Dan Fowler said there was no need for the e-mails.
"Mr. Heins knows my phone number," he said. "If he knows the date of my wife's employment, obviously someone gave him that information. He knows I am a former board member. What was the point other than to harass and intimidate?"
Fowler said if he receives any more e-mails from Heins, he intends to file an ethics complaint with the Missouri Ethics Commission on Heins and the Mehlville School District.
"It's a real concern to me," he said. "I think this is an effort to stop me from writing columns."
When asked if she believed the e-mails and Heins' independent research were appropriate, Christopher said board members tend to dig into issues pretty deeply and as individuals they have the right to go off on their own.
When she learned about the e-mails, she said she asked Heins how he had discovered Sandy Fowler's hire date and she was satisfied with his answer: He had looked in past board books for the information.
Christopher said she realized Heins had some issues with Fowler's column criticizing the district's evaluation of the nepotism policy when Fowler himself had a spouse working in the district.
"I think he (Heins) was really concerned with the pot calling the kettle black on that," Christopher said.
Ricker said he had followed up with human resources personnel to see if there had been any inquiries into employees' personnel files and there were none.
"It was not an attack," Heins told the Call. "It was certainly motivated by his letter (column). I was interested why he didn't mention that. That would have been a perfect example about — perception."