Mehlville's block scheduling could be on chopping block
Board of Education voted unanimously in 1996 to establish block scheduling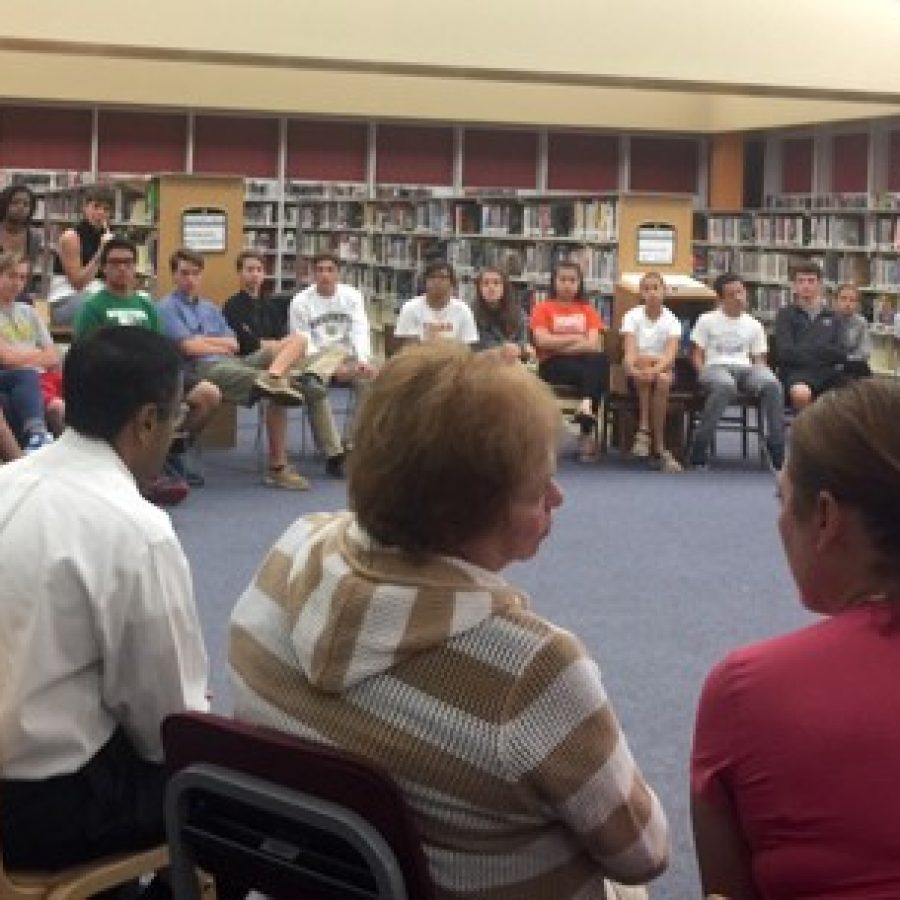 The Mehlville School District is no longer under the threat of budget cuts, but block scheduling at the district's high schools could soon be on the chopping block.
Such a move may be unpopular with students, but district officials say the move could save money while increasing opportunities for innovation elsewhere.
Under block scheduling, implemented in the district in 1997, students at Mehlville and Oakville high schools attend longer classes than the traditional seven-period school day and alternate their daily schedule, attending each class every other day.
Students attend four 90-minute classes on A days, then three 90-minute classes and a 90-minute study hall/character education hybrid class on B days.
The Board of Education will hear a presentation when it meets Aug. 11 from the district's high school innovation team comprised of both high schools' assistant principals, who have been studying block scheduling, among other opportunities to improve how students learn.
District officials are not making any recommendation on block scheduling, but presenting facts about it to the board. In a video for the public scheduled to be posted this week, Superintendent Chris Gaines says that after the presentation, a committee will be formed to review the issue and obtain student feedback, he told the Call.
"It's kind of been the sacred cow, and I'm kind of like, why should we have a sacred cow?" Gaines said. "We should at least have a conversation. It's kind of like the redistricting, we should at least have a conversation around it, and it'll go where it goes."
After Proposition R passed last year, the district went back to taxpayers and asked through a survey for suggestions on how to save even more money and cut waste.
Many of the ideas submitted were unworkable, illegal or would even cost the district money, but switching from block scheduling is, by far, the suggestion from the public that could save the most money, Gaines said.
Block scheduling costs more money to implement than a traditional schedule in part because it requires more teachers, since teachers get more planning time for block schedules and students get a long study hall period.
"It's expensive, and it's no discernible difference on student achievement," Gaines said.
He declined to say how much a schedule switch might save, but promised that the number of extra teachers it requires would be part of the August presentation.
When the board, led by former board President Kurt Witzel, unanimously voted in 1996 to implement block scheduling, the district hired 10 new teachers at a cost of $331,045. The minimum cost to the district of employing the same number of teachers today is more than $550,000, if the teachers were all first-year teachers.
The 1997 move to block scheduling was recommended by district officials, led by then-Superintendent John Cary, and was supported by students and teachers, who wore buttons reading "Eight Block Rocks" to school board meetings in support of the change.
Because of the extra cost, block schedules have been mentioned as a possible budget cut in Mehlville since at least 2004, and were part of last year's list of a possible $2.8 million in personnel cuts if the Board of Education had balanced its entire $8 million projected deficit.
Most districts in the St. Louis region, including Lindbergh Schools, operate on a traditional schedule, and overall, the trend is to move away from block scheduling back to traditional or to any number of modified block schedules, Gaines said. But that hasn't happened yet in Mehlville because block scheduling has been protected against cuts while other deep budget cuts have been made, Gaines said, including help for struggling elementary students.
"So we've protected the high schools while diminishing our investment in early learning. What if we'd done the opposite?" he said. "What if you'd addressed the sacred cow and done something with block scheduling so that we could have kept some of these services for struggling readers? So if back whenever, block scheduling would have been a serious conversation, would there have been hundreds of kids on a waiting list for reading instruction? So yeah, it's a savings question, but it's also about reallocation of resources."
Whatever its effect on learning, block scheduling is popular with students. When board members met with the Mehlville Student Council last year, one student put his head in his hands when board members said that if Prop R didn't pass, block scheduling could be cut. Some of the students worried that without block scheduling, they would not be able to fit in the classes they need for college.
Board Vice President Jean Pretto asked what cut the students would least like to see, and their overwhelming answer was block scheduling.
"If this doesn't pass, more things are going to be cut, and that will be one of the first to go," Pretto said.
Board member Venki Palamand noted that he believed block scheduling had increased both the district's graduation rate and the number of students who go on to higher education, which at the time topped Lindbergh.
The idea that block scheduling could be cut became a rallying cry among some of the students for them to get involved in the Prop R campaign.
"If you're mad about block scheduling, look into it and you'll be mad about everything else," STUCO member Lexie Clemmons said.
A fourth of the school day during both high schools' B block is spent in a hybrid study hall/character education class called Teacher Advisory Program, or TAP, at Mehlville High, and Academic Networking Period, or ANP, at Oakville High. Students keep their same TAP or ANP teachers for four years and use the open periods to do their homework as with a traditional study hall or move around to various teachers or subject-specific labs for tutoring.
They also attend parent-teacher conferences, meet with guidance counselors, mentor younger students and take part in character-education lessons.
Former Mehlville High Assistant Principal Shannon Pike, now Point Elementary principal, said in a 2014 district video that TAP is a key aspect of the high school's character education and academic initiatives.
"It's an academic piece, and then most recently, we've added the character component," Pike said. "The lessons that we've had this year have centered on what is good character and service, what does that look like? It really allows the students to build their own character."