Mehlville's 27-point drop on APR leads newspaper's top 10 stories of past year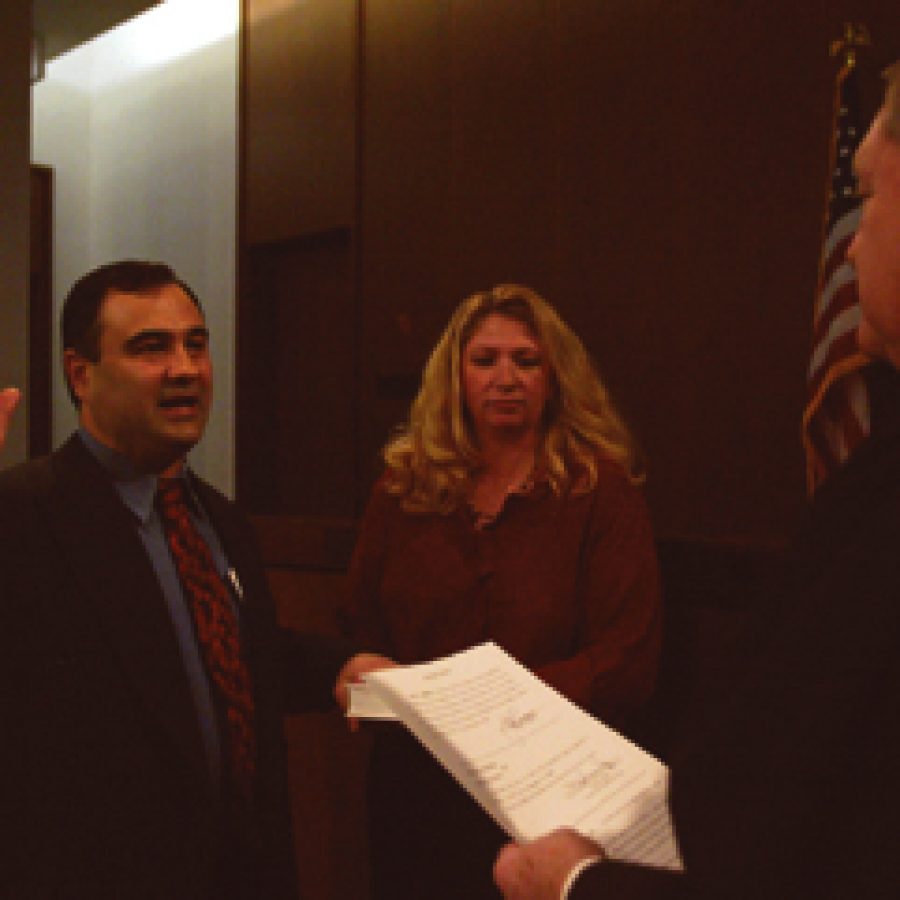 News analysis
By MIKE ANTHONY
Executive Editor
With their overwhelming turnout in the Nov. 2 election, south county voters made it abundantly clear that they desire responsive, accountable government from their elected and appointed officials.
In some cases, south county voters re-ceived the responsive leadership they sought, returning elected officials such as County Councilman John Campisi, R-south county, to office. In many cases, however, south county residents found the "leadership" of their elected and appointed officials lacking and are looking to 2005 and beyond to remedy those situations.
Before 2005 starts to unfold, however, let's take one last look at the past year with the Call's top 10 stories of 2004:
No. 1 — Mehlville School District drops 27 points on Annual Performance Report.
The Mehlville School District received 73 points on its 2004 Annual Performance Report, a drop of 27 points from the perfect score of 100 it earned the past two years.
The Department of Elementary and Se-condary Education issues an Annual Per-formance Report for each school district in the state, detailing how each district met Missouri School Improvement Plan performance measures and Missouri Assess-ment Program standards.
For the past two years, the Mehlville School District has earned the Department of Elementary and Secondary Education's Distinction in Performance Award, earning a perfect score of 100 points. To qualify for the award, districts must meet 11 of 12 MSIP performance standards, which include MAP test scores, ACT test scores, advanced course offerings, college placement, vocational placement, dropout rate and attendance rate.
The Mehlville School District did not meet standards in three areas based on tests administered last spring — MAP grades six through eight and the reading index in grade three and grade seven. Not meeting the standards in the three areas cost the district 27 points on its 2004 APR as compared to the previous two years.
During the Dec. 16 Board of Education meeting, a "plan of action" to counter the 27-point drop in the state's Annual Perfor-mance Report was presented by district administrators. The plan will involve "a more focused instructional effort in the classroom that looks like the test that the kids are going to be taking …," according to Superintendent Tim Ricker.
The plan is designed to "effect change in the organization this year to raise MAP (Missouri Assessment Program) scores now" and to "lay the groundwork for the next two-three years for systemic change in the organization to continually raise MAP scores annually."
Before the start of the current school year, nearly 40 teachers had retired, with 20 others resigning. Also, six principals and or/directors retired or resigned by the end of the previous school year. The district also reduced 43 certificated teaching positions and four administrative positions for the 2004-2005 academic year.
No. 2 — Mehlville Board of Education increases Proposition P budget — again.
The skyrocketing cost of the Mehlville School District's Proposition P was last year's No. 1 story as the Board of Educa-tion voted in September 2003 to increase the districtwide building improvement program's budget to $86,725,000.
The Board of Education voted in early November to approve a revised budget for the Proposition P districtwide building improvement program totaling nearly $89 million.
The $88,927,440 revised Proposition P budget represents a roughly 30 percent in-crease — more than $20.5 million — over the $68.4 million building improvement program envisioned in 2000. Voters in No-vember 2000 approved Proposition P, a nearly $68.4 million bond issue funded by a 49-cent tax-rate increase.
At that same Nov. 3 meeting, the board also voted to approve a debt restructuring plan that will provide $2 million immediately to ease cash-flow problems associated with Proposition P. Besides providing $2 million immediately to ease cash-flow problems, the debt restructuring plan will free up an additional $1.9 million over the next two years to meet construction costs.
Of the 49-cent-voter-approved tax-rate increase, 41.6 cents is being used to retire bond-like certificates of participation, while 7.4 cents is going into the district's capital fund and being used for Proposition P-related projects. Current projections indicate the 7.4 cents will generate roughly $31 million more through 2022 than is needed to retire the certificates. However, that projected surplus dwindles to roughly $14 million as a result of the newly revised budget.
To date, the school district has spent $67,289,650 of the Proposition P construction budget and $13,464,851 of the district capital fund revenue for a total of $80,754,501 in expenditures.
Mehlville residents may recall that Board of Education President Cindy Christopher told 500 people at the district's Recogni-tion Night April 24, 2003, that Proposition P was on time and on budget.
But less than a month later — May 22, 2003 — this newspaper reported that while Proposition P had a board-approved budget of $72.4 million, the final cost of the improvements and related projects could total more than $86 million through June 30, 2008. Two budget revisions later, the total cost is approaching $89 million.
No. 3 — Mehlville Fire Protection Dis-trict voters approve Proposition S.
The third time proved to be a charm for the Mehlville Fire Protection District as voters overwhelmingly approved Proposition S — a 33-cent tax-rate increase — in the Nov. 2 election.
The tax-rate increase was formulated by the Fire District Advisory Committee for Tomorrow's Emergency Services, or FACTS, during a two-month public en-gagement process that involved about 100 district residents. The public engagement process, according to district officials, was key to the success of Proposition S, which is designed to address the fire district's needs for the next five years. With the approval of Proposition S, the district's tax rate will increase by roughly 36 percent to $1.235 per $100 of assessed valuation from the current rate of 90.5 cents per $100 if the board elects to levy the entire 33 cents when it sets the tax rate in August.
Voter approval of Proposition S comes after two previous ballot measures — Proposition F in 2002 and Proposition 1 in 2002 — were defeated.
No. 4 — Fred Weber Inc. sues Oakville man for $5 million.
Fred Weber Inc. earlier this year filed a $5 million lawsuit against Oakville resident Tom Diehl, who publicly has opposed the company's efforts to construct a trash-transfer station in Oakville.
Fred Weber filed suit Feb. 20 in St. Louis County Circuit Court against Diehl and is seeking $5 million in punitive damages and at least $25,000 in actual damages.
Diehl faces counts of slander, libel, civil conspiracy and business defamation for his alleged association with fliers that were distributed identifying Fred Weber Inc. as "trash terrorists," according to claims made by the company in the suit.
The lawsuit drew the attention of a joint Missouri Legislative Committee, chaired by Sen. John Loudon, R-Ballwin, which voted unanimously in August to recommend the General Assembly consider ex-panding the provisions of recently approved Strategic Litigation Against Public Partici-pation, or SLAPP, legislation.
During a public hearing conducted July 29 by the panel, Denise Lieberman, legal director of the American Civil Liberties Union of Eastern Missouri, said that the $5 million lawsuit Fred Weber Inc. filed against Diehl is "a classic SLAPP suit."
But two attorneys representing Fred Weber Inc. told legislators that the lawsuit against Diehl is not a SLAPP suit, but rather a legitimate defamation and libel lawsuit. In their contention that the Weber litigation was not a SLAPP suit, the attorneys noted that Circuit Judge John Kintz had denied Diehl's motion to dismiss the lawsuit. But the day after the legislative hearing, Judge Lawrence Mooney of the Eastern District of the Missouri Court of Appeals, agreed to evaluate Kintz's decision at the request of one of Diehl's attorneys. A three-judge panel of the Court of Appeals heard oral arguments last month about whether the lawsuit against Diehl should be dismissed. A decision is pending.
No. 5 — John Campisi elected to second four-year term.
Republican John Campisi of south county, first elected to the County Council in 2000, was re-elected in November, defeating Democratic challenger Julie Leicht by more than 7,000 votes. Campisi garnered 41,434 votes compared to Leicht's 34,379 votes. Of the 6th District's 99,022 voters, 79,339 — 80.12 percent — cast ballots.
"This election proves that we won with a landslide and that the majority of south county is behind me and what I've done," Campisi said. "I want to thank the people of south county for their confidence and support in me."
No. 6 — Lindbergh School District earns Distinction in Performance Award for fourth straight year.
For the fourth consecutive year, the Lindbergh School District has been recognized by the Missouri Department of Ele-mentary and Secondary Education for outstanding performance with the Distinction in Performance Award. Lindbergh met all 12 performance standards, earning a perfect score of 100 points.
No. 7 — Crestwood working to resolve financial woes.
Crestwood officials are continuing their efforts to solve the city's well-publicized woes in the general fund and are contemplating placing a general obligation bond issue on the April 5 ballot. Stay tuned.
No. 8 — Gaming Commission picks Le-may casino site.
The Missouri Gaming Commission voted in September to select Pinnacle En-tertainment to develop casinos in Lemay and at Laclede's Landing. Pinnacle's winning proposal for casinos in south county and St. Louis beat out those submitted by three other companies.
Pinnacle Entertainment proposes to construct a 90,000-square-foot gaming facility at the former National Lead Site.
In 2000, the Gaming Commission had selected a Jefferson County location for a casino over the Lemay site. However, the commission withdrew its selection of the Isle of Capri after it found "the company had unintentionally provided false information" to the commission.
No. 9 — Voters overwhelmingly approve Proposition A.
With 345,882 "yes" votes to 135,673 "no" votes, county voters Nov. 2 approved Proposition A, a measure banning public subsidies for professional sports stadiums without voter approval. The move is an attempt to block the County Council from repaying the $45 million bonds it used to help fund a new $397 million ballpark for the St. Louis Cardinals. But county officials say those repayments are obligated, regardless of Proposition A.
The courts will decide the issue as a lawsuit and counterclaim have been filed.
No. 10 — State Auditor's Office continues work on Crestwood audit.
The long-awaited petition audit of Crest-wood's finances by the State Auditor's Office should be released sometime soon.
As the Call has reported, two-thirds of the signatures on the petition for the state audit were collected by non-residents and more than half were collected by members of the Boegeman family who have been at odds with city officials over the potential redevelopment of a shopping center they own. Coming after a well-documented for-ensic audit of the city's finances released in November 2003, the chances are excellent that when the state audit is released, it will reiterate much of what the forensic audit already has found.