Mehlville School District struggling, Gaines says in State of District talk
Students 'left behind' waiting for reading help, Gaines says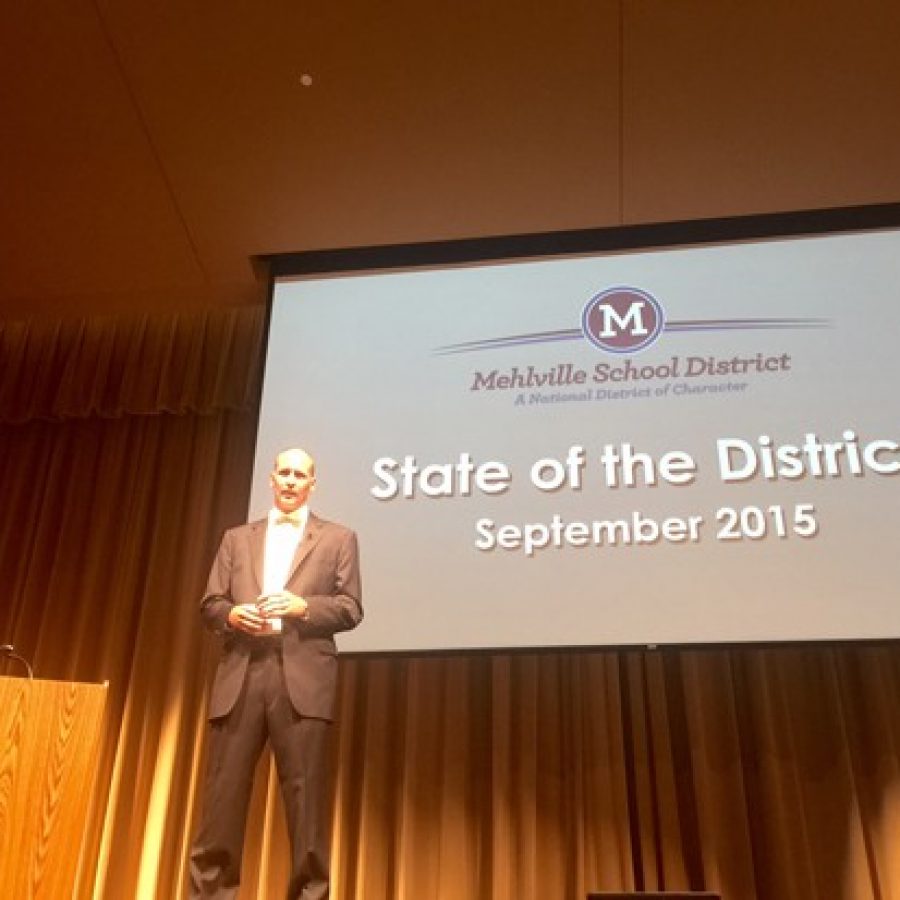 In a stark contrast to the picture that has been painted in the past of how the Mehlville School District is faring, Superintendent Chris Gaines said in his State of the District speech last week that the district is declining due to a lack of resources.
"The State of the District is struggling," Gaines said. "Financially, we're struggling, and it's beginning to have an impact on student achievement and what we're able to offer our kids."
On just his 70th day as superintendent, Gaines used data, charts and images — a total of 51 slides — to walk the crowd of roughly 300 residents gathered in the Nottelmann Auditorium at Mehlville High through a series of stark financial facts.
Due to a lack of resources, Gaines said, the district's academics have declined, class sizes are increasing and the budget for textbooks and classroom materials has been cut by two-thirds through four rounds of unrestored budget cuts since 2004. After $4 million was slashed last spring, a record number of teachers left the district for higher-paying jobs — what Gaines called an "exodus."
Some families have moved, and parents have taken to social media to post pictures of tattered textbooks or note that their children have no textbooks for certain classes.
"That's our reality," Gaines said. "But we also have hope, and a path forward."
That hope is Proposition R for Restore, a 49-cent tax-rate increase on the Nov. 3 ballot, Gaines said. If Mehlville taxpayers approve the tax hike, they will still pay the second-lowest tax rate in the county, above only Ladue.
Just after Gaines was hired, he attended his first Mehlville meeting March 11, where interim Superintendent Norm Ridder, an examiner of high-performing systems, assessed that Mehlville is a "dysfunctional system" in some ways.
"At the first board meeting I ever attended after being named superintendent, Dr. Ridder said to the audience and the board that this is a dysfunctional system — I agree and disagree," said Gaines, who is also a Baldridge examiner. "We certainly have some areas of dysfunction, but we also have some areas that function very well."
As Ridder presented a list of proposed budget cuts March 11, he said, "We have awesome teachers, outstanding families, outstanding board … It's not the people that are the problem here. It's the system. We have a very dysfunctional system that didn't have a strategic focus. And that's why, basically, things have kind of deteriorated."
In some areas, Mehlville has no system at all, Gaines said, and his next statement got the loudest applause of the night.
"I'm afraid that in some cases that dysfunction and that lack of system is our comfort zone," he said. "That's where it's easy for us, and as long as we stay there, we're not going to get to where the magic happens. As a system, we've got to become less concerned about how things look and more concerned about what will move the system forward and what will move our kids forward."
It won't be easy, Gaines noted: "Change is hard — it takes guts, it takes imagination."
Besides falling assessed valuation, one of the reasons the district's budget is now so tight is due to a decline in state funding, he said. The cost to fully fund the academic aspects of the district's strategic plan approaches $14.5 million, which would require the "reach" of an 85-cent tax levy.
"Or we can just ask the state for more money — and I'm sure they'll come through," he joked to laughter.
Gaines kicked off the 30-minute speech by outlining his career, which he began in his southeast Missouri hometown as a science teacher and bus driver before being named superintendent of the Crawford County School District at age 30.
An avid kayaker, Gaines said he rarely misses a month on the water. He and his wife, Debbie, have been married 20 years and have a son, Zack, 11, who just started fifth grade at Hagemann Elementary.
"As a parent in the district, I need Zack's teachers to have the best skills and the latest knowledge so that he can have a foundation to pursue his aspirations, whatever they are," Gaines said. "I think you want the same thing for your student. I think you want the same thing for your grandkids."
But with projected deficits totaling at least $20 million over the next five years, the district does not have enough reading coaches, and 121 children on waiting lists for reading help last year did not receive it.
"They were left behind," Gaines said.
As part of the district's plan for Prop R, Gaines said he would hire 16 new coaches, including 11 for reading and five for English-language learning, or ELL.
Budgets are tighter at the same time it is more challenging to educate each child, as the district has seen an increase in both poverty and students who do not speak English as a first language.
Many kindergarten classes are jam-packed, but one Bierbaum Elementary classroom faces particularly heavy challenges with 24 students who speak nine different languages, Gaines noted. Overall, Mehlville students speak more than 50 languages.
To increase community engagement, Gaines announced that the district will roll out a mobile app for cell phones this fall and has already added an "Ask the District" feature to its website.
The members of the Mehlville Board of Education who attended the speech were President Venki Palamand, Vice President Larry Felton, Jean Pretto, Lisa Dorsey and Jamey Murphy.
Lori Trakas could not attend due to a work commitment, and Secretary Samantha Stormer was unable to attend because a relative passed away.
Also in attendance was Sen. Scott Sifton, D-Affton, who represents Mehlville and several other area school districts in the Missouri Senate and, before that, served for nine years on the Affton school board.
"I think it's fair to say that the Mehlville School District is easily the most efficiently run in St. Louis County," the state senator told the Call. "That's a tremendous strength, but the question is at what point does it compromise student education? And that's going to be for the voters of Mehlville to decide."
Living in the school district with the second-lowest tax rate in the county is a "great position to be in," Sifton added, "but the question is whether it's sustainable — and again, that's for Mehlville voters to decide."
Sifton was also impressed with Gaines' presentation.
"I think Dr. Gaines did an excellent job of lining out where the district is — the intended purpose of the event was the state of the district, and I thought he laid it out very well," he said.