Mehlville school board votes 6-0 to put 88-cent tax hike on ballot
People going to be surprised by election results, Diehl says.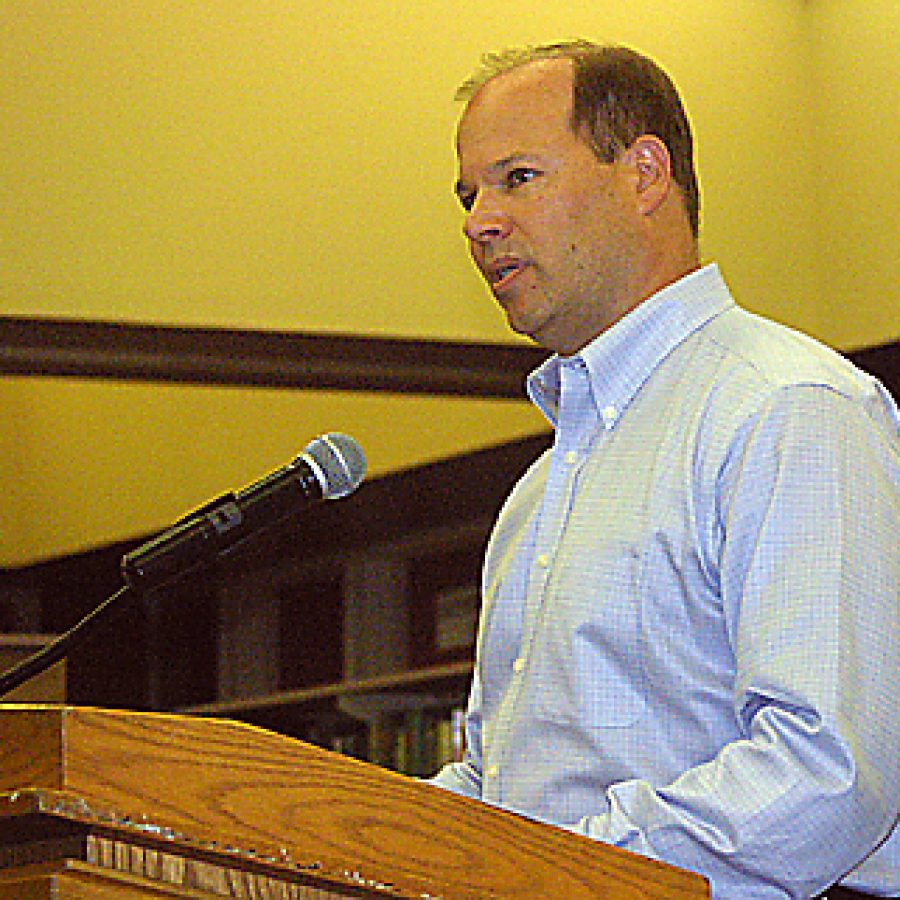 Mehlville School District voters will consider an 88-cent tax-rate increase in the November election.
The Board of Education voted 6-0 last week to place the 88-cent tax-rate increase proposal — Proposition C — on the Nov. 2 ballot.
Board Vice President Venki Palamand was absent from the Aug. 19 meeting because of a family member's health issue.
He declined to say how he would've voted on the measure had he attended the meeting but told the Call, "I accept the board's decision and await the voters' judgment in November."
Prop C would fund the first phase of recommendations outlined in the district's long-range improvement plan, COMPASS II — Charting the Oakville-Mehlville Path to Advance Successful Schools.
If Prop C is approved by voters, Mehlville's residential property tax rate would increase to $4.30 per $100 of assessed valuation from the current rate of $3.42. The commercial property tax rate would increase to $3.74 per $100 assessed valuation from the current rate of $2.86.
An 88-cent tax-rate increase would cost the owner of a $200,000 home an additional $334 per year and the owner of a $100,000 home an additional $167 per year.
If approved, the tax-rate increase would generate roughly $15 million annually beginning with the 2011-2012 school year.
The Prop C ballot language asks district voters if the operating tax levy should be increased by 88 cents, "with up to 40 cents of the increase being used to pay capital expenditures, including without limitation costs to construct, renovate, repair, improve, furnish and equip school facilities and sites, and update computers and technology, and with the remainder of the increase being used to fund competitive salaries and benefits to attract and retain highly-qualified classroom teachers and staff, expand kindergarten to full-days and to pay other increased school operating costs?"
COMPASS II's first phase contains roughly $106 million in proposals designed to make Mehlville a high-performing school district. Those include nearly $98 million in capital recommendations — such as the construction of a new Margaret Buerkle Middle School on the Mehlville Senior High School campus — and roughly $8 million in operational recommendations — such as funding for all-day kindergarten. The COMPASS II recommendations were crafted during six community-engagement sessions earlier this year that drew more than 1,200 participants. At the final community-engagement session in May, nearly 400 participants overwhelmingly recommended the board pursue a 94-cent tax-rate increase, which was the amount needed to fund $107,377,800 worth of proposals in a previous draft of the COMPASS II plan.
A community telephone survey conducted last month by communications firm UNICOM•ARC regarding the 94-cent tax-rate increase proposal found that about 51 percent of respondents would support the measure, while roughly 45 percent would oppose it. As previously reported, unweighted results of that survey show about 45 percent of respondents said they would favor the proposal, while about 51 percent would oppose it.
However, the board agreed last week to put two COMPASS II recommendations on hold for future phases — elementary school foreign language and middle school eight-period days. The move reduced the total plan by $1,336,900 to $106,041,000 worth of proposals and reduced the amount of the required tax-rate increase to 88 cents.
During the first chapter of COMPASS in 2007 and 2008, hundreds of participants helped craft a long-range plan with guiding principles designed to make Mehlville a top-performing school district. But officials eventually determined the plan's funding scenario would not work because of a decrease in assessed valuation of properties in the district.
The school board launched COMPASS II nearly a year ago and gave its Facilitating Team a new charge: Determine how to implement the first COMPASS plan while keeping in mind the resources available to the district.
"Throughout the past four years through the COMPASS process, we've identified close to $2 worth of capital and operational needs. We know the economic realities, and therefore we asked the COMPASS participants to pare down the list," Superintendent Terry Noble said in a statement after last week's vote. "They proposed a plan that would've required around a $1.27 increase rather than the $2 identified. The Facilitating Team further reduced the proposal to 94 cents, and recommended we have subsequent propositions in future years. Now the Board of Education has pared it down even more to an 88-cent proposal."
Noting that the district's finance officials have projected severe cuts in state funding by 2012, Noble added, "I just want everyone to know that this is not the final time we will need community support. We believe the recommendations developed in COMPASS are the necessary and correct measures to become a high-performing school district, and it's vital that we maintain our current program to meet state and federal requirements."
The district previously sought community support at the polls in 2008, when the board voted to put a no-tax-rate-increase transfer proposal on the ballot to stabilize the district's finances. More than 62 percent of voters approved the measure — Proposition T — in November 2008. Board members in 2008 also considered placing a 37-cent tax-rate increase proposal on the November ballot that would've funded COMPASS recommendations. But the board rejected the proposal after a telephone survey of the community found that 59 percent of 400 respondents would oppose it.
Mehlville last sought a tax-rate increase nearly five years ago. The school board voted 6-1 in late 2005 to place a 97-cent tax-rate increase proposal, Proposition A, on the ballot in February 2006. A community survey conducted in 2005 by the Chilenski Strategy Group concluded a district tax increase of roughly 35 to 40 cents was feasible.
Prop A was defeated with 6,746 "yes" votes — 36 percent — and 11,968 "no" votes — 64 percent. Of the district's roughly 65,000 registered voters, roughly 28 percent cast ballots in the February 2006 election. But board member Karl Frank Jr. — the only sitting member who was on the board during the Prop A discussions — believes many things in Mehlville are different now than they were in 2006. The district overall is in better standing with the community — and its own employees — than it was when he cast the sole "no" vote in 2005 against placing Prop A on the ballot, he said.
"My sense is that our common ground may be on the fact that after five years of hard work on stakeholder relationships, transparency in governance and in finding and retaining effective administrative leadership, you may find some value in supporting the idea that besides the merits of the levy itself, it is time for this community to have an opportunity for an up-or-down vote on the future of the school district," Frank said at last week's board meeting, speaking as a resident during a period for public comment.
"The next three months will determine the direction of the Mehlville School District for the next 100 years," he said. "Think about what that means, not just for the children and families of now, but the children and families two and three generations from now."
Another speaker, parent Donna Seidel, urged the community not to "punish" itself by opposing the proposal simply because of anger toward local, state and federal governments. Doing so would make the Mehlville community "less desirable and, in effect, your homes less valuable," she said.
"These are our children and our homes, our biggest investments," Seidel said. "Making changes to our government will take years. During that time, our schools will fall further behind as we flail for stability. We have an opportunity to act right now."
Noting Mehlville hasn't passed a tax-rate increase since the 1980s, Seidel said, "People declare: Live within your means. But how can we if we don't make sacrifices for higher standards of education now? … People declare: Throwing more money at the problem won't resolve anything. How would we know? We haven't tried in almost 30 years … Similar to reinvesting in your home, you must reinvest in the community, whether you use all the services or not."
But former Mehlville school board President Ken Leach expressed doubt last week — speaking about the proposed 94-cent tax-rate increase before the board later agreed to the 88-cent ballot measure — about a referendum's chances of success this fall. He suggested the board split the measure into categories.
"You've got a 94-cent tax (proposal), and I'll be the first one to say that I think it has the same odds of passing as a lottery winner getting struck by lightning. That's just my own personal thought," Leach told the board. "But why not break it up into categories and let the people decide? Put all 94 cents up there but put it in sections where you've got so many cents for facilities improvements, so many cents toward books, so many cents toward salaries, so many cents toward a new building …
"If you did this you would know what people want and what they don't want. And you could weight those things out. You can try to address those things you still think are needed, but address them in a different way. And I think that would help a great deal.
"I hope you at least consider that," Leach continued. "I know it would cost a little extra money, but … I think you'd have some good results which you could go by. And most importantly, you wouldn't walk away with nothing. You'd go forward with something. Books for the kids alone, it'd be a victory."
Noble said while it would be possible to split up the COMPASS recommendations on the ballot, some of them, such as full-day kindergarten, have both facilities and operational components.
"Some of these are so intertwined in the COMPASS proposal … The facilities are connected to the programs we're proposing to support with this," he said.
Board President Tom Diehl said, "I can envision also the risk of what if voters approve, say, Oakville Middle School's expansion but not the new Buerkle Middle School. Or what if they approve Buerkle Middle School but not moving the bus garage? What if they approve all-day kindergarten but not the facilities we need to implement it?
"That's part of the difficulty in doing it in such a fashion. You run the risk of: Well we got approval of this but we can't implement it now because they didn't approve the second half of it."
Board member Drew Frauenhoffer said, "We could split things up, go for something smaller at this point, but the reality is we might have all these nice new buildings but no staff or program to fill them. And I think it is sort of a cohesive, strategic plan for this district moving forward. And that it is sort of this all-or-nothing approach. So that's why I'm more for going for it all rather than parceling it out."
During a period for board comments following the 6-0 vote to place Prop C on the ballot, board member Micheal Ocello said, "If we don't educate our children, if we don't give them the best opportunities, what do we expect them to turn out to be? And it's about children. It's not about anything else other than that. And I know we're in rough economic times. There's no doubt. I don't know anybody at any pay grade who's not experiencing the issue and the pinch. But there's very few of us in the community who don't partake in Starbucks, who don't have a cell phone, who don't go out and partake in things we feel we should have the opportunity to enjoy. I certainly do. But is that cup of coffee at Starbucks worth the future of the children who live next door to you?
"When you talk to the people in this administration and ask them questions about 'how do you spend money,' I want you to look at what COMPASS is asking us to spend money on. And I'm going to ask you: Tell us. Come tell us what it is you want to cut. … And I would ask those people who are going to write the letters, those people who are going to get up and say: 'No taxes no matter what," please come talk to us. Show us. Because I guarantee that if you take the time to get educated, you're not going to find anyone that's been wasteful. Get educated … This may be one of the most important things you do in your life, is to have an impact on the children in this community."
Frauenhoffer noted his Mehlville Senior High School class will have its 25-year reunion in 2010. Since graduating from the district, he said, "there has been some progress, but not enough. And I'm getting really tired of us continuing to slide back as I look at other districts rocketing ahead of us … We're voting tonight to put this on the ballot. We're not raising your taxes. It's up to the community to vote 'yes' or vote 'no.' But I'm going to vote 'yes' on it because I want to see this community continue to grow rather than stagnate."
Board Secretary Larry Felton said, "I think we have a great opportunity to educate our parents, our families, the people that work here … And I think the more our patrons know, we may get some better ideas. Maybe we aren't doing it right, maybe we can do it better. So I look at this as the glass is half full. I think it's worth taking the risk to spill some of the water."
Diehl said, "Don't our kids deserve a safe, healthy learning environment? That is what we're about here. We're about educating children and providing them tools so they can survive in a world that is getting tougher and tougher to make a living … People who want to complain about taxes and what not: How did we build this country? The roads, the bridges, the universities, the military that protects us, police and fire departments? Because communities came together and reached a consensus and determined they wanted to make their community a better place to live. Is that so bad? Is that something that is no longer allowable in America?
"I'm going to work my tail off to see that this thing passes. I think that the people of south county deserve a chance to vote on it. I think the people of south county want quality education. And I think people are going to be surprised in November with the results."