Mehlville breaks ground for new No. 3 Firehouse
Fire chief discusses process used to select firehouse site.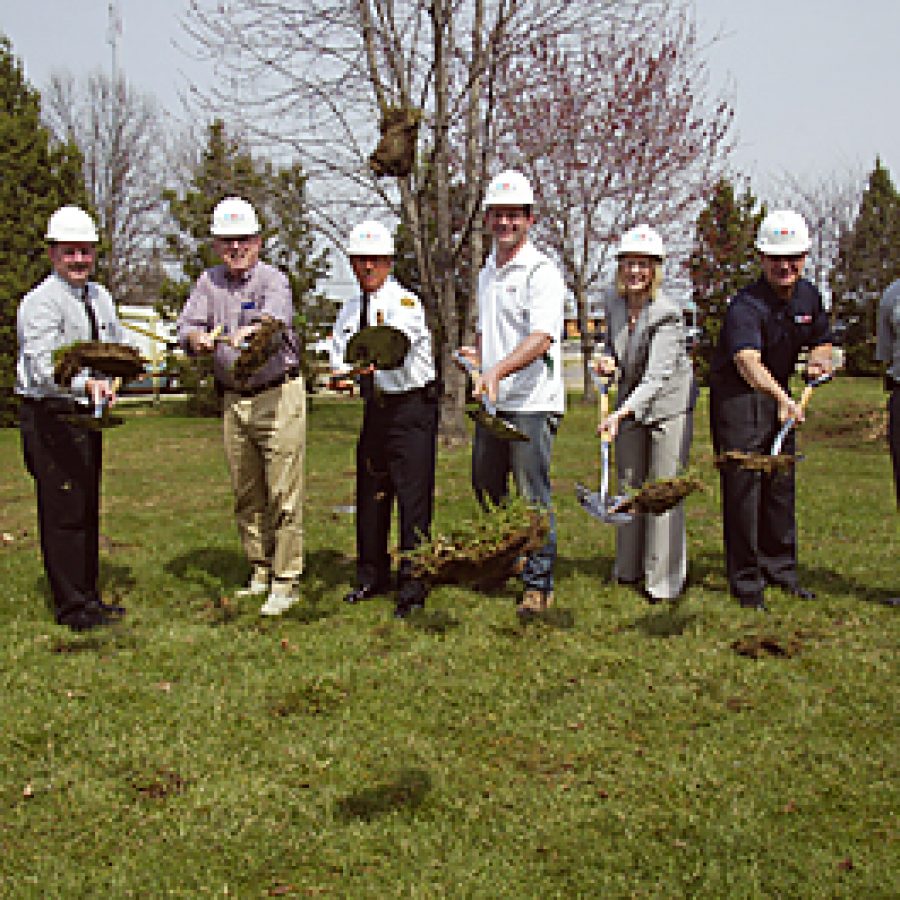 Mehlville Fire Protection District officials broke ground Monday afternoon for the construction of a new No. 3 Firehouse at 4811 S. Lindbergh Blvd.
The 8,000-square-foot firehouse will replace the existing No. 3 Firehouse at 11625 Sappington Barracks Road, about 1,000 feet to the west. The existing firehouse was built in 1957, and district officials believe it needs to be replaced.
The new firehouse will be similar in design to the district's No. 2 and No. 4 firehouses, but also will include a training tower and a walkout basement.
The No. 2 Firehouse was completed in 2009 at 5434 Telegraph Road and an open house was conducted March 12 at the recently completed No. 4 Firehouse at 13117 Tesson Ferry Road.
The Board of Directors voted 2-0 last week to award a $2,206,000 contract for the new No. 3 Firehouse to the J.E. Foster Building Co. of Green Park, the low bidder. Board Chairman Aaron Hilmer and board Treasurer Bonnie Stegman voted to approve the contract while board Secretary Ed Ryan was absent from the March 17 meeting.
Ten bids were submitted for the new firehouse that ranged from J.E. Foster's low bid of $2,206,000 to John Kalicak Construction Inc.'s high bid of $2,485,000.
District officials and representatives of Archimages, the district's architect, interviewed the two low bidders, J.E. Foster and Wright Construction Services, which submitted a bid of $2,234,000, Roy Mangan of Archimages told the board.
"… It appeared both were good contractors that would do a good project for you guys and as a result of the interviews and the information we did get from the contractors, which included past projects and references, Archimages would recommend that Mehlville Fire Protection District enter into a contract with J.E. Foster Building Co. based on the fact that they're the low bidder and qualified contractor," Mangan said.
The Board of Directors voted unanimously in July to spend $571,000 to purchase the 1.1-acre property at 4811 S. Lindbergh Blvd. from the Dominic and Margaret E. Intag Trust.
In an interview with the Call, Chief Tim White outlined the process district officials utilized in determining the location for the new firehouse, noting the starting point was: "How by moving this firehouse will it impact the people that we have pledged to protect and that we're paid to protect? So we start from there, and every decision is predicated off of that very foundation.
"First and foremost, our primary concern is to make sure that we can reach all of the residents in a timely fashion. And when I say timely fashion, we have standards that we have to meet, according to NFPA (National Fire Protection Association) standards and of course, ISO, which is the Insurance Services Organization. When we were first looking at properties, the objective was to stay within a quarter mile of the original location without violating those standards and principles.
"So we were already boxed in within a quarter mile. It's not like you can just arbitrarily pick up and relocate that house at 270 and Gravois or arbitrarily move it down to Gravois and Sappington or move it all the way up to West Watson. You just can't do that and still be able to meet the NFPA standards that are required by our fire district," White continued.
"So since we had this quarter mile to meet the needs of the taxpayers without putting them at risk, we then looked at which direction to go. Knowing that that particular location is the most northern part of the district, we looked at opportunities to stay exactly where we are at. So we approached every business up and down the line, trying to get them to sell us property if they were for sale …"
But the nearby properties either weren't large enough or the owners didn't want to sell until the district struck a deal for the site at 4811 S. Lindbergh Blvd.
"As far as the location that's chosen, we are so fortunate to have that for the very reason that I just described. It's not going to put the citizens of Sunset Hills or citizens in the immediate area at any risk whatsoever," the chief said. "As a matter of fact, the distance to travel in a Code 3 from where we're going to move to the actual location would probably be roughly 10 seconds. Now keep in mind, everybody on the other side of that, it's 10 seconds quicker."
Board Chairman Aaron Hilmer told the Call he was pleased with the bids submitted for the new firehouse.
"Wow. What amazed me as someone who deals in the construction/contracting business a lot, was to see 10 bids all bunched up within 5 percent of each other — from roughly $2.2 million to $2.4 million. To me, that's tremendous how tight those all were," he said.
"That we were able to build this firehouse when there is so much demand for work that we have our own architect telling us that he thinks we could be saving 20 percent on this job if it was built when the economy was good. So not only is it a win-win for the fire district, it's a win for the taxpayers and it's a win for the tradesmen who are now going to be able to work on this project."
The new firehouse, just like the previous three firehouses built by the district, is being constructed without a tax-rate increase or a bond issue, Hilmer said.
"… The first couple years Bonnie and I were in office, we had built so much money up in reserves due to the cost-cutting measures that we put in place, that we were able to spend that money now in the latter part of the last six years. I think the district would like to maintain the fund balance about where it is going forward and possibly even spend it down a little more," he said.
The fire district's 2011 budget projects Mehlville will have an ending balance of $10,477,647 on Dec. 31 — a roughly 50-percent fund balance or enough to operate the district for six months, Hilmer noted.
"This is the last building project that we're going to need to tackle," he said. "This is the fourth firehouse that has been rebuilt in the last six years. There's seven firehouses total in the district. The other three are in really good shape.
"So this will be the final major capital expenditure and we're looking forward to having it done because it's a lot of work to build these firehouses."