Mehlville Board of Education votes to name meeting room after Fowler
Motion to name board room opposed by Trakas, Murphy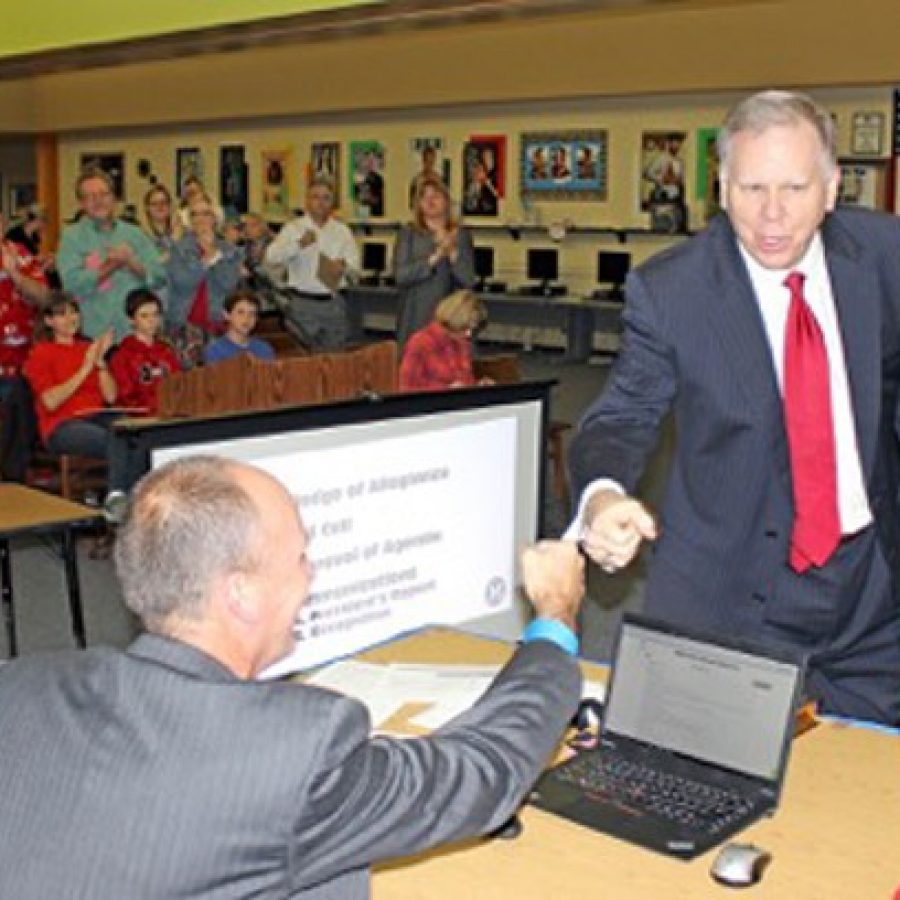 The Mehlville Board of Education honored the architect of the district's historic ballot measure Proposition R by naming its meeting room after him last week.
The board voted 5-2 to name the Daniel S. Fowler Board of Education Room after former Board of Education President Dan Fowler. An Oakville insurance agent, Fowler served on the board for nine years and led or spearheaded the campaigns for all of Mehlville's successful ballot measures in the last three decades, including Prop R, the 49-cent tax-rate increase that nearly 73 percent of voters approved Nov. 3.
Board President Venki Palamand, Vice President Larry Felton, Secretary Samantha Stormer, Jean Pretto and Lisa Dorsey voted to name the room after Fowler, and Jamey Murphy and Lori Trakas voted against it.
The Nov. 19 decision was the suggestion of Mark Haefner, who collaborated with Fowler on the Prop R campaign and vowed the night it passed to attend every school board meeting until the board room was named after Fowler.
"There is no person that I can think of in this community that has done more for the schools and for the students of this community than Dan Fowler," Haefner told the board Nov. 9. "I think every person that walks in there needs to have the same idea and the responsibility and commitment to these schools and the community as he does — so I would ask that the school board rename the board room where they meet the Dan Fowler Board Room and that they may all strive to be the public servant that he has been."
Fowler called the accolade "the honor of a lifetime," and he was happy that his family was able to see it.
"I cannot tell you what an emotional night that was for me, and I will be of great gratitude for the rest of my life and I will honor that for the rest of my life," he said. "I always feel that I'm one of the luckiest people to ever live on the planet — I have a great family."
Fowler was board president when voters approved a 1992 bond issue that led to the construction of Hagemann Elementary and when voters approved a 33-cent tax-rate increase in 1998. He chaired the campaign for Prop P in 2000, which led to the construction of Oakville Elementary and Bernard Middle School, along with districtwide improvements like air conditioning, and worked on the campaign for Prop T in 2008, which transferred 31 cents from the capital fund to operations.
"Just monetarily, not inclusive of your time and commitments, where would we be as a district if we hadn't had all the opportunities that were provided by your hard work and efforts?" Dorsey asked.
Fowler intended to step away from the school district in 2008, but his leadership was key to the historic passage earlier this month of Prop R, Felton noted.
This time, Fowler says he is probably retired for good, but will again be available if the district needs him. At the first community meeting Fowler organized for Prop R last April, he told a story about how one of his daughters went out with a group of friends, including a Mehlville teacher, and they talked about the district's financial crisis and a proposed tax-rate increase.
"The teacher said, 'Yeah, I heard they dragged this old man out of retirement who apparently is good at passing them to come back,'" Fowler said. "And my daughter says, 'That's my dad!'"
In the future, the district should follow the state's lead and only name things after people who have already died since it permanently ties the district to the person's actions, Murphy suggested.
"This is not talking about Dan at all — look at the Bill Cosby thing, it ties," he said. "So going forward, I think we need to look at that for a future policy."
Trakas congratulated Fowler after the vote but did not give any reason for her "no" vote at the meeting.
"I think Dan is to be commended for the years of service that he's given to the district over the years, his hard work and dedication to the district," she told the Call. "I didn't have any negative reason, I'm just not a naming-rights kind of person."
Before Fowler, the most recent naming was a unanimous 2013 decision to name the William B. Nottelmann Auditorium after Nottelmann, who died at the age of 96 earlier this year.
Trakas voted in favor of that and said she was glad the district could honor Nottelmann near the end of his life.
"In case any of you are interested, I certainly hope I'm not at the end of my life," Fowler said. "This is not part of my prepared remarks, but my father once said to me, 'If you're going to send me flowers, do it when I'm alive, not after I'm dead.' I think that makes sense, too."
The naming was "very emotional" for Fowler, he said, adding that no one would have believed he would ever be given the honor after his first year on the board decades ago.
"So Jamey, there is hope for you," Fowler said to Murphy, who was elected to the board in April.