Mehlville Board of Education members to ponder COMPASS proposals
District began seeking community input in April 2007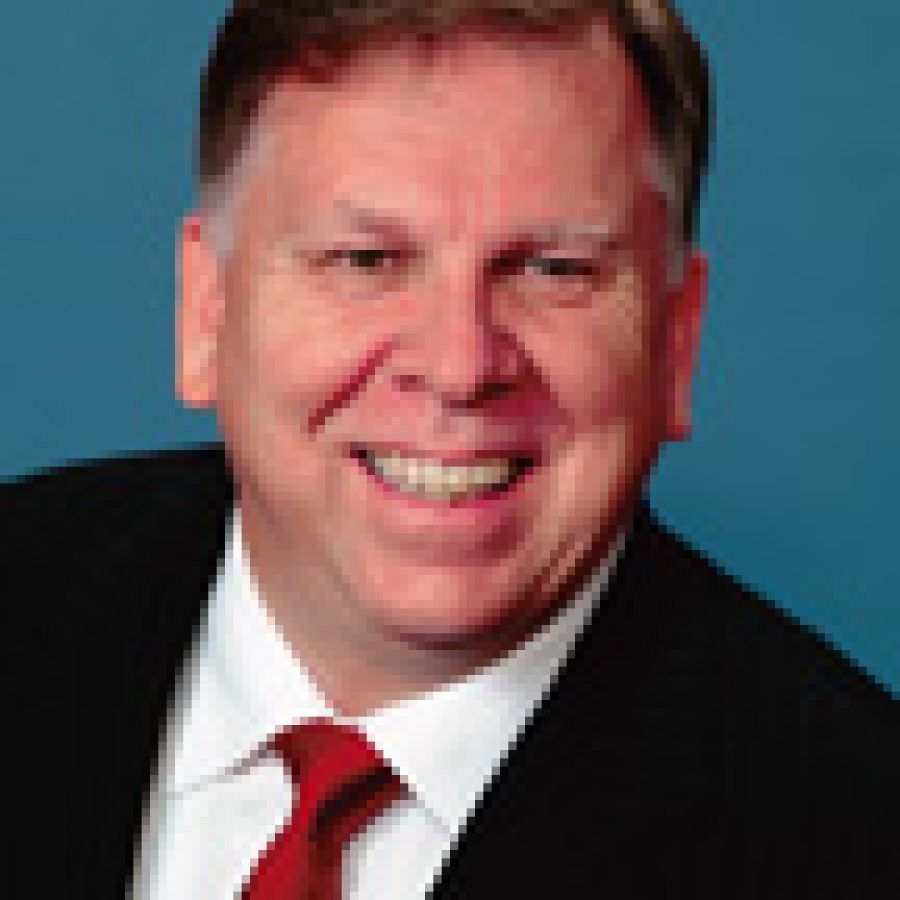 After gathering community input through a public-engagement program since April 2007, the Mehlville Board of Education last week heard final recommendations to improve the school district.
During a special June 24 meeting, board members heard the phases and funding options for these improvements gathered through Charting the Oakville-Mehlville Path to Advance Successful Schools — COMPASS.
COMPASS Facilitating Team co-chairs Dan Fowler and Jim Schibig presented those plans as a Long-Range Master Plan and Guiding Principles created by community-engagement session participants.
The Facilitating Team — comprised of district residents, school-board members, employees and students — was charged with whittling those suggestions gathered since April 2007 into a workable long-range plan.
The long-range plan's first of four two-year phases, which would begin in 2009, includes such programs and services as all-day kindergarten, early childhood expansion, English Language Learner teachers, counselors and elementary remedial-reading teachers and boosting staff salaries so they would "become equal to the county average."
Facilities improvements in the first phase include appropriate facilities for all-day kindergarten, early childhood modifications and improvements in safety/security, indoor air quality, acoustics, student-learning environments, infrastructure and additional classroom and performing-arts space at each high school.
In 2011, the second phase would include adding librarians, implementing portable one-to-one technology at the high schools and related technology staff and making further improvements to safety/security, infrastructure, learning environments and libraries.
In 2013, the third phase calls for increasing college-credit classes and staffing as well as adding counselors, middle-school remedial-reading teachers, social workers and elementary physical-education teachers. The third phase also proposes expanding the district's communications and curriculum programs and including summer staff development. Portable one-to-one technology would be implemented at the middle-school level, and facilities improvements to gyms as well as infrastructure and safety/security would take place.
In 2015, the fourth phase calls for implementing elementary foreign language, further expanding the curriculum program and staffing, adding a district registrar, adding hall monitors and allowing staff salaries to be in the top 25 percent of St. Louis County.
Funding options being recommended to the Board of Education include two ballot measures for November, but the COMPASS proposal states, "Obviously, determining the specifics for funding is a decision of the Board of Education."
One proposed ballot measure would transfer 31 cents from the district's debt-service fund to the operating fund.
A second proposed ballot measure would be a 37-cent tax-rate increase to help fund the long-range plan that incorporates suggestions from those who participated in the community-engagement sessions.
The proposed 37-cent tax-rate increase would restore the district's tax rate to its 2006 level as the district's total tax rate per $100 of assessed valuation would jump to roughly $3.64 from $3.27.
As proposed, the 37-cent tax-rate increase would be the first of four elections to fund the long-range plan. The district also would ask voters in November elections in 2010, 2012 and 2014 to maintain the district's operating levy by waiving the district's estimated 8-cent tax-levy rollback in each of those years.
Fowler said at last week's presentation that district consultants believe that because of the Hancock Amendment, school districts often are forced to ask for tax-rate increases every two years during reassessment.
By law, the taxes school districts can collect from tax-base growth are capped at 5 percent or the Consumer Price Index, whichever is less.
If growth exceeds the CPI or 5 percent that year, school districts refund the taxpayers by rolling back the tax rate, a requirement of the Hancock Amendment.
But if district voters were to approve a 37-cent tax-rate increase and restore Mehlville's tax rate back to its 2006 level of $3.64 and then maintain that rate in future elections, Fowler believes the district might not need to ask for another tax-rate increase again.
"I think as long as the Hancock Amendment is in place, I think every school district is forced every two years to go out for a tax levy just to keep up with the cost of living.
"And that's what this (proposed 37-cent tax-rate increase) does. If you look at this, we're asking the community to go back and set the funding at the 2006 rate and to keep it there. If we could do that permanently, keep the rate at 2006, my guess is we could never have to go to the voters again. It may fix the problem if we could permanently leave it at 2006 and not have to roll it back."
Fowler added that he believes the Hancock Amendment further penalizes the district as quality teachers are leaving Mehlville to take better-paying jobs.
"Every Board of Education that I have watched since 1989 has always struggled with finances," Fowler said. "And that is because you're stuck. Your teachers want to be paid well, they want to stay in the school district, they want to be paid compared to what other school districts are making. Maintenance workers, cafeteria workers, bus drivers, administrators, all classified certified staff. What is there now? 1,500 employees? All of them want at least a cost-of-living increase. Mehlville School District can't do that under the current formula. So you fall further and further behind. And that's what's happening. So what happens, as you know, is you get squeezed because you're losing good teachers to other school districts. We've seen that over the last couple years. Other school districts are picking off, not necessarily quantity, but quality teachers.
"They're picking them off little by little. They're picking off our administrators. Look how many administrators have left and gone to other districts. And so, from that point of view, all they expect is to be paid what the competition is paying. And that's why we're losing them."
"Are you saying our current staff is not adequate?" unsuccessful Mehlville Board of Education candidate Chris Brown interjected from the audience.
"If you truly believe in the free enterprise, I think that's where you go," Fowler said.