Mehlville Board of Education candidates debate district's public image, Proposition P at forum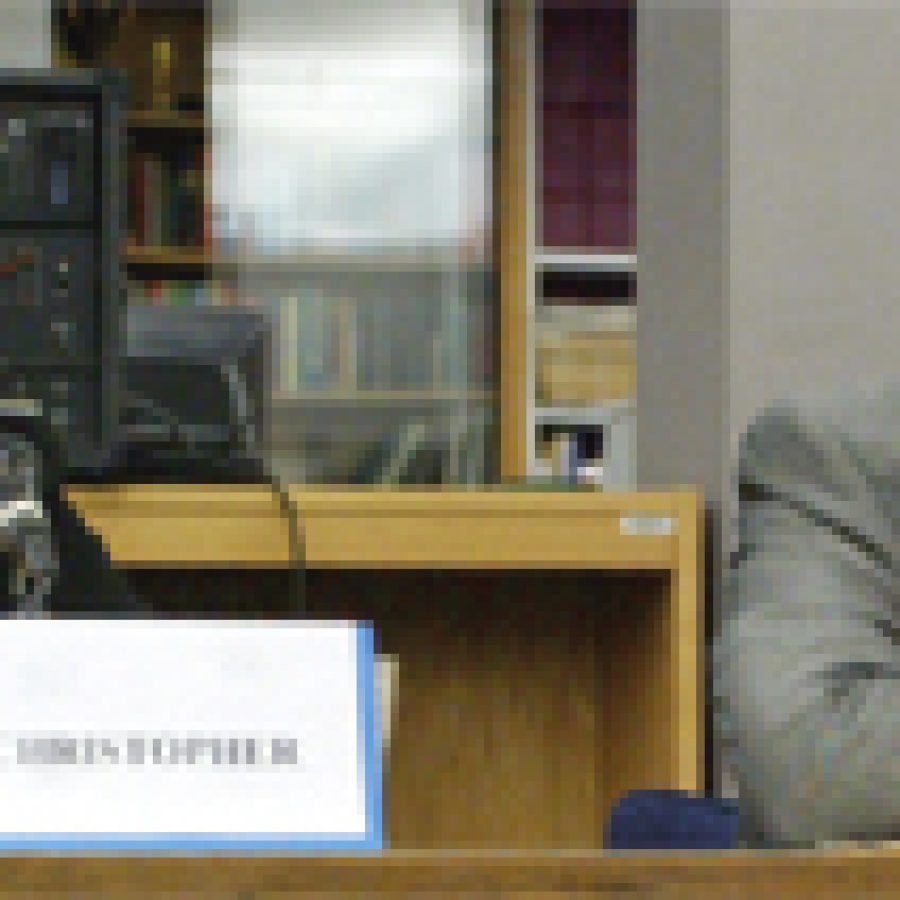 By MIKE ANTHONY
Executive Editor
The Mehlville School District's public image and questions about the Proposition P districtwide building improvement program recently were debated by four candidates seeking three seats on the Board of Education in the April 5 election.
Board of Education President Cindy Christopher, Karl Frank Jr., board Secretary Marea Kluth-Hoppe and Ken Leach are seeking election. Christopher is seeking a third three-year term, while Kluth-Hoppe is seeking a second three-year term.
Frank ran unsuccessfully for a board seat last year, while Leach is making his first bid for elective office.
Board Vice President Matthew Chellis decided not to seek a third term.
Roughly 40 people attended the March 7 forum in Mehlville Senior High School's Learning Resource Center. Former Board of Education President Kathy Weber moderated the forum, which was sponsored by the district's Citizens' Advisory Committee. Questions about the school district's public image and Proposition P were among those submitted in writing to Weber, who then queried the candidates.
Voters in November 2000 approved Proposition P, a nearly $68.4 million bond issue funded by a 49-cent tax-rate in-crease. However, the Board of Education voted in November to approve a revised Proposition P budget of $88,927,440. The revised Proposition P budget represents a roughly 30 percent increase — more than $20.5 million — over the $68.4 million building improvement program envisioned in 2000.
Regarding the district's image, the question posed to candidates stated that some would say that the district has a poor image with the public. If this is true, how would you correct it?
Leach said, "I think we need to — maybe with a survey. If it's a bad image with the public, then we need to put out a survey and find out exactly what are the particulars of the problems that the public defines as a bad image. That's a pretty general question, but being in marketing I know we need to be a little more target specific in order to really come up with solutions.
"But I would think you'd start out with a survey and that would lead to some specifics," he added.
Frank said, "The best public relations is timely, open and honest and forthcoming communication of both good and bad news. This, quite frankly, is the worst public relations department or debacle of any organization I've ever come in touch with personally. That is both public and private. It is not the ability of the public relations department that I question. It's the motives and the unethical behavior of the public relations department such as working the polls for other candidates and then being voted in a raise by those same candidates a couple months later.
"The source of all this, though, is where the buck actually stops, as Harry Truman said, and that is at the — here, at the board and ultimately the last two years at the desk of Cindy Christopher. She is the one that has the power to prevent, but instead encourages and participates in what I believe are these unethical behaviors," he said.
Kluth-Hoppe said, "I think the statement that the school district has a poor image with the public does not have any foundation. When talking to community members, and I try to attend numerous events within the district, I meet and see parents and other community people who are extremely pleased with what is going on with their children's education and what is go-ing on within the district. Our community relations department works through the Mehlville Messenger to get information out to our community. We have our new cable channel and program that is being utilized for even this forum. There are weekly press releases to the media.
"Our individual schools send out news-letters and many of them are utilizing the district Web site to inform the community of what is going on and what is happening in our district. If there are particular areas where there's a problem, then that would need to be researched, but I do believe that we do not have a poor image with the public," she added.
Christopher said, "I think that if you are actually out in the buildings and talking to parents and meeting them, I think you will find that there are very many people that are extremely pleased with what goes on in our buildings. They're thrilled with the education their kids are getting. I am not aware of an image that we would have — a poor image with our public. I don't hear it. If it's there, then it would have to be something that would be specific and certainly we would work to correct that. But we would need to know specifically what that is."
The candidates were asked when did they find out that Proposition P was over budget.
Frank said, "Well I found out from the — my initial time that I found out was from the reporting in the local paper. What we ended up finding out then was that the public had provided a tax increase of 49 cents, but what ended up ultimately happening was that the 49 cents was broken up into two funds, a 41.6-cent fund and a 7.4-cent fund and the public was not aware of that. And what happened then in April of 2003, Cindy Christopher got up and told everybody that they were on time and on budget and ultimately what was really the case was that they were $14 million over budget. Now either Cindy Christopher didn't know or she lied and, quite frankly, I don't know which is worse."
Kluth-Hoppe said, "The Proposition P budget has been revised several times. The revisions have been necessitated by various adjustments that needed to be made as the construction was going on. There were some issues having to do with hazardous waste that necessitated revisions to the budget. There were other revisions that had to do with safety issues, including putting sprinklers in all of Mehlville High School when that had only been figured for the new addition and the fire department thought that would be … safer and those budgets have been revised over time. The various committees watching this have been aware of this over the progress of the Proposition P work, including the Oversight Committee, the CAC committee and the board."
Leach said, "The first time was in the newspaper and that's when I found out it was over budget …"
Christopher said, "Proposition P brought a lot of surprises. Many of you that were there in the beginning know that the district had tried several times to put things on the ballot and we were scraping the bottom of the barrel. And we did not have extra funds to get really very accurate estimates that would have come by a construction manager or some sort of construction corporation that would have actually been able to give us estimates.
"So we a got per-square-foot estimate, dollar estimate. It was estimated at that point, A.G. Edwards came in and told us in May or June before we actually decided to vote to put the 49 cents on the ballot that that would generate about $80 million at the interest rates which were, to my recollection, about 7.5 percent at that point.
"So we took it to the voters and they approved it in November and the 49 cents remained at that point because interest rates were high and throughout the construction …," Christopher said, as Weber informed her that her time to respond had ended.
The candidates were asked if they were faced with an unbudgeted and unforeseen expense that if not made would endanger students or would cause a building to not be within code, how would they support or oppose such an expenditure, for example, an unbudgeted expense for asbestos removal?
Christopher said, "Well, I've had that question in real life and I can tell you that I was very grateful that interest rates had dropped and that we've had more of the 49 cents from Proposition P that was able to remain in our district because we had information, especially particularly on asbestos, that was from the 1980s and that company had since been out of business and we found that (much) of their information, different reports were not accurate. They were not nearly as complete and when our construction people got into the buildings and actually did thorough, more thorough investigations, there were a lot of issues. And so I was grateful that we had the money to be able to take care of that because I would not want want to expose our kids to asbestos at a point where we've got ceilings torn out and we're able to do something about it."
Frank said, "… There is absolutely no way that I would have ever opposed the asbestos removal. I think, though, that that is a little bit of a diversion from what actually is going on. There was no asbestos or sprinkler systems in Bernard Middle School or the new Oakville Elementary School. You obviously would have to budget for things like that. They come up. There's never a perfect plan. I don't know if a perfect plan has ever been developed.
"However, in this e-mail from (Assistant Superintendent for Finance) Randy Charles I have here, Dickinson Hussman (Archi-tects) logged 3,230 hours and were paid $108,430 to give the district some projections on how much Proposition P was going to cost. And quite frankly buildings that are 30 and 40 years old, you have to assume, I would think, or at least if the right questions were asked, which is what I'm really all about, that things like sprinkler systems and asbestos might be in these buildings because they're issues in construction," Frank added.
Kluth-Hoppe said, "As a board member I, too, have been faced with this and when we are talking about the safety of our students, there is no choice but to go ahead and remediate and remove such hazardous waste as asbestos. When the estimates were made on our buildings and our construction, they were based on older information that was not necessarily verifiable and many times in construction when one gets into something, tears open a wall, there are many unforeseen things lurking in those walls. If you've every done home construction and remodeling, that happens. So we must take care of our children and not endanger them and we have been very fortunate and with prudent planning that we have been able to do that and still meet and accomplish all the plans for Prop P."
Leach said, "Well, if those were the facts in a hypothetical situation and there actually (was) was some danger, of course, you can't compromise children's safety. You have to act on that immediately. I don't know all the particulars in the past. I mean the only thing I would have to say about Proposition P that I would make any statement at all is that it probably was a bad projection, you know, and that's something that doesn't lie here or there. I think it's just that we need to go to school on it in the future and make sure that they account for all of those things so that we don't make the same mistakes and that's all."