Mehlville board hosts first listening session
Mold at Mehlville High topic at first-ever open dialogue session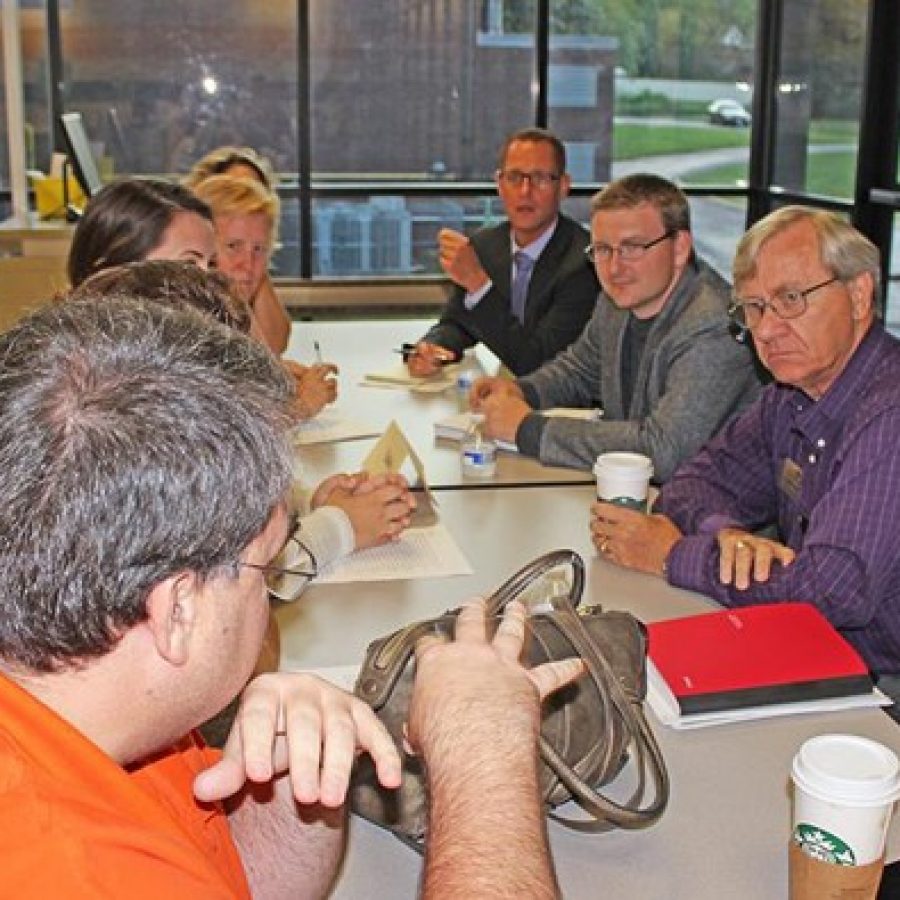 Mold in the basement at Mehlville High School and a proposed new school of innovation were a few of the hot topics, both surprising and predictable, at the Mehlville Board of Education's first-ever listening session last week.
The open dialogue session was billed as a way for district residents to have a conversation with board members and talk about anything on their mind.
And some of the topics that became the focus of conversation for the more than 40 residents who attended the Sept. 21 session at the Margaret Buerkle Middle School cafeteria were not previously on board members' radar.
Mold at Mehlville High is one of those issues, board Secretary Lisa Dorsey said.
"Facilities was a big one, that was probably the topic," Dorsey said. "That's the value of the situation is we have district constituents bringing us information or concerns so that we can understand their perspective on something we've not heard about."
Under the unique listening-session format, groups of students, parents and residents rotated around to cafeteria tables with two or three board members, who were randomly drawn to sit together.
An assistant superintendent sat at each table to provide details if a board member couldn't.
Superintendent Chris Gaines walked from table to table, listening to different conversations.
Choir parent Elaine Sheehan told board members Larry Felton and Jamey Murphy that mold has been a constant issue in the choir room for the last eight years.
Fixing it is a question of health and safety, she said.
"Every end of summer for the last eight years, they've had to re-clean the choir uniforms because they get moldy sitting in that room all summer if someone doesn't intervene and plug in the dehumidifier," Sheehan said. "That's a problem."
To save money, the district does not fully air-condition schools when school is out of session, but keeps the thermostat at a minimum level, Communications Director John Wolff told the Call. An air-conditioning unit went out, and it was not discovered for weeks since it was in the summer and the school was locked up. Air-conditioning is also shut off at all schools on weekends.
"Hot summer + high humidity + warm buildings = mold potential," Wolff wrote in an email.
The choir room has a sensor that detects high humidity and automatically turns on a dehumidifier, but the sensor failed over the summer during peak July humidity, and the "slightly elevated" mold levels weren't caught until the school was opened back up again, he noted.
The air in the classrooms has been tested by an outside company and determined to be safe, said Deputy Superintendent Brian Lane, who oversees facilities. The rooms have been cleaned multiple times and air has been tested, he added.
"Small bits of mold" were discovered in the choir robes and the new band uniforms, just purchased last year for $64,000, Wolff confirmed. The robes and uniforms were all professionally cleaned for $600.
Although choir parents did not believe the room had been deep-cleaned, facilities personnel were deep-cleaning the choir room the week before the listening session, Assistant Superintendent Jeff Bresler told Sheehan.
A choir student at the listening session quoted Facebook posts from teachers recounting their problems with the mold, including illnesses and a year's supply of classroom chemicals ruined.
One classroom's chemicals "got too warm and spoiled," Wolff said, and will cost $600 to replace. Chemicals destroyed in a moisture-prone chemistry classroom were expired anyway.
After treatment with an air scrubber over the Labor Day weekend, the air in the chemistry classroom checks out fine, he added.
As to whether the problems have continued for years, Wolff said Facilities Director Steve Habeck does not believe there is a mold problem, and the school district checks air quality if there are any issues.
"If there was a mold problem … trust me … I'd tell you," Wolff wrote.
Bresler, who oversees the Mehlville side of the district, said he had not heard about any health issues from either students or staff in relation to the mold.
"My son has allergies, he's been coughing since the school year started," Sheehan said. "I said, 'You've been hanging out in the choir room too much.'"
MHS parent Sally Bouren said she was unaware of the mold issue, but felt the district should be more proactive about it if it has gone on for eight years.
"If it keeps coming back year after year and nothing is being done to prevent it — be proactive," she said. "Look a little deeper than just wiping it all off."
At the table shared by board President Samantha Stormer and board members Kevin Schartner and Venki Palamand, students and parents were eager to talk about a proposed new school of innovation that could open next year in the former St. John's Elementary.
The board will hear a major presentation on the school Monday, Oct. 24.
The 300-student K-4 school would not cost significant amounts of money since it would be opening in an existing school, Lane noted.
"It's not going to be millions of dollars to open the school, it's basically going to be a little bit of facilities money," dependent on whether a kitchen is built or not, Lane said. "There's obviously some technology costs, but these kids are going to need computers wherever they're at."
In response to a question from Oakville parent Donna Seidel on whether the lottery-based school will be targeted only to high-achieving or gifted students, Stormer and Lane were adamant that it is not.
"Our goal is going to be that the population of the innovative school looks just like our kids across the district," Lane said. "Our idea behind the school of innovation is that's going to be a type of learning that's going to work for all kids, so it's not a type of learning that's only going to be geared toward high-end or gifted students."
The gifted students in STRETCH at the Witzel Learning Center will not get first dibs on the lottery spots to the innovative school, Stormer noted.
"I look at somebody like my son — he's not the type of traditional learner who can sit at a desk, but any time that he is interactive with doing things he is on target with everything he does," Stormer said. "I look at it as our non-traditional learners as well. That was the basis of a lottery system, so there's not just one type of kid."