Mehlville board hears plan to propel school district into the future
Trautwein parent questions affordability of 94-cent hike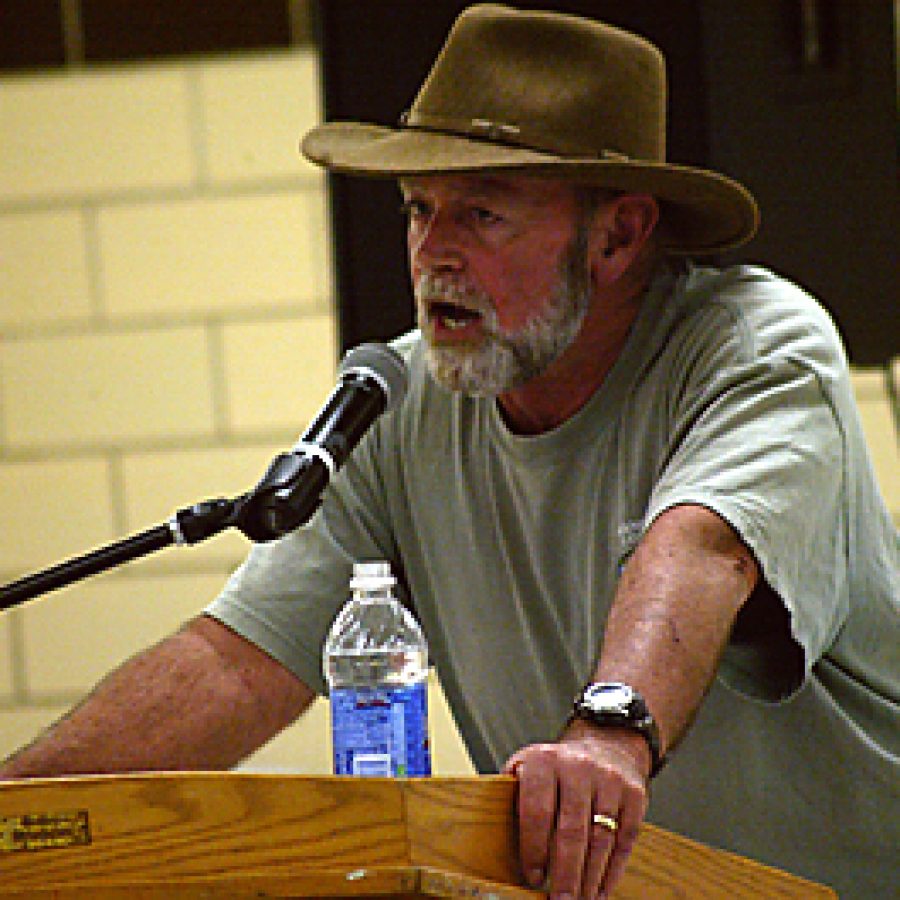 More than 100 parents, teachers, students and community members turned out last week to hear the presentation to the Mehlville Board of Education of recommendations designed to make the school district high-performing.
They applauded the fact that Mehlville students and teachers do well with less than ideal resources, and generally seemed supportive of the long-range COMPASS II plan — Charting the Oakville-Mehlville Path to Advance Successful Schools — which contains $107 million worth of improvements that facilitators believe will move the district forward.
However, some asked last week how the district planned to win over critics in the community who right now would not support the 94-cent property tax-rate increase needed to fund all the recommendations.
That increase, according to the COMPASS II Facilitating Team, would break down to roughly one dollar per day — the price of a pack of gum — for the owner of a $200,000 home.
Ken Smith, COMPASS II Facilitating Team member and district parent, lambasted the district's low ranking for per pupil expenditures compared to the other districts in St. Louis County.
"This district has done so much to educate our children with so little," Smith said. "Twenty-two out of 23 for expenditure per child. That's ridiculous. We need to pass this. We must pass this … We're going to do it by mobilizing, going out and knocking on every door in the district.
"Some people have trouble. Things get tight," he added. "But if we all work together we can get enough votes to pass this first stage, the first 94 cents. Keep the quality teachers, make the facility improvements, buy some textbooks and give our children the education they deserve.
"One of the phrases I've hated all my life is 'It's for the kids.' You can't just pass it off as 'for the kids.' It's for our future, too. We need to make Mehlville not just a high-performing school district, not just a destination district, but the school district," he said.
However, during a question-and-answer session at the June 24 board meeting with Facilitating Team Co-Chairs Dan Fowler and Jim Schibig and district officials, several attendees asked how they might convince critics to support COMPASS II.
Some suggested that a campaign for a referendum on this November's ballot should not only focus on the improvements that would take shape if the tax-rate increase passed, but also what would happen to the district if it didn't.
Asked about the ramifications of a failed ballot measure this November, Fowler said, "I will tell you that if this does not pass it will have devastating consequences for our school district."
Superintendent Terry Noble mentioned the district's contingency plan, a "master list" of items that could be cut from the budget in the event of a shortfall.
"Well we do have a contingency plan in place that's got about $6 million worth of items," Noble said. "It's a contingency plan that really goes beyond cutting this district to bare bones. This district made considerable cuts several years ago in staffing, and got to the minimum level of staffing. So we've already cut the fat out, basically, of the budget.
"So that $6 million is not fat, it's muscle, in the contingency plan for the most part. About the first $2 million would be before you would get to staffing and after that you'd really get into staffing."
One Oakville Middle School teacher, however, said some of those cuts already are evident at her school.
"Concrete things have already happened," she said at the meeting. "The science department was supposed to get new textbooks for next year. We shopped for textbooks all year … At the end of the year we were told: Sorry, nobody's getting textbooks next year. So tangible things are already happening. Also, I teach summer school. There's usually an enrichment program. Guess what? That got cut this year. So we're already seeing these tangible cuts, and I just don't want to see any more."
The teacher added that one of her summer school students recently told her his family couldn't afford pencils for school.
She made a mental note to buy him pencils, then later saw the same student sending a text message on his phone.
"I thought: On my text messages, they're 10 cents a message, and that's how much a pencil costs. So when they're talking about the pack of gum analogy, that it only costs a pack of gum a day to get a better education. Guess what — that text message could've gotten you a pencil."
Asked if the district could split up the 94-cent tax-rate increase proposal and seek a lower amount in November, such as 40 cents, Fowler said, "We did bring it down from $1.23 to 94 cents, and we are looking quite frankly that this Board of Education, from a financial point of view, is going to have to come back to voters in two years or less to even be able to sustain the programs that we have going on right now in the district.
"What's really going to determine your question is the community survey. That's going to give the Board of Education a lot of answers as to what we can and can't do. But anything's possible."
However, a Trautwein Elementary School parent present last week with her children became emotional as she explained that her family could not afford a 94-cent tax-rate increase.
"The other lady over there had mentioned going for 40 cents, and to be brutally honest, for us that would be easier to come up with than another dollar," she said. "I mean, I don't have money for my kids to eat. So I certainly don't have any more money to take from anywhere else … You're going to have a better shot of getting something to pass for a 40-cent raise than 94 with us.
"I love my kids, but I can only do so much. And to keep asking for more money is just not going to happen. I don't have any more money. My husband hasn't had a raise in over three years. Some other people have gotten a $30,000 raise — I can't say my husband has. We go month to month with his paycheck. I stay home with the kids because I have to. I used to work in day care, and I can't afford day care.
"I'm just saying that the lady with the 40 cents, that was a much better idea than anything else I heard tonight because as much as I love my kids and as much as I want to do for them, I do not have that kind of money," the parent said. "Yeah, we live in a nice house, but everything we get we pay out to pay for our house, for our kids to have a nice place to live. Our kids really don't get to eat that well, but you know, we make do.
"I'm just saying if that (tax-rate increase) were less, it'd be better for most people. I think you're going to have more of a shot of getting it passed. You go to somebody and say: Well this is what we're going to cut, or it's only going to cost you a pack of gum. Well, that pack of gum my kids do without now."