Mehlville board eyes cuts in wake of projected $8 million deficit for coming school year
Four-hundred attend board meeting on proposed cuts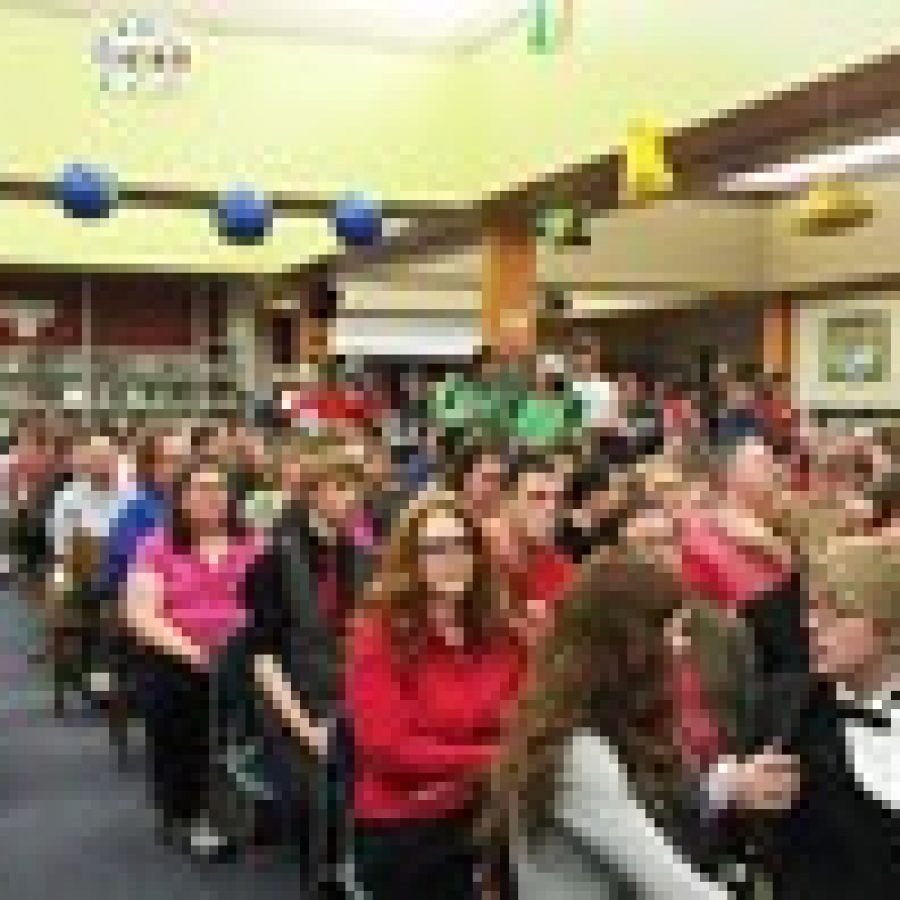 The Mehlville School District has long been such a lean operation that the items district officials recommend cutting to close half of next year's projected $8 million budget deficit seem key to the operation of a public school system.
Teachers, transportation within three miles of schools, the 1:1 technology laptop program, before- and after-school tutoring, library books and school clubs are all on the line as Mehlville works to close the gap in operating expenses and revenue that, if no cuts are made, will grow to $12.7 million the year after next.
The Board of Education will not vote on the cuts until May 21. The board's vote will follow two months of feedback from the community through focus groups and surveys on what should go and what should stay, so the $4 million in cuts and a more severe list that cuts $8 million are a starting point for discussion, said interim Superintendent Norm Ridder. Anyone can make suggestions or give feedback on the list of cuts by emailing Director of Communications and Public Relations John Wolff at budget@mehlvilleschooldistrict.net.
A sea of teachers and students wearing red in support of the district's teaching staff stood out in the crowd of roughly 400 when the board met Wednesday night in the Mehiville High School Library for a first look at the list of cuts. Teachers nationwide have worn red at rallies supporting public unions and public schools in a nationwide National Education Association, or NEA, campaign called "Wear Red for Public Ed."
Although Ridder has developed the cuts with Central Office administrators, principals and teachers, the man who will implement the cuts, incoming Superintendent Chris Gaines, currently superintendent of the Wright City School District, attended and sat next to Ridder at the four-hour meeting — his first in Mehlville.
Hours into public comments, Oakville insurance agent and former board President Dan Fowler — who oversaw the passage of the district's last two tax-rate increases as board president in 1998 and then as head of the campaign to pass Prop P to pay for two new schools and other facilities in 2000 — said no one wants cuts, and not every resident wants a tax increase, but in the district's current situation both are necessities.
"In the short term, both are going to have to be done," Fowler said. "There will be cuts, and they will be painful. And quite frankly, the community, in my opinion, needs to come forward with a reasonable tax levy — reasonable."
To teachers, Fowler added, "You don't deserve what you're about to get."
Board members mostly listened to speakers, but a few offered their thoughts on what all agreed is a sorry situation.
"We're like people arguing over the bar bill on the Titanic — we're arguing over the wrong things," board member Jean Pretto said. "We have nothing left, nowhere left to go, so we need our community at this point."
Ridder made the call that the budget cuts would be presented Wednesday night, the one meeting a year board President Ron Fedorchak has to miss for a business trip to an annual trade show. He is running for re-election next month and participated in the meeting by telephone. Board member Katy Eardley, whose seat is up for election but declined to run again, was home with her week-old child and did not attend by phone. In Fedorchak's absence, Vice President Venki Palamand chaired the meeting.
The campaign rallying students and citizens to support teachers by wearing red kicked into high gear Monday, when every first-year teacher was given a non-renewal notice and teachers got their first glimpse of the proposed cuts. However, the 23.5 staff positions included in the $4 million list of cuts will most likely be cut through voluntary retirements, rather than cutting the jobs of existing teachers, Ridder noted.
Still, among the dozens of public speakers, student after student asked the board not to cut their teachers, emphasizing the difference Mehlville's educators have made in their lives.
Mehlville High School junior Lexie Clemens gave an impassioned argument on why her favorite teacher, first-year journalism teacher Christina Manolis, should not lose her job.
"Teachers at our school are selected with care and every one of them deserves the spot that they occupy," she said. "I strongly believe that I and the Mehlville staff deserve better than the $8 million budget proposal."
Other students focused on convincing the board not to cut their favorite part of their schools, including Alex Dawes, who represented the Mehlville and Oakville water polo teams and begged the board not to close the pool.
"Swimming, it's a lifestyle — I am at that pool at least five, possibly six days a week," he said. "It will change everything for me."
Although the students speaking made it clear they don't want any cuts to their schools, especially to their favorite programs, only one offered an alternative proposal for the board to consider.
Mehlville High sophomore Sam Stoner, the son of former board President Mark Stoner, suggested that charging students activity fees to participate in school activities could raise more than $4 million and prevent any of the cuts.
Many of the speakers urged voters to pass a tax-rate increase, which has not happened since Prop P in 2000, but some residents against a tax-rate increase blamed the deficit on the Mehlville chapter of the NEA, or MNEA, which negotiates every year with the district on salaries, benefits and other provisions.
"We have never had an administration willing to impose rational limits on their constantly escalating demands," Lemay Republican Committeeman Alan Leaderbrand said.
Although teachers made up a large segment of the audience, the only district teacher to speak to the board was the MNEA's lead negotiator this year, Ernie Perrica. The Mehlville High School social studies teacher and coach said he has taught in the district 22 years and opposes any efforts to lengthen the calendar, which will be handled in negotiations rather than through a board vote this year after a longer year was part of negotiations last year.
"My passion is Mehlville students — I love working with the community that I grew up in," Perrica said. "I hope the board is very careful where it cuts. Cutting teachers hurts class sizes, which hurts academic achievement."
Outside the entrance to the library before the meeting, St. Louis city resident Don DeVivo held a sign reading "Stop using city kids for your salary $" in a bid to convince the board not to increase Mehlville's participation in the Voluntary Interdistrict Choice Corp., or VICC, the voluntary transfer program of students from city schools, which officials propose would add $1.3 million to the budget with 200 more students next year. The district has participated in VICC since its inception, but over the past decade has gradually decreased the number of transfer students it accepts for the program.
St. Louis Public Schools teacher Velma Bailey begged the board not to take any more city students, who are currently signed up to a waiting list to attend suburban schools.
"When you take children out of the city, you're taking jobs away from us — you've devastated our communities," she said. "The pain that you're experiencing right now is the pain that we experience."
The proposed $4 million in cuts would be made up by adding $1.3 million through 200 more VICC students and $3.2 million in operating expense reductions:
• $1.295 million — Cutting 23.5 staff positions at the elementary, middle and high school levels.
• $500,000 — Cutting transportation within three miles of a school and cut 30 bus drivers. Total students transported would decrease 81 percent from 8,600 to 1,600.
• $500,000 — Stopping the 1:1 technology program at 80 percent of the rollout, buying no new laptops.
• $242,000 — Cutting nine health room assistants and five instructional technology assistants.
• $225,000 — Cutting Central Office administrators.
• $120,000 — Buying no new library books or periodicals.
• $112,000 — Cutting Additional Compensation Stipends, or ACS, for principal facilitators, teacher mentors, student council leaders, intramural coaches and professional development associates.
• $100,000 — Ending all tutoring programs paid for by the district, before or after school.
• $65,000 — Cutting ACS stipends for teachers to lead clubs. This will reduce elementary clubs from seven to two, middle school clubs from 12 to three and high school clubs from 22 to 5.
• $50,000 — Reducing classroom supplies by 5 percent.
• $50,000 — Deferring computer upgrades.
Administrators are recommending the $4 million in cuts, but if the board decides to close the entire projected budget deficit next year, the administration's recommended $8 million in cuts includes all of the above cuts, $1.1 in deferred capital expenses plus slashing:
• $2.8 million — The 23.5 teachers in the original proposal and 21.5 more for 45 total staff positions at all school levels. This would most likely not be covered by attrition through teacher retirements.
• $1.3 million — The nine health room assistants and five instructional technology assistants, plus 20 secretaries – one secretary per building – and some custodial staff in each building.
• $446,000 — All the elementary and middle school gifted programs. This would close the Witzel Elementary Gifted Center, or STRETCH, program, and end gifted services for elementary and middle schools.
• $250,000: Technology, including the cuts outlined in the $4 million plan, but also cutting maintenance on existing systems, not paying for the SchoolReach system where the district sends out emails and phone alerts to parents and residents, and deferring infrastructure upgrades.
• $90,000 — Close the pool at Mehlville High School.
• $60,000 — The morning police officer patrols at elementary schools would be cut, rolling back security upgrades that were made in 2013.
• $38,000 — Stop all curriculum writing for one year.