Many stories of son's personal heroism give comfort to Officer Snyder's parents
Blake Snyder's parents, widow looking to humanize officers behind the badge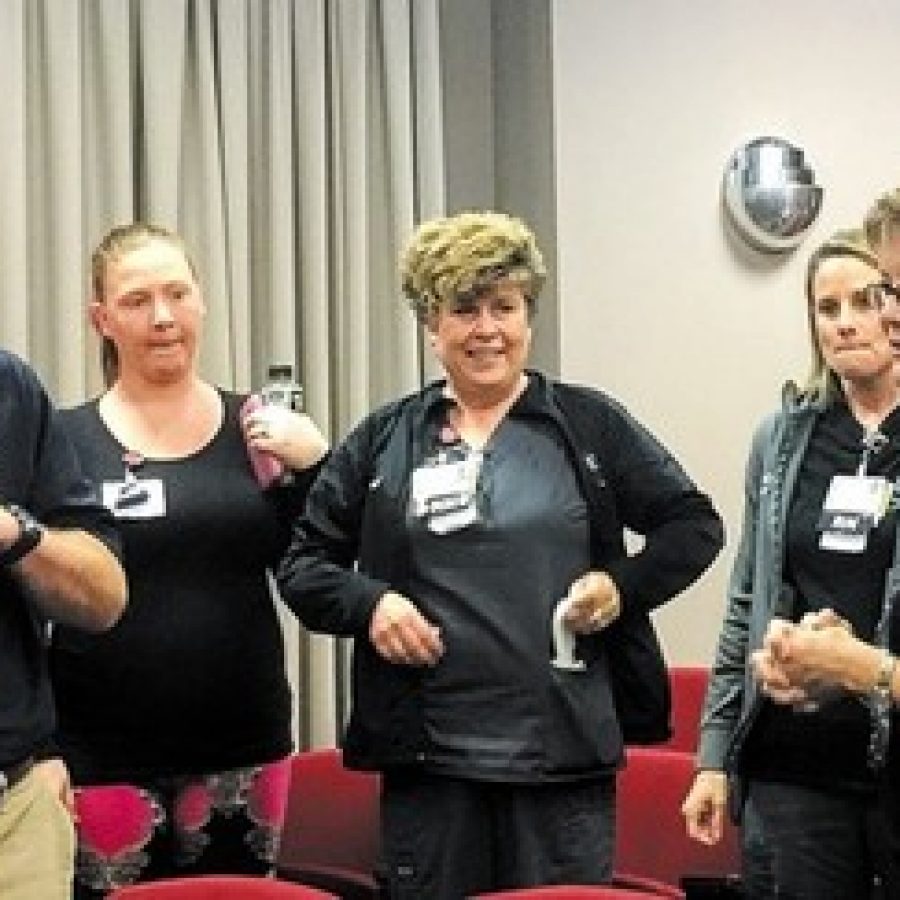 The parents of Officer Blake Snyder say they will never get over the death of their son, but they take comfort in the many stories of his personal heroism that have surfaced since his death in the line of duty.
Peggy and Dick Snyder, of Godfrey, Ill., recently met at St. Anthony's Medical Center with the first responders who tried to save their son's life after he was shot responding to a disturbance call in Green Park Oct. 6.
Speaking in public for the first time, the Snyders talked about their hope to humanize the police officers as regular people "behind the badge" with families and pets at home, while at the same time appreciating the stories they have heard of their son's effect on the lives around him. They heard some of those stories even as they met the nurses, doctors and firefighter-medics who tried to save his life at St. Anthony's.
The Snyders were late to an interview because a man who rode with their son to the hospital had to speak to them about how Blake spurred a massive change in the man's life. They had known each other from Blake dropping off patients for treatment.
The man had a "major turnaround in his life because of Blake's influence," Dick Snyder said. "I can't tell you how many times we've heard that."
Peggy Snyder started a journal to keep track of the many similar stories they've heard, Dick said, but he can remember all of them.
The parents stayed in line for nine hours at their son's visitation at Kutis Affton Chapel, which was attended by thousands of officers and residents from south county and beyond. A girl who had gone to junior high with Blake, who was 33 when he died, had only met him once. But she still remembered a single act of kindness from him decades later and waited hours to tell them about it.
"She spoke to us for 30 seconds to tell her story, and that happened time and time again," he said.
Blake had run into her in the hallway, knocking her books everywhere. But he made a lasting impression on her when he made himself late to his next class by helping her pick up her books so that she could be on time to her own class, Dick said. Those stories don't take away the pain of losing their son, but it helps in the healing process, he added.
It also helps that they believe they know where their son is. Faith has helped them get through the pain, Dick said. Both the Snyders were raised as Christians, and "it's just a way of life for us," he said.
Peggy hoped to meet the "code captain," or the physician whose duty it is to call time of death on patients who can't be saved.
"When he looked at the clock and said 'time of death,' I want him to know that that wasn't a bad thing," she said. "Because for my son, that began his eternal life."
But that hope of what is coming doesn't mean that his family misses him any less on Earth, she added.
"Blake's death has crushed my soul, and not just my heart, but my soul, and I think that's even deeper," Peggy said. "But I just had to be with those people (at St. Anth-ony's). It's been a tremendous loss, but I can't forget that God has given us a tremendous amount of blessings."
The pain will never go away, but especially as time passes, peace can come on days or in moments, Peggy said.
One of those peaceful moments was her time with the first responders at St. Anthony's. She had thought about them ever since the day her son died.
"God says to me in small portions of time as we're trying to go through things, it's well, it's well with my soul for this moment," she said. "For that time that I got to be with them, to know that they were with my son, it makes me feel well with my soul."
When Blake and his older brother Adam, now a pediatric dentist in Godfrey, were young, they would be confused when their parents would cry after someone died.
"They'd say, 'If they're in heaven, why are you crying?'" Dick said. "We're crying for us, not for them … You're still in pain, but there's still a reassurance there that as Blake would say to us, 'It's OK.'"
One of the goals of both Peggy and Blake's widow, Elizabeth, is to humanize the officers behind the badge. Blake was a sometimes-mischievous boy who would take everything apart and put it back together and thought outside the box about everything, in a different way than most people look at things, his mother said.
Peggy was surprised when her son became a police officer because from a young age, he hated blood and needles, even once asking paramedics not to start an IV in the ambulance when he was injured in a soccer accident. But the mother and son forged a connection through their respective jobs, hers in the emergency room at Cardinal Glennon Children's Hospital and his on the streets of Affton.
"As parents we take our children to work so they can see what we do, and you kind of wish now that children would take their parents to work so that they can see what they do," she said.
The only way he could have become a police officer and overcome those innate fears was because he had "truly given it all to God," she said. "Before he put on the badge, there's no doubt in my mind that he put on the full armor of God."
The outpouring of love and support from around the country for his funeral was overwhelming, the Snyders said. They still don't realize the magnitude since they have not yet read newspapers from that day.
"Thank you to everybody for unbelievable support," Dick said.
Blake took pride and love in his badge, seemingly becoming a different person when he came up from the basement dressed in full uniform. He was quieter and more reflective at work than he was at home. But when he was there, his world revolved around Elizabeth and their 2-year-old son Malachi, called Chi, who knows that his father is gone and has been told that Blake is in heaven, but doesn't understand the concept yet, Peggy noted.
Even without knowing what happened, he does weird things that connect him to his father like sit next to a blue light they have in their living room, she said.