Mabie defeats Boston to win re-election in Crestwood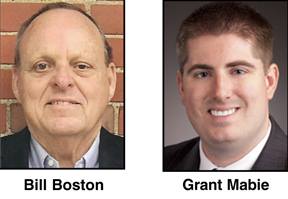 Grant Mabie vs. Bill Boston
Current Ward 3 Alderman Grant Mabie handily won re-election over former Alderman Bill Boston with 77 percent of the vote, according to unofficial results.
Mabie scored 297 votes to Boston's 85 votes over three precincts, with four write-in votes.
Boston, who defeated Mabie for the Ward 3 aldermanic seat in 2013, was challenging Mabie again. Mabie was unopposed in his election bid three years ago.
The margin of victory this time around was the "second-highest in any contested Crestwood aldermanic or mayoral race in the last 20 years," Mabie posted to his Facebook page.
"Thank you so much to everyone for your support and your votes yesterday," Mabie wrote. "Thank you again for your faith in me, and I promise to keep working hard to make Crestwood a better place. If I can ever be of assistance to you, or if you have a question or concern about Crestwood city business, please do not hesitate to reach out to me."
For more information on Mabie's and Boston's 2018 campaigns, read their questionnaires and, in Boston's case, how those answers were different back in 2013 when he originally responded to our questionnaire.