Lindbergh voters OK 65-cent tax-rate hike
Prop L's passage, Fey says, not a 'windfall' for district.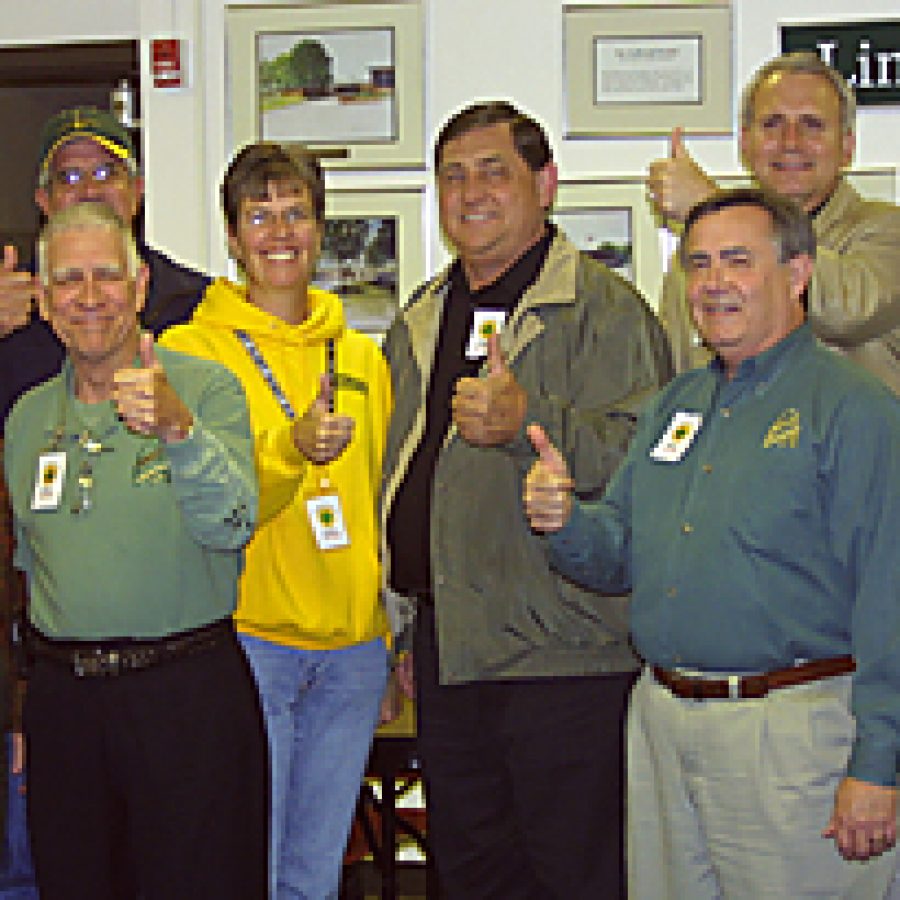 Lindbergh Schools officials are celebrating last week's passage of a 65-cent tax-rate increase they say will shore up the district's finances and prevent further painful budget cuts.
Roughly 53 percent of district voters Nov. 2 approved Proposition L, a 65-cent tax-rate increase that will generate an estimated $8.3 million in additional revenue beginning with the 2011-2012 school year. Prop L received 11,859 "yes" votes — 53.7 percent — and 10,229 "no" votes — 46.3 percent — according to unofficial election results from St. Louis County.
"The voters in the district did two things," Chief Financial Officer Pat Lanane told the Call Nov. 2 after the district deemed Prop L passed. "They did a great thing for the kids in this school district. They realized that there's a responsibility the community has to the children and all that. But they also fulfilled the responsibility they have to themselves and the Lindbergh community.
"This was about Lindbergh staying Lindbergh, and we have certain values and traditions that have been honored through time, such as low tax rates but high quality, a safe place to live and a great place for families to move back to. That's the tradition they confirmed tonight," he added.
Prop L will increase Lindbergh's operational tax rate to $3.40 per $100 of assessed valuation from the current rate of $2.75. The district's total tax rate will increase to $3.81 per $100 from the current rate of $3.16. The owner of a $200,000 home will pay an additional $247 per year and the owner of a $100,000 home will pay an additional $124 per year.
The Board of Education's decision in June to place the tax-rate increase before voters came after making $4.7 million in cuts for the 2010-2011 school year and roughly $2 million in cuts for the 2009-2010 school year. For the current school year, 60 positions were eliminated, including 45 teaching positions.
"I think definitely what this is about is we had to do $7 million worth of cuts. A lot of those cuts were to staff," Superintendent Jim Simpson said.
He added that Lindbergh has "such a reputation of excellent student performance," and Prop L's passage means "our voters want that to continue. And they knew we could not continue that if we had to do another drastic series of cuts."
The district's long-range financial plan calls for a spend down of its reserves with a deficit-spending cap of $3 million per year. In June 2009, the school board adopted a 2009-2010 operating budget that projected a deficit of $3 million. That $3 million deficit was reached by making more than $2 million in reductions.
But a further decline in the assessed value of commercial real estate — including successful appeals by commercial property owners to the county Board of Equalization — coupled with cuts in state funding left Lindbergh with a projected budget deficit for the 2009-2010 school year of roughly $6 million, though that amount later decreased to about $4.8 million.
While the majority of local taxing districts have rolled up their tax rates through the Hancock Amendment to regain lost property-tax revenue, Lindbergh has been unable to roll up its operating tax rate because it is at the state minimum of $2.75 per $100 of assessed valuation.
Even with the $4.7 million in reductions this school year, the district still faces a nearly $4 million budget shortfall for 2010-2011. Officials plan to further utilize district reserves to cover the deficit, and projections indicate those reserves will drop to roughly $18.9 million at the end of the current school year. If reserves fall below roughly $13 million, the district would have to borrow money to operate.
Without new revenue, officials projected that would've happened at the end of the 2011-2012 school year when the district's reserves would've drop to roughly $12 million.
The Prop L revenue eventually will eliminate Lindbergh's deficit spending, but it won't do much in terms of adding or restoring staff and programs, district officials stressed last week.
"(Prop L) was really a maintenance issue in quality of education," Lanane told the Call. "Because this isn't an 'add,' this is simply a 'maintain.' Even the reductions we made — almost all of those reductions will stay in place. This allows us to take where we are now and to move into the future and maintain that high quality.
"The burden now is on the administration and our board to maintain those principles of taking only what's needed, making it last as long as we can make it last and just good fiscal stewardship. That is the challenge that is ahead of us: Get the biggest bang for each one of those dollars they gave us tonight."
Simpson said, "We have a deficit. We have been living off our reserves for the past few years, and it's great that we have those reserves. But we need to right now look at the situation in terms of: We've got to take care of that deficit. This will allow us to take care of the deficit. We will come back into a financial health situation with no deficit. That's big. We don't have to increase class sizes any longer by doing additional cuts. That's big.
"We also understand that we've got to do our very best to look at all aspects of the district and still stay very focused on the fact that we've got to stay excellent, but we can't really move forward in terms of adding staff or programs … We just want to try to get through this recession and do that in a way that keeps Lindbergh Lindbergh at the high levels of excellence our community has come to expect."
Board of Education President Ken Fey said last week's vote was one of confidence in district leaders from residents.
However, the board and administration must continue to make wise decisions with taxpayer money, he added.
"I don't think the administration and the board will be able to say: Wow, we just got a tremendous windfall," Fey said. "We got healthy again, and when we say healthy we mean we are going to maintain. So the board and the administration will especially have to look at every expense, every expenditure and still stay very vigilant to make sure that we spend every cent that the taxpayers have given us in a very wise and good way.
"We do not have a windfall here. This was a vote to maintain Lindbergh the way it is, and we're going to have to stay on top of it and make sure we're very good stewards of this 65 cents."