Lindbergh teachers' top salary among best, but losing ground
Starting, mid-range salaries among lowest in the region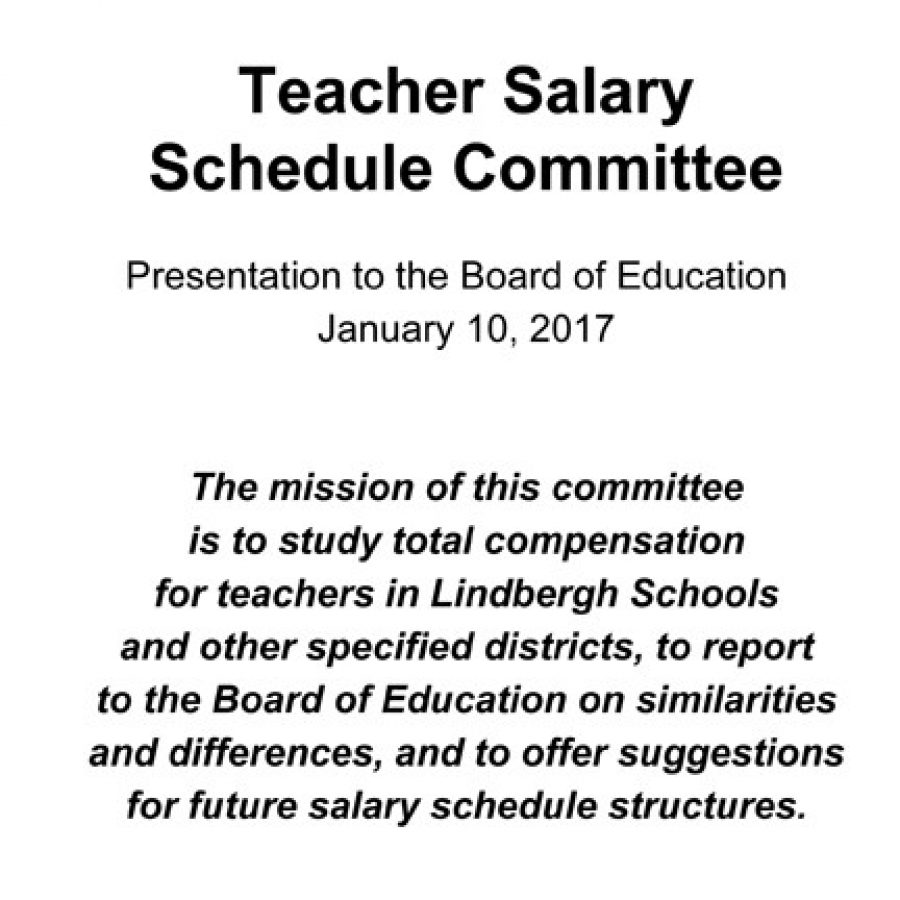 While the top pay for Lindbergh Schools teachers is among the best in the region, that salary of $87,834 "is losing ground" compared to other districts.
That was one of the findings of a committee appointed in September by Superintendent Jim Simpson and charged with comparing the total compensation for Lindbergh teachers to other area districts. The panel was also tasked with suggesting options for future salary structures.
While top pay for district teachers is among the best in the region, the Salary Schedule Committee found that "starting and mid-range pay" is among the lowest in the region.
For the current school year, teachers received an average raise of 1.25 percent.
They did not advance a step on the salary schedule for having another year of experience, although steps increased in value. For step increases, an average 3-percent pay raise is needed to fund the pay schedule.
Under the schedule, teacher pay this year ranges from $39,234 to $87,834. Stipends available for teachers include $2,500 for national board certification and $3,000 for earning a doctorate degree.
Over the previous two years, teachers received a combined average raise of 8.5 percent, which district officials said was the highest in the county.
Teachers and their supporters continue to express their dissatisfaction with 2016-2017 salaries, but administrators and board members cite the district's aggressive enrollment growth as a major factor why more money is not available for teachers' raises. For the current school year, nine new teacher positions were budgeted to accommodate new students.
In the past two years, 34 additional teachers have been hired to handle the enrollment growth and to keep class sizes small.
The annual cost — salaries and benefits — of the 43 new teachers to accommodate the enrollment growth totals $2.5 million.
The nine-member committee was comprised of two parents, four teachers, a building principal, two assistant superintendents and Board of Education member Mike Tsichlis. The panel met eight times since September, before presenting its findings to the Board of Education last week.
The committee reviewed salary schedules and benefits from districts including, but not limited to, Affton, Brentwood, Clayton, Kirkwood, Mehlville, Parkway, Pattonville, Rockwood and Webster Groves. Of those nine districts, starting pay for the current school year ranges from $38,000 in Affton to $44,075 in Clayton. Top pay ranges from $84,487 in Affton to $103,809 in Clayton.
Unique to Lindbergh's salary schedule compared to other districts is the inclusion of a "super step" in which teachers beginning their 18th year receive a roughly 13.3-percent salary increase.
Lindbergh's existing salary schedule includes four columns for education levels — bachelor's degree, bachelor's with 150 total credit hours, master's degree and master's degree plus 30 graduate credit hours — and 61 individual cells, or steps.
The committee determined that pros of Lindbergh's current schedule include:
• Fewer steps to maximum salary when compared with other districts.
• Top pay remains among the best in the region. However, even that is losing ground.
Cons of the current schedule are:
• Inequitable distribution of funds available for raises.
• Starting and mid-range pay among the lowest in the region.
• Cost to fund current step movements — 3-percent increase to budget annually.
• Super step.
"… Our salaries are really fairly significantly below the average of our benchmark districts. The only exception of that is our master's plus 30 …," committee member Sue Lauer, a Lindbergh High math teacher, told the school board Jan. 10. "At step 18, which we call — which teachers call the super step, we basically match up to the average and then we do exceed it for five years. But generally speaking, everywhere else we are below. Anywhere on the master's plus 30, about $5,000 to $7,000 below …"
The committee found, "While annual salaries lag behind other districts, Lindbergh's benefit package remains competitive enough to have an impact on employment. Thorough review of Lindbergh's current salary schedule exposed inequities and inconsistencies among cells and columns, in addition to issues surrounding the 'super step.' These issues are exacerbated by the disproportionate number of teachers currently in the top two columns of the step schedule …"
Options to the district's existing salary schedule were presented by two committee members — Lindbergh High math teacher Scott Fleming and parent Martha Duchild.
Fleming presented two traditional structures for salary schedules, one using tiered percentages in which different percentages are used for different parts of the schedule, and a second using tiered, grouped dollar amounts instead of percentages for different parts of the schedule.
Duchild presented two options for budget-driven salary schedules. Both options "depend on how much the board decides to put towards salaries," she said, adding, "One of the benefits of this system is it's immune to any fluctuations in the district funds. If in the years when your funds are more restricted, this system, the structure doesn't fall apart.
"If there are more funds, then raises are higher. If there are less funds, raises are lower. Unlike the step structure if there aren't enough funds to fund the steps, then you get the issue we have now where there is frustration. Under this structure, that wouldn't happen because the budget would drive the raises …"
The committee concluded, "Any of the proposed step salary structures can be manipulated to fit the current budgetary expenses of the district; however, they may create issues of employees making less money than they currently do. Solutions to those issues would have to be found …"
Simpson praised the committee's work.
"They clearly show the complexity of it, and they understand that our salary schedule is a very odd one. And the super step is something that has to be dealt with because it is skewing everything dramatically. So good effort on their part, the committee. I give them an A+," he told the Call.
The formation of a salary schedule committee was one of the items enumerated by Lindbergh National Education Association, or LNEA, President Kim Scronce when she told the board in July that teachers would work to contract, or withhold voluntary services, until they see "significant progress" on a series of demands made by the union. In November, LNEA leaders indicated teachers have no plans to stop working to contract.