Lindbergh Superintendent Sandfort to step down in June '08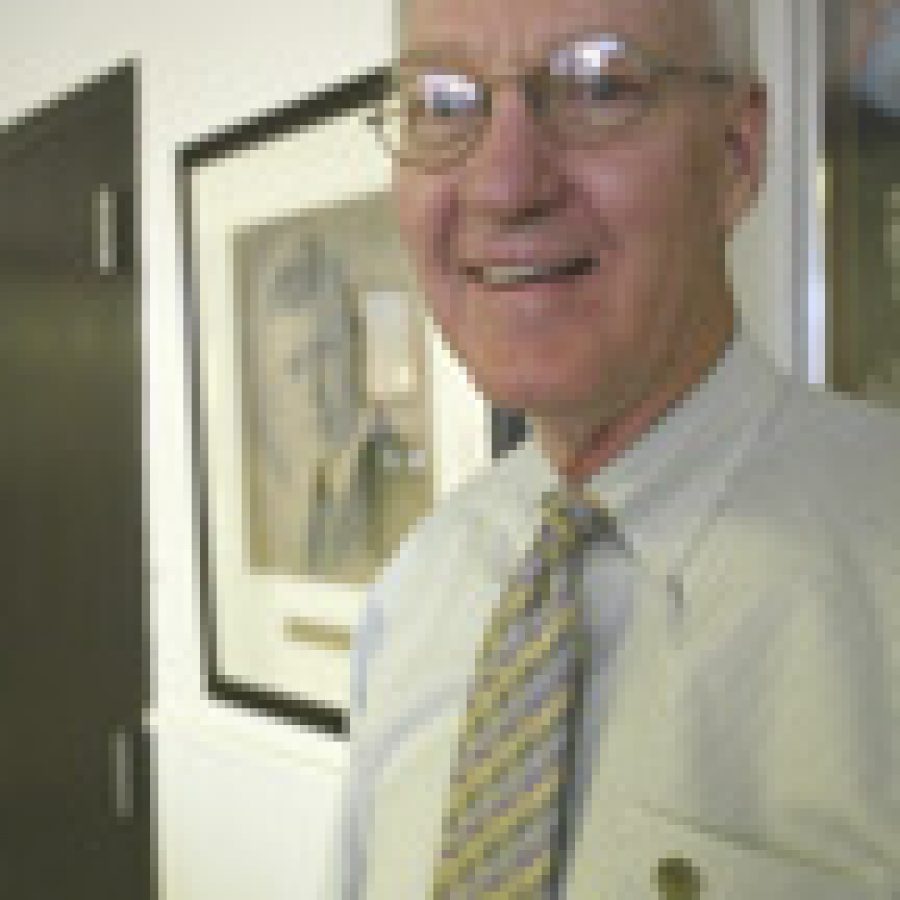 Jim Sandfort has never sought the limelight since he first became superintendent of the Lindbergh School District in 1991, preferring to lead quietly by example as students have excelled academically and the district has achieved financial stability.
As the district announced Friday that Sandfort will retire at the end of the 2007-2008 school year, he characteristically chose to downplay the news.
"The district will do just fine. It's never about the superintendent," he told the Call. "We've got a great leadership team in place in Lindbergh, and transitions are just another part of life and it's time for a transition to be made in a couple of years. The board's got 24 months and we wanted to be sure that it was done right. So they've got a kind of an opportunity here to take all the time in the world that they need and structure the transition the way that they would like for it to be structured."
Sandfort, 62, emphasized that he wants to get past the announcement of his upcoming retirement and get back to work, focusing on the education of children. In fact, he believes the next two years will be the best of his tenure at Lindbergh.
"It's still great. I'm not going to say the past tense. It's just a retirement notice. It's not an obituary notice," the superintendent said. "We've got our two best years ahead of us here. If the next two years aren't better than this current year, then we're not stepping up and moving forward the way we're supposed to be going. I anticipate the next two years will be filled with many exciting things for kids. Part of what I mentioned to staff in a memo I sent out today is this sort of ends all the speculation, all the questions and it allows us to get back to the business of working with and educating kids, which is the main focus. And that's what it needs to be … My goal is to turn this into a non-event and move on and get back to work."
Sandfort has extensive experience in school administration. Besides having the longest tenure in the same school district of any superintendent in St. Louis County, he served as an assistant superintendent for curriculum and instruction and administrative services at the Parkway School District for five years, as a high school principal in Shawnee Mission East High School in Kansas for 14 years and as an associate principal in instruction at Shawnee Mission South High School in Kansas for one year.
Asked why he made the decision, he said the time is right and two years will provide for a smooth transition in leadership.
"Well, two years is a nice break. One, because of age. I'll be on the cusp of being 65 and also then I'm in a situation where — being a superintendent is really a lifestyle … it's sort of time to 'repurpose,"' he said, noting his wife had retired a couple years ago.
"We have a heavy agenda ahead of us, and two years seemed to be a natural break. The major concern was how can we make the transition that, at some time, has to get done and provide the board with enough lead time to really make it a smooth transition in leadership? And 24 months seemed to be the right thing to do … So it seemed just to be the appropriate thing to do …"
Sandfort said he doesn't have any regrets about accepting the superintendent's post in 1991.
"I'd been asked early on in my career why did you choose to accept the position in the Lindbergh School District? I told folks immediately that the values held by the Board of Education and the priorities held by the Board of Education for doing the very best possible for students and for keeping youngsters at the center of all you do, I mean it's right there on the emblem (the district logo) … the kids are at the center of everything we do in this school district," he explained.
"When I was talking to the board in 1991, they were talking about learning, they were talking about student achievement and they were talking about putting students first, and when I talked to the staff members, that was all echoed in everyone I met with. I can honestly say that in the last 15 years, and I'm sure it's going to hold true for the next two, that there has never been a board member with an agenda other than children in the Lindbergh School District," Sandfort added.
During his tenure as superintendent, board members have held steadfast that they'll do whatever it takes to help students gain the best education possible, he said.
For example, Sandfort said board members have wrestled with philosophic issues surrounding cuts and reductions and they have always decided that if reductions are necessary, they will impact the classroom last. Furthermore, the board also has adhered to the financial philosophy of spending only what is needed, he said.
"… Those mirror my priorities, and so when the board asked: 'Do you want to continue on for another contract extension?" The answer is: 'Why wouldn't I?"' he recalled.
Sandfort said he looks for continued academic success by Lindbergh students over the next two years.
"… It's two years too soon to do a retrospective on anything. I would hope that in two years from now, people will be able to look back and say: 'Wow. If you thought the first 15 were great, these last two have been spectacular because if they aren't, then something has gone wrong."
He added, "It's not about me as superintendent. It's really all about the kids. It's always been that way …"