Lindbergh students join teachers in salary protest
Petition seeks tax-rate hike to fund teachers' pay raises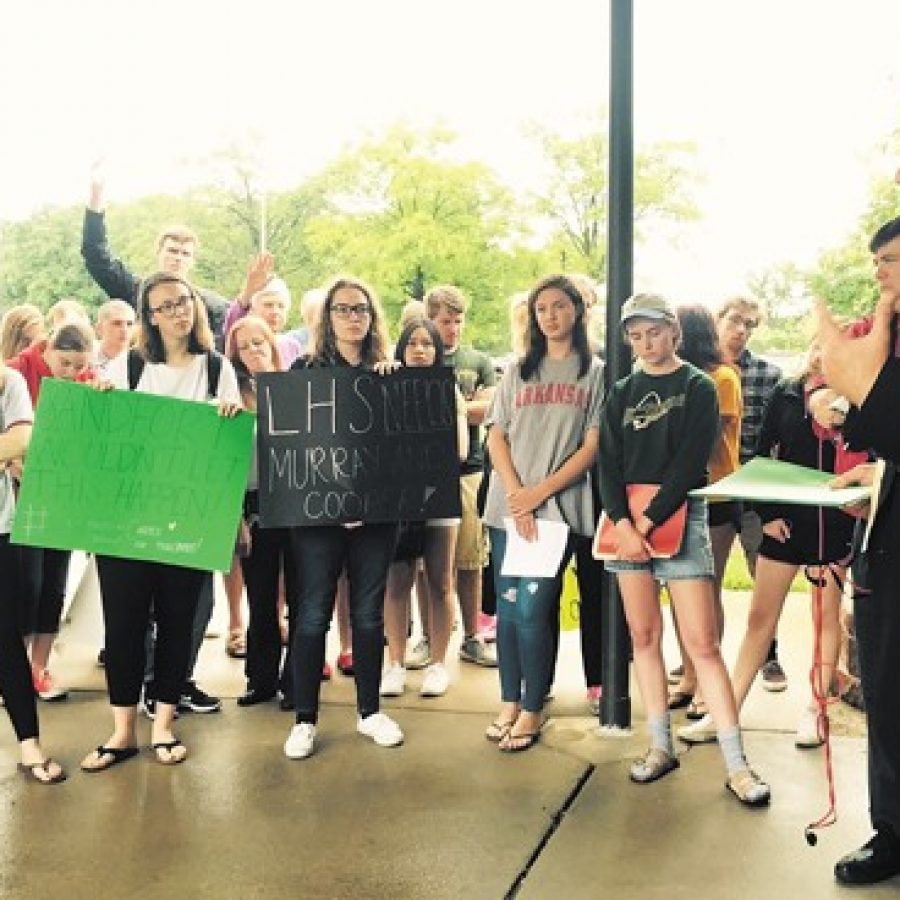 Lindbergh teachers have been unhappy over negotiations with Lindbergh Schools administrators since last year, but Lindbergh students joined the cause last week, organizing a walkout and sit-in to ask for higher teacher salaries.
Lindbergh High School students and alumni delivered an 800-signature online petition to Superintendent Jim Simpson Friday morning that, among other things, called for the Board of Education to place a tax-rate increase on the ballot for salaries and budget teacher salaries before anything else.
In a half-hour conversation with students holding signs and protesting outside Central Office, Simpson explained that district officials would like to give the teachers more money than the 1.25-percent raise they are offering this year, but simply can't within the financial realities of a tight operating budget of roughly $68 million that also has to address the district's surging enrollment growth.
"We want to give the teachers everything we possibly can — I hear that there's money held back that we're not giving and I know that that's not the case, and teachers know that," Simpson told the roughly 50 students at the sit-in outside Central Office. "Is the money as high as we wish it was? No."
That night, teachers in the Lindbergh National Education Association, or LNEA, overwhelmingly voted 203-1 to reject the district's offer of a 1.25-percent raise and no step increase this year. In the last two years, teachers have received an average 8.5-percent raise, which district officials say is the highest in the county.
For the 2015-2016 school year, Lindbergh teacher salaries ranged from $38,750 to $86,750. Potential stipends that were available to teachers included an additional $2,500 per year for earning National Board Certification and an additional $3,000 per year for earning a doctorate degree. For a starting teacher who was paid $38,750, the total compensation — insurance, retirement contribution and Medicare tax — was $54,372.97. For a teacher at the top of the pay schedule who earned $86,750 — without potential stipends — the total compensation was $110,028.97.
The district is rapidly expanding as more and more young families flock to Lindbergh, which under Simpson's leadership has ranked as the top academic district in the state for five of the last six years, on much less money than other top districts.
Most of the district's new money is going to hire nine new teachers to keep class sizes down for a projected 312 new students next year, adding up to 43 new teachers hired for growth in the last three years, Chief Financial Officer Chuck Triplett told the Call.
"We wish we had more money, but you can't run a district on wishes, you have to run it on reality," Triplett said.
LHS students mostly organized the events on social media, as part of a broader movement they call "Lindbergh Cares."
A 2014 Lindbergh graduate returning from college for the summer, Amy Himebaugh, began the petition because she said she had been hearing the teachers' concerns of unfair treatment from the Lindbergh administration for years.
"This is a student, parent and community-driven movement," 2014 alumna Addison Curth said in a speech before the students set out to occupy Central Office until Simpson or Triplett talked to them. Both administrators met them at the door.
The eight-point petition says teachers feel "disrespected and trapped" at Lindbergh.
Last year, teachers told the board that the district has a "culture of fear," with many teachers afraid to speak up over what they see as unfair treatment from the administration — allegations denied by administrators, who say they appreciate teachers.
The petition demands are: A tax-rate increase to fund higher teacher salaries, raises higher than the rate of inflation every year, Simpson giving his pay raise to teachers, a three-year pay plan that brings Lindbergh within $1,500 of the salary of benchmark districts, contracts negotiated by April 1 every year so that teachers who want to leave can leave before the next year, a "salary index" should be brought back "to give everyone the same salaries and equal raises," and overall, the administration should come up with a solution that satisfies teachers, while teachers should be able to review and negotiate their contracts.
Standing outside with the students, Simpson fielded questions about teacher salaries and the district's purchase of the Johnny's Market site for a new Central Office, among other issues.
When a student asked why he is not backing a tax-rate increase to fund higher teacher salaries since voters tend to support the district at the polls, Simpson noted that is unrealistic since the district has already gone to voters twice in the last five years.
"Our people are paying about 30 percent more taxes than they were five years ago and you're saying let's bring that up higher, they're ready to go," Simpson said. "Ask Kirkwood that, ask Webster that. They're as strongly supportive as us and they lost badly trying to do just what you asked … Talk to your parents and see if they're ready to go for more taxes, if their neighbors are ready to go for more taxes."
The students' consensus was that their families want to pay more for teachers.
As the students asked Simpson to justify his salary, which ranks near the top statewide at $267,514, since the district is "struggling," Simpson disagreed and said the district tops the state "most years" in academic performance.
"We have an incredibly successful school district," he said. "I'm working practically from the time I wake up to the time I go to bed for Lindbergh — that's what a good superintendent does. If it's turned into 'Bash the Superintendent Day,' it sounds like you're running out of ideas and you're going after the superintendent."
Simpson and Triplett left after the questioning grew more tense as students talked over each other to demand that Simpson give his own 1.25-percent raise to teachers this year. Everyone at Lindbergh receives the same percentage raise, from the groundskeepers to the teachers to the superintendent, Simpson told the students.
As Simpson talked, sophomore Jessica Kramer held up a sign that referenced Simpson's predecessor as superintendent, Jim Sandfort, who retired in 2008.
Explaining why her sign read, "Sandfort wouldn't let this happen," Jessica said, "He was really nice and he knew most of the students by name, and he actually cared about us and about our teachers."
Her nostalgia for Sandfort does not mean that she thinks Simpson doesn't care, she noted.
Junior Amanda Urwin held up a sign that said, "I'm a little upset." Other signs took a more negative tone, with some students doctoring garage-sale signs to read "garbage sale" and listing Simpson's name and the Board of Education where the address would normally be written.
The sit-in came after the students' final exams ended. In between final exams May 24, hundreds of students walked out of the school with the blessing of Principal Eric Cochran, who said no one would be punished for participating as long as they returned for their second final exam.