Lindbergh school board approves schematic designs for Prop R '08 work
District to develop new monument signs at each school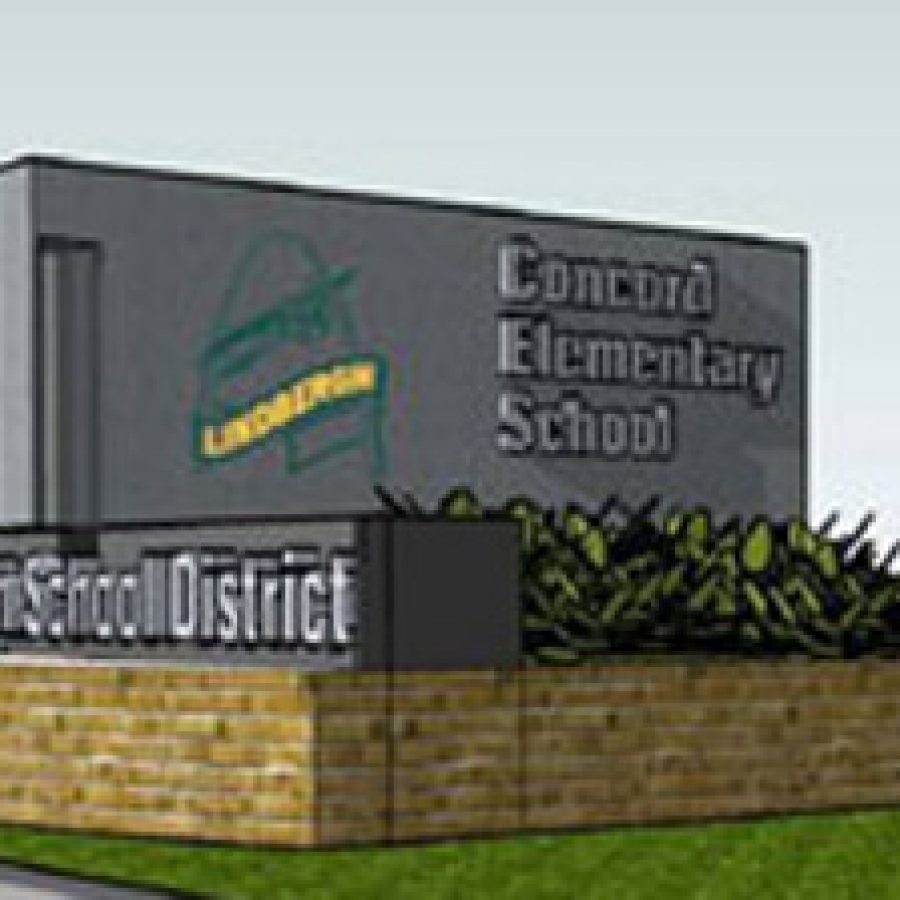 Schematic designs proposed for three elementary schools and a new Early Childhood Education facility were approved last week by the Lindbergh Board of Education.
Board members voted unanimously Feb. 19 to approve the schematic designs proposed for Crestwood, Long and Concord elementary schools and the new Early Childhood Education facility. The board's action also authorized Ittner Architects to continue with design development and to refine the construction-cost estimate.
School-board members first reviewed the schematic designs during a special meeting Jan. 31.
The improvements are being funded through Proposition R 2008, a $31 million bond issue approved by voters in November. The Board of Education had placed Prop R 2008 on the ballot with the goal of providing a long-term solution to space concerns at Sperreng Middle School.
More than 1,300 sixth-, seventh- and eighth-graders are jammed into the middle school that was designed to accommodate 800 pupils when it opened in 1970.
While Sperreng will remain a sixth- through eighth-grade middle school, funds from Proposition R 2008 will be used to convert Truman Elementary School to a sixth- through eighth-grade middle school, add onto Crestwood Elementary and Long Elementary, convert Concord School to an elementary school and construct a new Early Childhood Education building next to the Administration Building, 4900 S. Lindbergh Blvd.
While the board gave approval to the schematic designs proposed for Crestwood, Long and Concord elementary schools and the new Early Childhood Education facility, no action was taken on schematic designs for renovating Sperreng Middle School and converting Truman Elementary School to a middle school.
Executive Director of Planning and Development Karl Guyer told the board, "… I did comment in my written material that based on tonight, that then gives us the direction so that we can then bring back information about Truman and Sperreng. But this was somewhat of a critical component as to how the development of those internal workings would go. So we owe you a little more refinement on those so that you can feel comfortable. We know that."
"The final details and renovation needs for these buildings (Sperreng and Truman) is based on the approval of the direction for ECE (Early Childhood Education)," Guyer wrote in a memorandum to Superintendent Jim Simpson. "Based on the designs as presented, further refinement of these projects will be developed and presented for BOE (Board of Education) authorization."
Before the board voted Feb. 19, Guyer and Todd Powers of Ittner Architects briefly reviewed the schematic designs proposed for Crestwood, Long and Concord elementary schools and the Early Childhood Education building.
Assistant Superintendent for Finance Pat Lanane asked Guyer, "Karl, has anything changed from when we viewed these a week or two weeks ago — whatever it was?"
Guyer replied, "No. These are the exact same drawings …"
At Crestwood Elementary School, an addition containing 11 classrooms will be constructed behind the existing building. The entrance to the school also will be updated, Powers told the board.
"… We wanted to give some curb appeal and a freshening of the facade. So what we planned here again at Crestwood is primarily a new canopy element with a lantern. And this lantern happens to be a cylinder that will be internally lit," he said.
New monument signs also are planned for the district's buildings, Powers said.
"We developed a new signage package that not only will include the Crestwood Elementary at the building on the canopy itself. But we also took a look last time at a new monumental sign that will go out at the road that incorporates not only the Crestwood identification, but also that it's a Lindbergh school and that's a design that we would carry through at each of the buildings so that everybody knows they're at a school, they're in the Lindbergh district and the materials and colors of that new monument reflect the brick and materials on these existing buildings," he said.
For Long Elementary, an addition containing nine classrooms will be constructed behind the existing building while an updated entrance also is planned.
"… Over at Long, again, very much the same as Crestwood in our approach," Powers said. "Our addition is going on in the back of Long, but out in front of Long we wanted to again address the front of the building, freshen that look, hide some mechanical equipment (and) develop the plaza.
"And at Long, unlike Crestwood — Crestwood being very close to Sappington Road — Long is actually quite a ways back and so we are starting at the building and working our way out to the site with a series of elements on the site that end out at the monument sign …"
An extensive building addition is planned at Concord Elementary School, which currently houses the Early Child-hood Education program, to convert the facility into an elementary school.
Plans for the new addition call for a new building entrance, gymnasium, 13 classrooms, revised traffic flow, larger bus-loop capacity and expanded parking. The existing building at the site will have limited renovations to several existing classrooms while an "action room" will be converted into the elementary school's library.
Regarding the new gymnasium, Powers said, "… This is a full-size, competitive basketball court … It's Missouri high school regulation size and it also has two — it has a main volleyball court, which is regulation, and two regulation volleyball side courts. So you can actually play two regulation volleyball games in there if you close the bleachers. It requires that the bleachers be in.
"But when the bleachers are out, you can play one varsity basketball game or a varsity-level volleyball game in that new gymnasium."
District officials said one of the biggest challenges of Prop R 2008 was finding a new site for the Early Childhood Education facility. After voters approved Prop R 2008, an extensive search of properties and existing buildings available within district boundaries was conducted before district officials concluded that the lot to the immediate west of the Administration Building — land already owned by the district — would be the best location.
The new Early Childhood Education facility will house the core program and limited administrative functions, according to Guyer, while existing pre-kindergarten classrooms will be relocated elementary schools — one room at each. Some programs that were housed at the old facility will be relocated to available space in other buildings.
Also proposed is relocating the Board of Education room in the new Early Childhood Education facilities. The existing boardroom would be converted into professional-development space, which district officials say is needed.
Powers also discussed the new monument signs that will be erected as part of Prop R 2008.
"… The brick at the base would be unique to the building that it's associated with, whether it be Crestwood, Long or another building," he said. "We'd have the Lindbergh School District on a large piece of stone in the front and then the school identification would then be on a piece of metal signage that's perpendicular. And then we did talk about incorporating a Lindbergh logo that was applied to this new metal monument sign. Of course, this sign would be lit, both the Lindbergh and the school elements would have lighting for night and some landscaping."
Guyer said the logo used in the depictions is just an example and not the actual logo that will be used.
"I simply took a logo that I had that would read through the background so it didn't look like a little square. So it's just a visual image of what we have talked about, but it's not had Todd's touch to it," he said.