Lindbergh groundbreaking ceremony a 'historic event'
School district officials also dedicate ECE West facility at Truman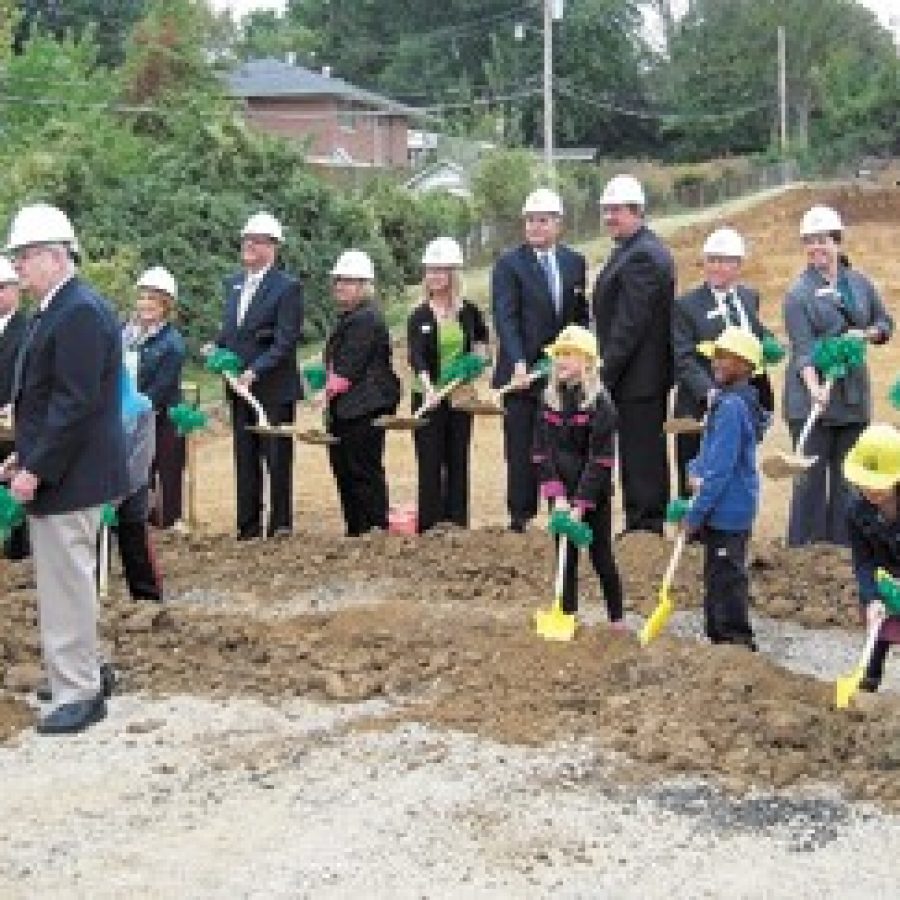 A groundbreaking ceremony Friday morning for a new 650-student elementary school was called "a historic event" by Lindbergh Schools Superintendent Jim Simpson.
Lindbergh students, administrators, Board of Education members and Missouri Board of Education Vice President Vic Lenz, a former Lindbergh school board member, joined Ollie Dressel and other members of the Dressel family in breaking ground for Dressel Elementary School at 10911 Tesson Ferry Road.
Ollie Dressel is the son of John Martin Dressel, who was the first president of the Lindbergh School District's Board of Education in 1949.
"I'm Jim Simpson, superintendent of Lindbergh Schools. I'm very proud of that. And I'm more proud today because this is a historic event. We break the ground on a brand-new elementary school, our sixth elementary school — Dressel Elementary — replacing a longtime historic building (Dressel School) …," Simpson said.
The superintendent cited the district's surging enrollment, saying, "We're growing … Over the last two years, 194 elementary students, new ones, have come into our district. This year alone, 200 students have come into our district.
"Growth is exciting, but it creates challenges for our school district. That's why we are grateful to our community for their continued support. We would not be breaking the ground on this new elementary school without $34 million the voters of Lindbergh gave Lindbergh Schools to handle this growth," Simpson added.
District voters approved the $34 million bond issue in April 2014. Besides the new elementary school, Proposition G — for Growth — is funding some critical needs at Lindbergh High School.
The district purchased the 10-acre Dressel site in 2011 for $1.94 million. The existing building is being razed to make room for the new elementary school — demolition is underway and is expected to be completed in about a month.
"Dressel Elementary School will be a state-of-art, 99,116-square-foot elementary building, serving grades K through five," Simpson said. "It holds 650 students, and it will be full the day it opens. I would like to take this opportunity to thank the entire Lindbergh community. Your strong support for local education is the reason we are standing here today, making room for hundreds of new families that are moving to Lindbergh each and every year.
"I also commend our board members and district leaders for taking proactive steps to address student growth districtwide."
Dressel Elementary will be among the most modern elementary schools in the state, offering a 21st-century library, Science, Technology, Engineering and Mathematics areas to enhance student learning, tornado-safe rooms that double as multipurpose rooms, a gymnasium with a competition-size basketball court and a playground accessible to all.
Board of Education Vice President Don Bee praised the contributions of John Martin Dressel to Lindbergh and noted the original John M. Dressel Elementary School was dedicated Sept. 7, 1958.
"Today, we're honored to have Mr. Dressel's son Ollie, right here, with us and several members of the family …," he said. "Thank you so much for joining us today. As you know, Mr. Dressel was a pioneer …
"He dedicated years of service to improving our education for our youth in our area, and this building, when we get it done, will stand as a tribute to his pioneering efforts to establish, as we know it now, our great school district …," the board vice president added.
Board members voted unanimously in June to award a $21,855,000 contract to construct Dressel Elementary to TriCo Inc. Commercial, which submitted the lowest of seven bids.
Ittner Architects designed the building, and William Tao & Associates are serving as engineers.
Besides the Dressel groundbreaking, district officials conducted a ribbon-cutting ceremony for the new Lindbergh Early Childhood Education West, which is behind Truman Middle School.
ECE West was built in less than one year, also in direct response to increasing enrollment districtwide. The Board of Education approved construction of the facility in October 2014, and it opened in August.