Lindbergh board votes to authorize Simpson to form salary committee
Pay not only issue; respect 'not there,' school board told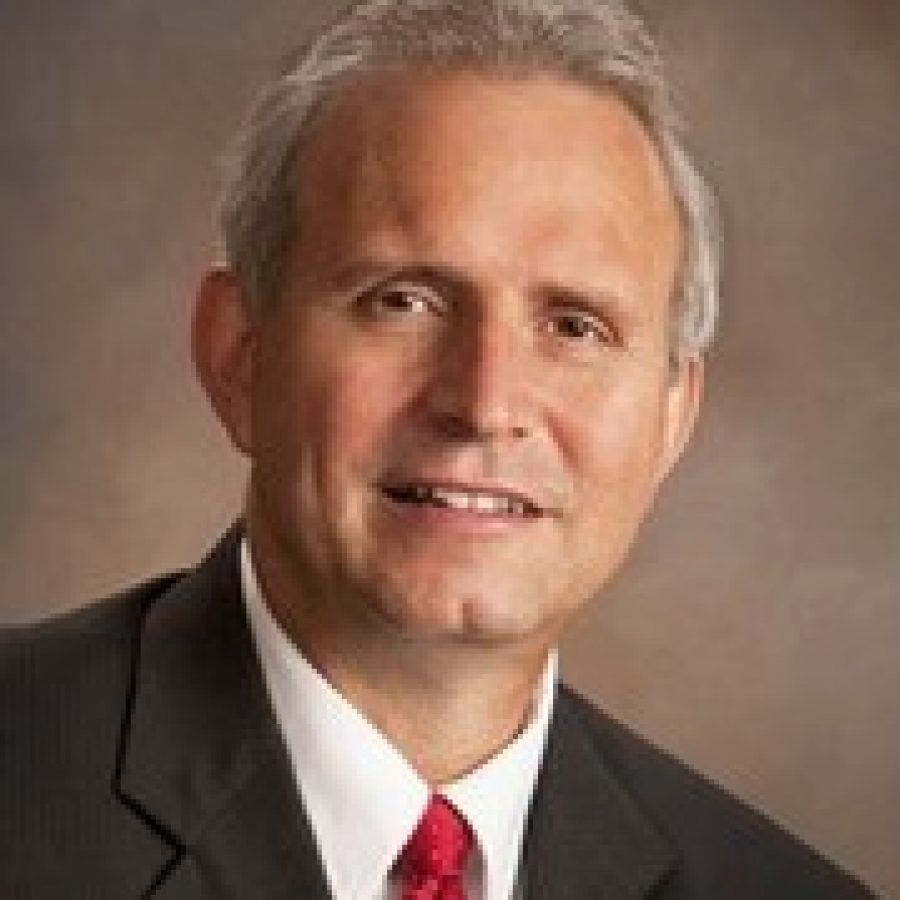 The Lindbergh Board of Education voted last week to authorize Superintendent Jim Simpson to establish a salary schedule committee.
Board members voted 6-0 Sept. 13 to authorize Simpson to form the panel. Board Secretary Karen Schuster was absent.
The immediate formation of a salary schedule committee was one of the items enumerated by Lindbergh National Education Association President Kim Scronce when she told the board in July that teachers would work to contract, or withhold voluntary services, until they see "significant progress" on a series of demands the union is making.
Simpson told the Call that he hoped to finalize membership of the salary schedule committee this week, and committee members were announced Tuesday. They are:
• Mike Tsichlis, a member of the Board of Education.
• Cathy Lorenz, a district parent, former district teacher and assistant principal at Parkway Central Middle School.
• Martha Duchild — a district parent and district volunteer.
• Rich Florez — a Lindbergh High School math teacher. Florez also has represented the Lindbergh National Education Association, or LNEA, during recent Board of Education/LNEA Dialogue sessions.
• Scott Fleming — a Lindbergh High School math teacher. Fleming also has represented the LNEA during recent Board/LNEA Dialogue sessions.
• Sue Lauer — a Lindbergh High School math teacher.
• Courtney O'Connor — a Lindbergh High School math teacher.
• Chuck Triplett — Lindbergh chief financial officer.
• Brian McKenney — Lindbergh assistant superintendent of human resources.
The committee is charged with finishing its work before the Dec. 13 Board of Education meeting, with the possibility of receiving a 30-day extension, according to Simpson.
The top salary for Lindbergh teachers ranked ninth of 22 St. Louis County school districts for the 2015-2016 school year, according to information compiled by the Missouri State Teachers Association. Lindbergh's salary of $38,750 for starting teachers ranked 14th of the 22 county school districts for the past school year.
But Lindbergh teacher salaries lag compared to other county school districts for the maximum pay for a bachelor's degree, the salary for a bachelor's degree with 150 hours of additional education, the minimum pay for a master's degree and the maximum pay for a master's degree without additional graduate hours.
In June, the Lindbergh board voted unanimously to approve a salary schedule that provides an average raise of 1.25 percent for teachers for the 2016-2017 school year.
Teachers will not advance a step on the salary schedule for having another year of experience. To provide for step increases, an average 3-percent pay raise is needed to fund the pay schedule.
Under the schedule, teacher pay for the current school year ranges from $39,234 to $87,834, but Lindbergh teachers and their supporters have expressed dissatisfaction with 2016-2017 salaries.
Administrators and board members cite the district's aggressive enrollment growth as a major factor why more money is not available for teachers' raises. For the current chool year, nine new teacher positions have been budgeted to accommodate new students.
In the past two years, 34 additional teachers have been hired to handle the enrollment growth and to keep class sizes small.
The annual cost — salaries and benefits — of the 43 new teachers to accommodate the enrollment growth will be $2.5 million.
At the Sept. 13 board meeting, parent Martha Duchild said she has spoken with Lindbergh National Education Association, or LNEA, leaders, board members and administrators, and called for the teachers to stop working to contract.
"… After having gathered information, I agree that the teachers' salary schedule needs to be revised and that the board tonight has taken a positive first step. I hope the committee does not restrict salary comparison and evaluation to the annual income alone. It will cause the end product to fall short of the goal of a true apples-to-apples comparison with other districts. In addition to annual income, Lindbergh teachers receive other benefits, both tangible and intangible. These intangibles add value and should not be excluded when comparing Lindbergh against other districts," she said.
"As a parent leader of the high school Strolling Strings, I know firsthand how much volunteer time and money our parents commit to the district. In terms of dollar amounts, last year our parent groups were responsible for raising more than a half-million dollars in support of our students and teachers …"
Duchild also asked teachers to reconsider their decision to work to contract.
"… As I explained to the LNEA representative a few weeks ago, before you can conduct peaceful negotiations, you need to have armistice …," she said. "That means before any productive discussion can take place to resolve teacher issues, all forms of protest must be dropped. You cannot hope for reconciliation and progress if you continue to hold onto your weapons. It is with great conviction that I ask tonight for teachers to stop all forms of protest so that all involved in finding resolutions to teacher issues have the space they need for cooperation and productive discussion …"
But Concord Elementary School third-grade teacher Becky Joy told the board that money is not the only issue and that teachers are prepared "to fight till the end."
"… I think some people are forgetting what we're here for, and it's not just about the money. It's the respect. The respect is not there. The family is broken, and we are fighting to get that back. Do I want to come to school every morning at 8:20 or 8:10 and stand at a flagpole, walk into school, give up every single plan time the last two weeks to have parent meetings because we're not doing it before school, we're not doing it after school, leave every day right away? Spend my mornings after dropping my middle-schooler off at Bread Co. because I can't go to school yet? No.
"None of us want to do that, but we need to fight for what we feel is right, and right now things are not right."
While she is "happy" the board voted to authorize Simpson to establish the salary schedule committee, Joy said she is unhappy with some of the stipulations the board has placed on the panel.
"It's just discouraging that we can't work together and we can't get this family back," Joy said. "Again, it's not just about the money, we want the respect. We tried fighting for this last year. We were made promises. It didn't happen, so now we're here to fight till the end. We deserve this.
"We work hard, just like everybody else, and respect and family is important to us. So that's why we're doing it."
Establishing a salary schedule committee is a positive sign that perhaps teachers, administrators and board members "are finally starting to get on the same page," Simpson told the Call.
"… We've been on a long journey, an unpleasant journey, actually, with our LNEA, but I think both sides have learned things from this journey and come to some deep realizations," he said. "And that's healthy, that's healthy, and so I think this is a healthy sign, and it would even make things go so much better if work to contract was ended … We're waiting to see if a vote is taken and what the results of that vote are …"