Lindbergh Board of Education backs superintendent, chief financial officer
First of two parts: Citizen alleges improprieties on Johnny's Market purchase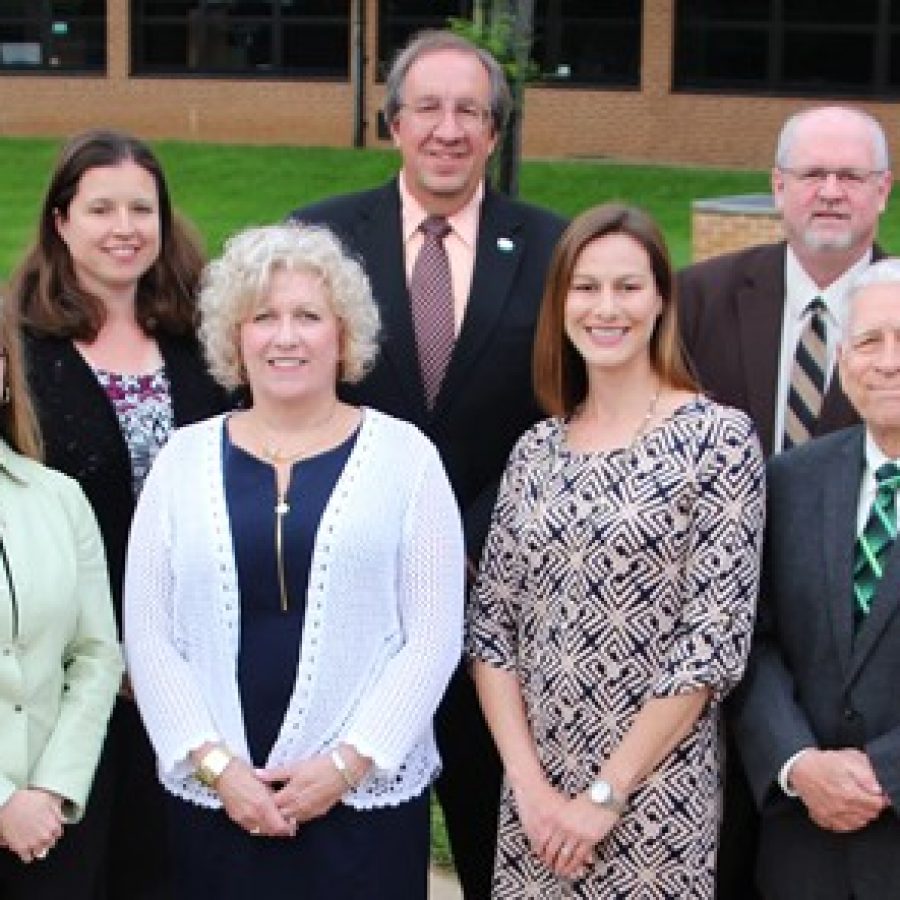 First of two parts
The Lindbergh Board of Education supports Superintendent Jim Simpson and Chief Financial Officer Charles Triplett, according to President Kathy Kienstra.
Resident Basil Pappas, parent of a district teacher, last week called for the Board of Education to fire Simpson and Triplett, after alleging improprieties with Lindbergh's purchase of the former Johnny's Market site at 11555 Gravois Road.
"The Board of Education supports Dr. Simpson and Mr. Triplett, and has no intention of firing either one, as demanded by Mr. Pappas," Kienstra told the Call.
During a period for public comment at the Aug. 9 board meeting, Pappas did not identify himself as the father of Lindbergh teacher Diana Skubic. Instead, he said, "I am not here as a taxpayer or a voter, even though I happen to be both. I am here this evening as your creditor. My wife and I own a material amount of Lindbergh School District bonds, and I'm not very happy."
Pappas unleashed a litany of alleged improprieties regarding the district's $1,663,603 purchase of the 2.2-acre former Johnny's Market site, where a new two-story, 24,000-square-foot Central Office building will be constructed.
Central Office currently is housed at Lindbergh High School, and occupies roughly 20,000 square feet there. The new Central Office building will be completed by fall 2017, restoring eight to 10 classrooms at the high school to address the district's surging enrollment.
In announcing the purchase in January, district officials noted the purchase price was less than the certified appraisal price of $1.74 million.
During his remarks, Pappas contended the appraisal the district received from AB Valuation Services of Union was "substantially flawed," noting Dan Jones of Meland Properties, the seller of the property, recommended the appraiser.
Regarding an appraisal, Pappas cited a Nov. 11 email from Jones to Triplett that stated, "… We can order one to make sure it appraises for the contract price."
"The district appraisal is substantially flawed," Pappas told the board. "In fact, it's so flawed my real estate counsel has told me that if I would refer this appraiser to the Missouri appraisal board, sanctions and possibly license suspension could occur. That's how bad he thinks it is, and he is an experienced real estate attorney."
While the appraisal cites comparable sales, Pappas said the three properties used by the appraiser are personal residences in Ladue, Town and Country and Chesterfield.
"They are not raw commercial ground, and most of the value attributed to these properties, as you might expect, happens to be the personal residences. In fact, the land value of all three pieces of property, according again to the assessor's records, is roughly 57 percent of what was paid for the Johnny's Market property," he said.
But Triplett told the Call that he spoke with the appraiser, and the comparable sales cited in the appraisal are all commercial properties.
Kienstra earlier had asked speakers to keep their comments to about five minutes.
As Pappas continued his remarks, Kien-stra reminded him that he was approaching five minutes.
"I've got a few things to say," he replied.
Pappas continued, "… This board and the administrators have failed in their duties to the taxpayer. You've breached your fiduciary responsibility to the community. You breached your fiduciary responsibility to me, your creditor. What you've all done is rubber stamped a transaction without giving it any thought, any — basically you did nothing.
"And so what do I want? I want the administrator, I want the administrator, the superintendent rather, excuse me, and his chief financial officer fired for cause because they failed. They failed in their duties. They failed to hire their own independent appraiser, including a review appraiser, which is good business practice. They failed to recognize the red flags when the seller said he had an appraisal equal to selling price …
"In addition to that, the board is equally at fault, and those engaged in this fiasco need to resign. Last but not least — and I will finish here in a minute — the board needs to stop its egregious charges for Sunshine Act requests. The charges, in my judgment, are designed to impede transparency, impede the ability of a citizen to become informed, and, quite frankly, are designed to hide the ball. In fact, I'm so irritated by it, I've already filed a complaint with the Missouri attorney general's office," he said. "Now, I will finish by saying I'm neither young, naive nor stupid, and I've been at this a long, long time and I've dealt with people a long, long time. And my guess is you will do nothing but sit on your hands, which you're good at and seems to be what you are actually pretty good at."
Board member Mike Tsichlis, who was elected in April, asked Pappas to return to the podium to ask him a question.
Both Pappas and Tsichlis noted they have known each other a long time.
"In the interest of complete transparency because I know that's what you said and that's what — you've done a lot of re-search here," Tsichlis said.
Pappas interjected, "Well, let me put it this way: I have a $657 Sunshine Act request bill, and if you think I'm happy, you're wrong. Legal counsel that I've spoken to — and I've spoken to two separate legal counsels who have represented other school districts and every one of them falls over in a dead shock when I tell them the billing practices of this district."
"… In the interest of complete transparency because this is something I feel might have some bearing maybe why you're here … it's not necessarily the case," Tsichlis continued, asking Pappas if he had a relative who is employed by the district.
"Irrevelant — absolutely irrelevant," Pappas replied, as he and Tsichlis spoke over each other, with Tsichlis asking again, "Are you related to an employee of this district?"
"Yup," Pappas replied.
Skubic later addressed the board, saying she believed she was being unfairly singled out.
"… I cannot believe that after somebody who didn't speak about really anything with the teachers, you felt the need to drag me in," she said. "Yes, I go to my parents and complain. I'm sure all of you do. That's why we have parents … I am offended and I'm saddened that this is the way you treat an employee, a taxpayer and a voter."
District officials told the Call that they requested Pappas reduce the scope of his Sunshine Law request in an effort to re-duce the cost, but he declined. Pappas was charged $647.03 for his records request, which included 423 pages of electronic documents, 93 pages of paper copies and employee time to fulfill the request.
Next week: More from the Aug. 9 Board of Education meeting.