Lindbergh board members, teacher union leadership to meet
Three-year pact with LNEA covers everything but salary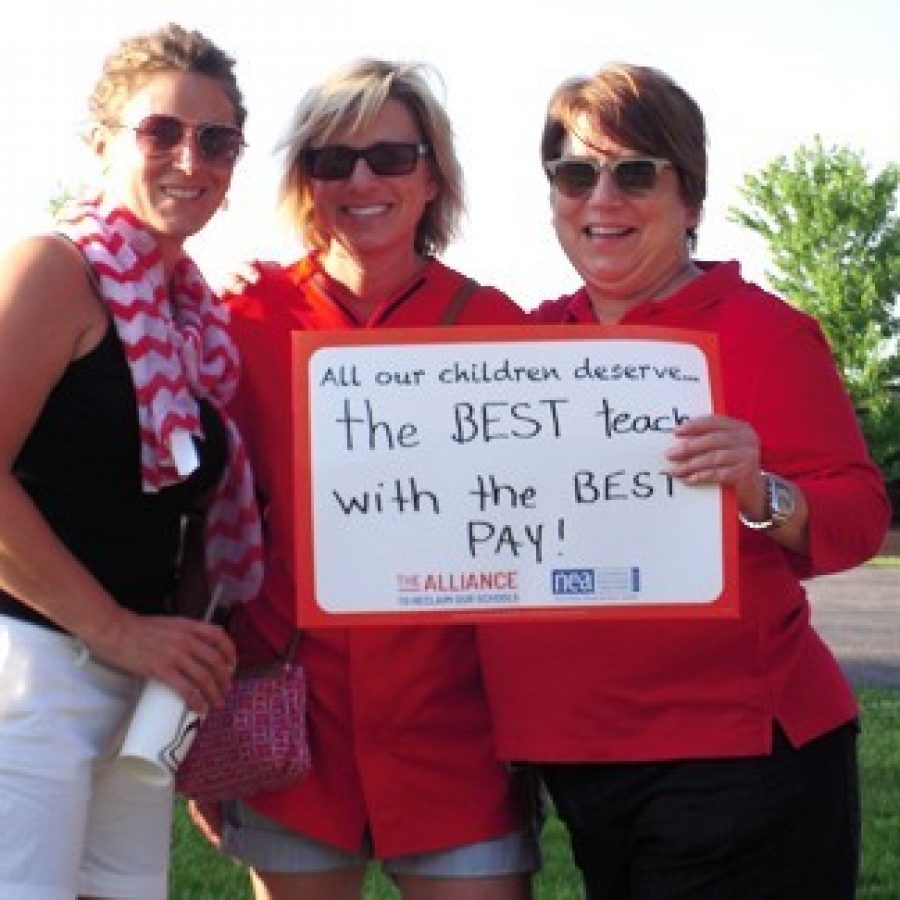 Lindbergh Board of Education members and Lindbergh National Education Association leaders are slated to discuss issues facing the district when they meet tonight — Aug. 4.
The Board of Education/Lindbergh National Education Association Dialogue workshop meeting will begin at 6 p.m. in the Admin-istration Building, 4900 S. Lindbergh Blvd.
For the second consecutive year, the Lindbergh National Education Association, or LNEA, has been at odds with the Board of Education and district administrators over teacher salaries.
Teachers say they are dissatisfied with the average 1.25-percent pay raise recently approved by the Board of Education.
Teachers also say they're unhappy because they will not ad-vance a step on the pay schedule for having another year of experience. To provide for step increases, an average 3-percent pay raise is needed to fund the pay schedule.
At the July 12 board meeting, LNEA Presi-dent Kim Scronce announced that teachers will immediately withhold volunteer services and work to the letter of their contract until they see "significant progress" on a series of demands the union has made.
Among the union's demands are the im-mediate formation of a salary schedule committee that would include teachers, administrators and community members, creating and adopting a policy regarding district reserves and polling the community about a possible tax-rate increase.
The board did not approve a salary schedule for teachers at its June 14 meeting, but instead voted to have teachers distribute the average 1.25-percent increase throughout the schedule as they see fit and return it to the board before 5 p.m. June 30.
However, the LNEA declined to submit another salary proposal.
Under the salary schedule approved by the board June 30, teacher pay for the 2016-2017 school year ranges from $39,234 to $87,834. Potential stipends available to teachers include an additional $2,500 per year for earning National Board Certification and an additional $3,000 per year for earning a doctorate degree.
Since the 2011-2012 school year, Lindbergh teachers have received raises, on average, totaling 17.4 percent.
Teachers and their supporters say Lindbergh's teacher pay is lagging compared to surrounding districts. They contend that the lack of competitiveness will result in Lindbergh teachers leaving for districts that pay educators more.
Administrators and board members say they have freed up every available penny to go to employee pay, citing the district's 2016-2017 budget that projects equal revenues and expenditures with no surplus.
Administrators and board members cite the district's aggressive enrollment growth as a major factor why more money is not available for teachers' raises. For the coming school year, nine new teacher positions have been budgeted to accommodate an anticipated 312 new students.
In the past two years, 34 additional teachers have been hired to handle the enrollment growth and to keep class sizes small.
The annual cost — salaries and benefits — of the 43 new teachers to accommodate the enrollment growth will be $2.5 million.
Veteran teacher Michael Kuhn served as president of the LNEA from 2012 to 2015. In April 2015, Kuhn was named the district's director of gifted programs, effective July 1. Scronce became the new LNEA president that same day.
After the leadership change, teachers accused district officials and board members in July 2015 of not bargaining in good faith, and said they were prepared to take legal action if negotiations were not reopened.
The accusation came shortly after LNEA members voted 182-23 in May 2015 to reject the district's offer of an average 3.2-percent salary increase and a salary schedule crafted by their own leadership. Teachers sought a 3.5-percent salary increase — an additional $29,000 — which unless other items were cut would have resulted in a deficit budget for 2015-2016.
After teachers rejected the salary schedule, district officials crafted a salary schedule utilizing the average 3.2-percent in-crease. Every returning teacher received a raise, 53 percent of teachers received a raise of more than 3.2 percent and nearly two-thirds of the steps on the schedule increased in value.
But teachers said they were unhappy that they had no input into formulating the salary schedule that was approved by the board in June 2015.
At the August and September board meetings last year, teachers and their supporters urged administrators and the board to reopen negotiations. Negotiations were not reopened and no legal action was filed by the LNEA. In October 2015, the LNEA and Board of Education approved a settlement agreement, ending the dispute.
The terms of the pact called for administrators to meet with LNEA representatives that month to study the development of a salary schedule and work toward developing time lines and procedures for the 2016-2017 negotiations process. The agreement also called for LNEA representatives to make a presentation about the 2015-2016 negotiations at an LNEA/Board of Education Dialogue meeting on Nov. 5.
At the dialogue meeting, the LNEA was represented by Scronce, Vice President Gretchen Moser, Long Elementary School kindergarten teacher Jerfeshan Kaiser and Beth Siegfried, a physical education teacher at Concord Elementary School.
At the Nov. 5 meeting, the LNEA representatives focused on "misunderstandings," "miscommunication" and a lack of respect and trust. They also accused administrators of not keeping board members fully in-formed of the situation with teachers.
In addition, the LNEA representatives objected to presentations at the meeting about district finances and enrollment by Chief Financial Officer Charles Triplett and Assistant Superintendent for Human Resources Brian McKenney, respectively.
Before this year and last year, teachers and district officials were at odds in 2009, when the LNEA unsuccessfully sought to expand the scope of negotiations to include topics that were considered matters of district policy, governed solely by the board.
At that time, Siegfried and Diane O'Leary served as co-presidents of the LNEA.
In November 2009, the board approved a three-year agreement with the LNEA in which the teachers' salary schedule, insurance and tuition reimbursement would be negotiated annually.
Teachers endorsed the pact by a 6-to-1 margin in October 2009.
That agreement, with some minor revisions, was renewed for two years in 2013.
On June 14, the school board approved a three-year agreement with the LNEA that covers such topics as teacher transfers, teacher vacancies, leave policies and the teaching day — everything but pay.
"The parties have not agreed to a 2016-'17 salary schedule … Any salary schedule will be negotiated annually for the length of this agreement," the pact states.