Lindbergh board asks teachers to reconsider their decision to work to contract
Working to contract impacts parent support, teachers told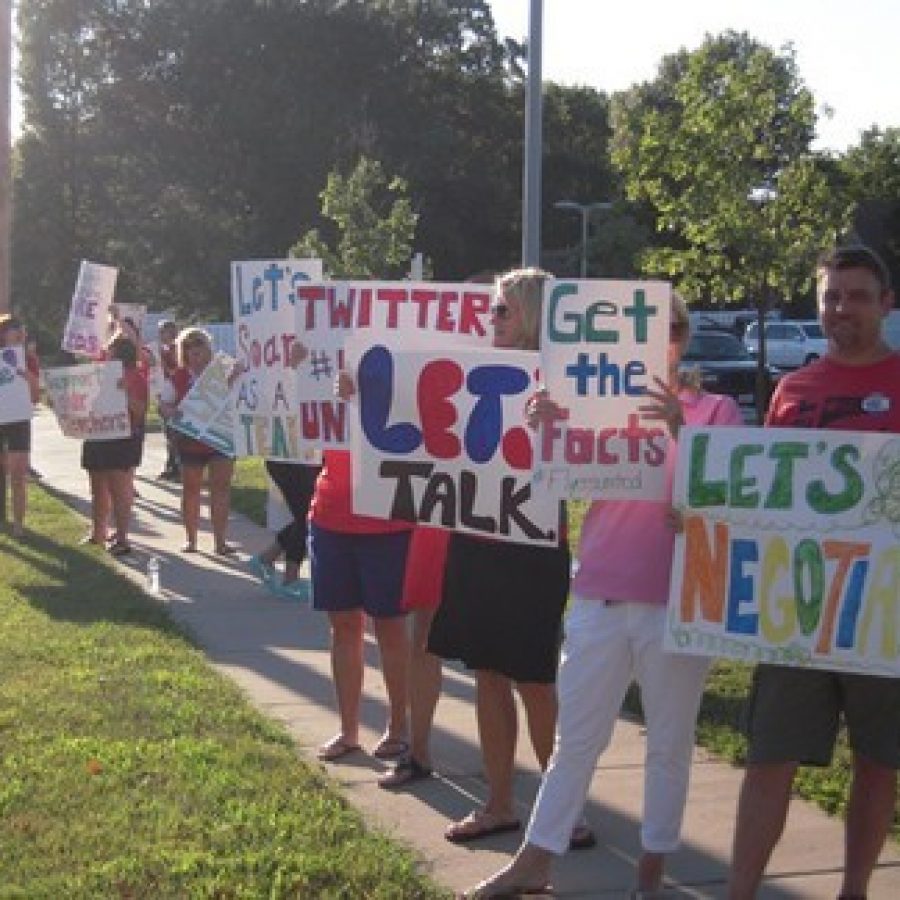 Lindbergh Board of Education members last week asked district teachers to reconsider their decision to work to contract.
However, representatives of the Lindbergh National Education Association, or LNEA, were non-committal, saying they would discuss the board's request among themselves and with their membership.
Representing the LNEA during the nearly 2.5-hour meeting Aug. 4 were President Kim Scronce, Vice President Gretchen Moser and Lindbergh High School math teachers Scott Fleming and Rich Florez.
Fleming is a former LNEA president.
Topics discussed at the Board of Education/LNEA Dialogue workshop meeting included enrollment growth, establishing a salary schedule committee, community support, teacher morale and working to contract.
Teachers say they are dissatisfied with the average 1.25-percent pay raise recently approved by the Board of Education.
Teachers also say they're unhappy because they will not advance a step on the pay schedule for having another year of experience. To provide for step increases, an average 3-percent pay raise is needed to fund the pay schedule.
At the July 12 board meeting, Scronce announced that teachers will immediately withhold volunteer services and work to the letter of their contract until they see "significant progress" on a series of demands the union has made, including the immediate formation of a salary schedule committee and polling the community about a possible tax-rate increase.
Under the 2016-2017 salary schedule for teachers, pay ranges from $39,234 to $87,834. Since the 2011-2012 school year, Lindbergh teachers have received raises, on average, totaling 17.4 percent.
But Florez noted that Lindbergh teachers' salaries continue to lag compared to other districts and teachers would like to see a strategy to address teacher pay.
"… How far must we fall in our ranking before the board does make a move on that? … Where are we going to be in three to five years?" he asked.
Board President Kathy Kienstra replied, "First of all, we recognize that the teachers are falling behind. We want to pay you more. We wish we had the money that we could do that. We really do. We all feel that way. We love our teachers. The students love the teachers …"
However, district officials cannot predict with any certainty how much revenue Lindbergh will receive for any given year, she said, adding that the board must balance any new revenue between teacher pay and other district needs, particularly the aggressive enrollment growth.
"I know we are committed next year to make sure that we can put everything we can into salaries, but there are also other priorities that we have to look at, at the same time," Kienstra said. "So it's a matter of our needs and the teachers' needs and figuring out what money goes to where, but I know the administration knows that we will do everything we can to put as much money forward to the teachers' salaries. It's just that from year to year, we won't know what that amount of money is …"
However, Florez later said Lindbergh teacher pay ranks at the bottom compared to benchmark districts, and teachers are asking, "Where's the silver lining? … For me to sit there and go, 'Well, where's the money going to come from?' and now it's just kind of we'll have to wait until next year. That — I find that unacceptable personally … and I think some of our teachers are finding that where they're sitting there like, 'OK, we're going to bail' because if this district cannot commit to us in this area, then it's not that teachers want money.
"No one goes into this profession to make money. If they do, they probably get out pretty quickly, but everyone goes into this profession and they compare, and you start comparing, and you start looking at your future …"
Regarding a salary schedule committee, board members indicated their support for such a panel, but some wanted more specifics about the committee.
LNEA leaders also discussed how teachers don't feel they are valued, don't believe they have a voice in curricula-related decisions and would like to see positive messages of hope and encouragement from district leadership.
Moser later said, "I would ask that the message that is coming from our Central Office, the words that are coming out …"
Kienstra interjected, "Take it down a notch?"
Moser said, "Yeah, and make people feel valued. I mean when we're constantly being told you got the highest increase in St. Louis, what are you whining about? But yet our salary schedule is so far below (other districts). I mean it just does not create a good feeling …"
Board member Mike Tsichlis later said, "But you guys know, of course, that this kind of respectful communication goes both ways. So there are things that might appear on the district website that you might not care for or might term propaganda, but there are also some things that appear on LNEA's Facebook page, Flyers Unite. Some comments are just not very flattering on it (about) board members, administrators … To post those items as sort of a means to advance their goals, I wonder where's that getting you? …"
Tsichlis noted that his wife is a teacher in an urban district "where parent involvement is pretty nil, and so that creates an extraordinary burden for teachers and for her …" He asked if district teachers would reconsider their decision to work to contract — "simply because not only does that negatively impact students, and that unquestionably does, but also parents. I've already heard from some parents …"
Board Treasurer Vicki Englund said, "I don't understand the point of work to contract. What's the goal?"
Moser replied, "… Because teachers feel like we are not being fairly compensated, then the idea is that we do what we are expected and no further because we are not appreciated or compensated for that."
England asked, "And that's going to create more money for us to give to you?"
Moser said, "Not necessarily."
Kienstra later cited the board's willingness to work with teachers and asked the teachers to work with the board by rescinding the decision to work to contract.
"… We think this would go a long way, not just for us selfishly, but for all of those kids that are out there and all those parents who are waiting for the first day of school …," she said.
Board member Jennifer Miller said parents communicating with her overwhelmingly supported teachers until teachers announced they would work to contract.
"… That concerns me because now the support we did have for a possible tax increase or for whatever it is we need to ask the community for is kind of now turning the other way …," she said.