Lindbergh board approves measure opposing residential TIFs
Crestwood mayor discusses 'drama' sparked by Simpson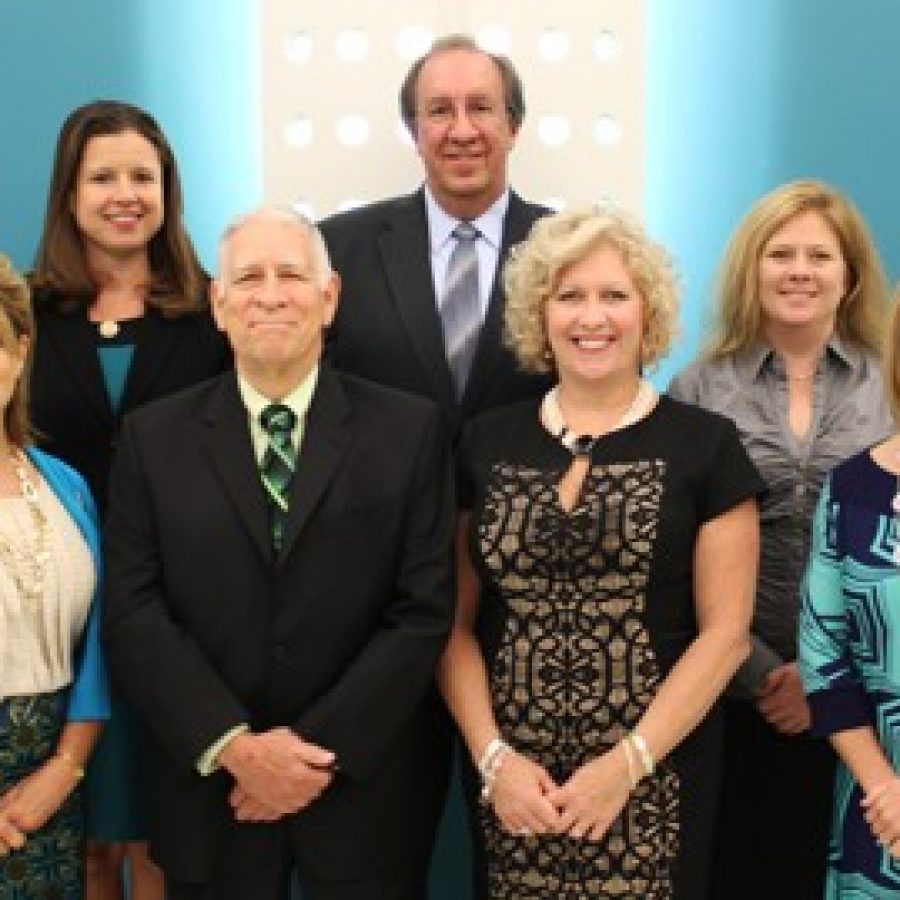 The Lindbergh Board of Education voted unanimously to approve a resolution opposing the use of tax-increment financing for residential development Tuesday night.
The resolution was sparked by UrbanStreet Group's proposal to redevelop the former Crestwood mall site. The Chicago-based developer, which purchased the property last year, is proposing a mixed-use redevelopment — including 225 apartments — at the 48-acre site at Watson and Sappington roads. UrbanStreet Group, which submitted the only response to the city's request for proposals, or RFP, to redevelop the site, is requesting nearly $28 million in tax incentives, including tax-increment financing, or TIF, for the roughly $99.5 million project.
As first reported by the Call, Lindbergh Superintendent Jim Simpson believes UrbanStreet's plan to construct 225 apartments at the mall site "is the worst scenario for Lindbergh Schools," as it would exacerbate the aggressive enrollment growth that already is challenging the school district, and board members made it clear Tuesday that they agree. Students from the apartments would attend Crestwood Elementary School, which is already at capacity.
Before the school board passed the resolution, Simpson noted that district officials met with UrbanStreet Group earlier in the day about the proposal and addressed why Lindbergh is acting so quickly to oppose the apartments at the mall site.
"I think it's important that Lindbergh get this out early," the superintendent noted, adding that a series of attorneys, consultants and "TIF experts" will be providing reams of data to the Crestwood Board of Aldermen, and he does not want those numbers to include residential development.
Lindbergh board Treasurer Vicki Englund said she grew up going to Crestwood Plaza and believes that the new development should capitalize on the good feelings that area residents already have when it comes to the mall site.
"The first word that comes to mind is nostalgia," she said, noting that she had attended many Crestwood Board of Aldermen meetings about the development in the past. "People want a place to go and be entertained and socialize. I did not hear a single person that wants to live there."
Lindbergh currently spends $10,067 annually per student and has many more needs than it can comfortably handle with its budget already, district administrators told board members during a 2015-2016 budget workshop that preceded the vote on the resolution. As proposed, next year's $67.4 million budget has a surplus of only $449.
"We are very concerned. We've talked to the mayor (Gregg Roby). We've talked to (City Administrator) Mark Sime … The city leadership of Crestwood is going to have to really tell us what they think about how we are to educate those students with no money behind them," Simpson told the Call.
UrbanStreet Group purchased the mall property last year for $2.625 million from Chicago-based Centrum Partners and New York-based Angelo, Gordon & Co., which owned the majority stake in the site.
Although the structures on the site were valued at just $1,000 by St. Louis County Assessor Jake Zimmerman last year, the property was valued at $9,849,000.
"… We want the Crestwood mall property to thrive, but not at the expense of more than 6,300 Lindbergh students and residents from nine different communities …," the Lindbergh resolution states.
The resolution reiterates district officials' concerns about the 225 apartments, "which would be partially funded by $28 million in tax incentives, bringing additional students into an already overcrowded district without any additional funding … We also have concerns that residential property developed with tax incentives produces no jobs, no sales tax and no revenue for the city and the school district …"
The measure also encourages the city to approve a development that does not include residential property that is being partly financed with tax incentives.
The resolution further states, "We intend to work closely with the Crestwood mayor and Board of Aldermen to share these concerns and reach an agreement that is good not only for the city of Crestwood, but also for Lindbergh Schools students and taxpayers … The Lindbergh Schools Board of Education formally expresses its opposition to any development on the Crestwood Mall property that would include tax incentives for residential property …"
In an email sent to Lindbergh parents April 30, Simpson wrote, "… It is essential that every Lindbergh community member — not only Crestwood residents — become informed about this issue, because a residential TIF would send additional students into our already overcrowded schools without any additional funding. Lindbergh's enrollment is already growing by more than 250 students each year, filling every classroom, closet and nontraditional learning space in our schools. Our district is more than 92 percent locally funded. We simply cannot afford to educate more new students without additional property-tax revenue.
"Right now, we need everyone's support in order to protect the educational excellence that has made Lindbergh the No. 1 school district in Missouri for five years. Please take a few moments to learn more about Crestwood's redevelopment proposal, and stay informed by visiting
"
On his official Facebook page last weekend, Roby discussed the "drama" sparked by Simpson's concerns.
"This week was loaded with drama with the superintendent of the Lindbergh School District weighing in on the proposal with press conferences, tweets and emails to families of Lindbergh students," Roby wrote. "He has voiced his concern with the apartment segment of the project, which in turn has created a flurry of emails, phone calls and letters to my office. All wanting the apartments removed and replaced with everything from senior housing to condos.
"I have said it before and I will say it again, this is a proposal, a vision, an offer, to redevelop a blighted, deteriorating cancer on a community that includes the Lindbergh School District. Nothing is written in stone at this point. I am having information prepared that will identify the loss of revenue the district is suffering and has suffered revenuewise over the past five to seven years and will continue to suffer if we don't do something now.
"So I encourage Dr. Simpson to join us in moving progress forward so Lindbergh can again start receiving revenue from a vibrant, tax-generating project here in Crestwood," the mayor wrote.
Ward 2 Alderman Mary Stadter, who was named board president last week, wrote in an April 30 email to a resident that she shared the resident's concerns about the school district, "as well as concerns for the health of our city in general."
"That said, I am also sorely disappointed that rather than opening a discussion with our board, the superintendent decided to 'try' this matter in the court of public opinion," she wrote. "Frankly, the impression he gave in his interview in my opinion is not closely representative of the situation we are faced with in the current proposal. I have yet to see him at a Board of Aldermen meeting, nor have I received a letter or phone call from him."
Stadter also wrote, "If you listen to the audio from our Tuesday night meeting you will also hear that even if a TIF is agreed upon, there are ways within that TIF to allow for funding to go to the school district — another point that the superintendent has not taken the time to explore with us as yet. Frankly, he seems more concerned with solidifying his position than he does with working with us to build something workable.
"Something else to consider, however, is that by adding value to this space we will be increasing property values throughout all of Crestwood, which will bring more money to our school district as property taxes will increase."