Knost formally takes reins of Mehlville School District
New superintendent planning to be accessible to residents.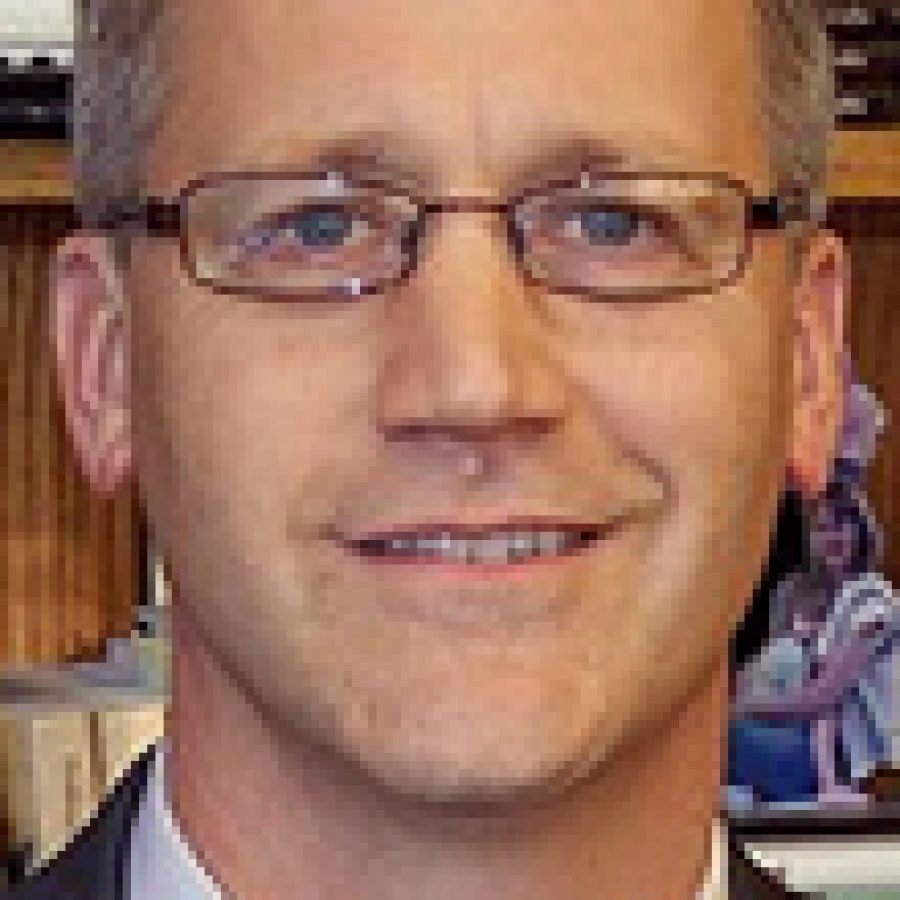 Mehlville Superintendent Eric Knost formally assumed the school district's top position on July 1 but said recently that he's been gradually transitioning into his new job over the past several months — if not years.
The Board of Education voted unanimously in December to offer Knost, then deputy superintendent, a three-year contract to lead the district upon Superintendent Terry Noble's retirement. He will be paid an annual salary of $185,000.
During an interview the evening before his official start date, Knost reiterated what he identified in December as one of his top priorities for the next three years: ongoing community engagement.
He indicated that such engagement should come from all levels of the district — from Central Office to individual schools.
The latter group took center stage earlier this year as part of Project ENGAGE — Enriching Neighborhoods through Generous Actions, Growth and Empowerment.
Knost spearheaded the initiative, which was designed to encourage Mehlville students, families and staff to not only help those in need but to also think about the impact of their service so that they would keep giving back to the community in the future.
"I was asked earlier today: 'Is Project ENGAGE going to continue?' And I said: 'Absolutely, in some format,'" Knost said. "I want to engage some other folks in the district about what that may look like as we go forward but some version of Project ENGAGE and programs like that will definitely continue. We're looking for any opportunity to help the community be part of the life of the district and the district be part of the life of the community."
On the administrative side, Knost said he still envisions the open-ended approach to community engagement he spoke of earlier this year after a survey showed that in placing Proposition C — an unsuccessful 88-cent tax-rate increase — on last November's ballot, the district sought too much money at the wrong time.
While initiatives modeled after Mehlville's COMPASS program — Charting the Oakville-Mehlville Path to Advance Successful Schools — may be necessary in the future, community engagement "with no agenda" would probably resonate with more district residents, Knost said.
"Not that we would never have a work session again — there are times where that's appropriate, where you want specifically people to roll up their sleeves and provide specific input and do work for you," he said. "But I'm talking about ongoing community engagement — and we'll see what the board's comfortable with, whether that's quarterly or two times a year — where we go out into the community and possibly me, a few board members, some of my staff (and) maybe even some of our building representatives.
"We're all ears, so there's not an agenda. We're not going to ask people to come in and sit down next to other people they may feel uncomfortable with. We're there to listen and maybe provide feedback on that same night if that's what somebody's looking for …"
Knost, 46, joined the district in 2002 as principal of Oakville High School after working more than a decade in the Parkway, Rockwood and Windsor school districts. He was promoted to north area superintendent in July 2005 and became deputy superintendent in November 2006.
Earlier that year, the Board of Education hired Jerry Chambers as interim superintendent for the 2006-2007 school year. The board was prepared to hire Noble but learned the De Soto School District would not release him from his superintendent contract there. Noble became Mehlville's superintendent the following year.
It was during the few months he worked alongside Chambers that Knost said he began to transition into the role of superintendent.
"I was afforded a lot of opportunities to serve with him in that interim role because he was limited by hours," Knost said. "So I really feel my transition started back then but that was only my second year in Central Office, so obviously I needed some more time to learn and grow.
"As far as the last couple of months, Terry has been very gracious in sliding the appropriate things over to me. He also realized that I still had my job to do. We had not restructured yet so I was still running interference on school issues and what not, the things that someone who supervises schools and principals does.
"And we just slowly added more and more to the plate as it got closer and closer to Terry departing."
Several changes — physical and personnel-related — already have taken shape at the Central Office. Arguably the most noticeable difference is in Knost's office.
Besides a new coat of paint, the wall that separated Knost's office from Noble's has been removed to give the school board a new conference room for closed sessions.
Knost said his administration also is in the process of reshuffling some of the duties he once had as deputy superintendent.
Former Assistant Superintendent-Supervision of Instruction Vicki VanLaere will become assistant superintendent of human resources as the former position is being absorbed into the curriculum department, Knost said. Lisa Counts, former assistant superintendent of human resources, will work with Assistant Superintendent-Supervision of Schools Brian Lane.
"She will supervise the principals of the buildings that I was supervising," Knost said of Counts. "And we're still going to have some planning sessions over the summer to kind of look at the various duties that I had in my role. It's not easy for me to give things up. I've really enjoyed my direct involvement with the alternative programs, my direct involvement with the character education piece, my direct involvement with our technology, facilities, food service — things like that — and of course working directly with the principals.
"I'm just not entirely sure what I'm comfortable totally giving up at this time. So we're going to play kind of a balancing act predominantly between myself, Lisa and Brian, but probably a few others. For instance, I think (Chief Financial Officer) Noel Knobloch will oversee food service. That's one example. So we're going to kind of have a conversation where we can best match people to those ancillary duties."
Knost said he wants to be "very accessible" to the community.
"I really want to encourage people if they have an issue with our school before they take it to an audience to allow me the right to address that issue," he said. "People get comfortable with anonymity and I understand that very much; it's easy to understand that. But it's hard to help anonymous people.
"I want Realtors to have my cell phone number," Knost added. "Because if they've got a client that's coming into the area and they're buying a house and they say: 'What can you tell me about Point Elementary School?' I want the Realtor to be able to say: 'Would you like to meet the superintendent?' And I'll do my best to clear what I'm doing and meet that family at Point on their time, impromptu, and I'll give them a tour — introduce them to the principal, introduce them to teachers."